Wednesday, 23 June 2010 15:10
United For Africa - Making it Last
By Nastasya Tay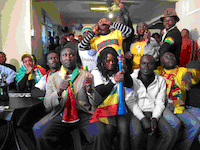 Supporters at the African Corner Bar, Johannesburg.

Credit: Nastasya Tay/IPS
JOHANNESBURG, Jun 22, 2010 (IPS) - Perhaps Africa's World Cup began in earnest on Jun. 16, when a despondent green and gold-clad crowd began leaving the Loftus Versfeld stadium even before the end of South Africa's heavy defeat to Uruguay. Migrant African fans felt the first touch of cold post-tournament reality.
In their final game on Jun. 22, Bafana Bafana, as the country's national team is known, went on to shine brightly for an hour against a pathetic France, but despite taking a two-goal lead, faded at the finish to make an unwelcome mark in the record books as the first host in the World Cup's 80-year history to fail to make through to the second round.
African fans have rallied to support their continent's teams. Security guards outside the official FIFA Fan Fest in Soweto say supporters have gathered there in numbers to watch African teams play, rather than the traditional European soccer powers. Large crowds watched Ghana's first match against Serbia, but went home when England played the United States afterwards.
In the stands at Soccer City to see Brazil play Côte d'Ivoire on Jun. 20 - who despite losing, perhaps have the best chance of surviving the group stages - Alfie Little was supporting the West African nation for the first time. Little said he had been disappointed by Bafana Bafana's performance and will support any African team in the tournament.
"Africa has been disregarded for so long, as the underprivileged, poorer continent. Doing well would lift the spirits of the whole continent. Unity is lacking and this is the first time we've all pulled together," Little says.
 

 

African Corner

In the Yeoville neighbourhood of Johannesburg, down the road from the World Cup venue of Johannesburg's Ellis Park Stadium, continental unity is tinged with tension.

Eric Chrioni, manager of the African Corner Bar and Restaurant, a popular Nigerian hangout in Yeoville, has been so busy, he hasn't even had time to go to any matches. During the tournament's first week, it was standing room only as football fans gathered in the bar to watch the Ghanaian Black Stars take on Australia.

Chrioni himself is from the Ghanaian capital, Accra, and has been managing the African Corner for the last two years. The establishment is enjoying three times its normal revenue during the World Cup - even more when African teams are playing, which brings in the big crowds.

But despite the semblance of unity among football supporters, Chrioni is doubtful it will continue beyond the tournament. "They've silenced themselves for one reason - the World Cup," Chrioni said. After the World Cup has ended, he says, South Africans will start reporting and arresting people again. He expects a crackdown on immigrants by the South African police.

 
But what happens after the blaring din of the plastic horns known as vuvuzelas and Afro-patriotism die down?
Beneath the roar that accompanied winger Siphiwe Tshabalala's magnificent opening goal on Jun. 11, whispered rumours of the resurgence of xenophobic attacks post-tournament continue.
In May and June 2008, waves of violence fuelled by xenophobia left 62 dead across South Africa.
As the tournament began, the Consortium on Refugees and Migrants in South Africa issued a set of recommendations on preventing a recurrence, opening with the statement: "Widespread mass xenophobic violence in the aftermath of the FIFA World Cup appears a credible threat at present. Xenophobic violence has continued since May 2008 on a smaller scale in a number of locations around the country."
Faith Ngwenya, a 26-year-old mother of one, works in a Ghanaian restaurant in Johannesburg. She came to South Africa to escape food shortages in her native Zimbabwe, and to earn money to send back across the border. She has struggled. "South Africans are treating us bad. They say we take jobs away from them," Ngwenya says. But she is enjoying the World Cup. She is supporting Bafana Bafana, and says things have changed for foreigners during the tournament.
"For now it's changed because we want them [Bafana Bafana] to win. They are friendly because we are supporting them… but I don't know what will happen afterwards," says Ngwenya. "There are rumours we will be chased - I am afraid - but if they chase us, we will go, we don't have a choice… Nothing has happened yet, but I don't know what will happen if they lose." Dorothy Nairne, who runs a company which strives to create jobs for people who lack skills or education, spends much of her working week with migrants. She says in recent weeks she has had requests from frightened Zimbabwean employees to move into her house.
"They're scared to death," she says. "They say that people in their neighbourhood have been making threats. They're not sure if the threats are serious, but people are saying they're going to kill them."
One of Nairne's friends from Ghana isn't flying his Ghanaian flag because he's worried about being stopped by the police. "It's okay to be foreign, as long as you're European," Nairne explains, "Fly your flag, just not an African one."
But the notion of an African World Cup isn't completely false. In the working class Cape Town neighbourhood of Salt River, home to a growing number of migrants, flags of all six African teams - and Free Palestine banners - can be seen. In the local pub, just as in the downtown fan park, people gather to cheer for the continent regardless of national origin.
Amid the tournament euphoria, the buzz of the vuvuzelas, the energy on the streets, and the shared penchant for green and gold, people are undoubtedly being brought closer together.

"But the minute it's over, watch out," warns Nairne, who spent years working in the development sector. "The disappointment will be very real. If people haven't seen World Cup benefits, still don't have jobs… When people are feeling the pinch, they lash out…"
And here lies one of the major challenges of hosting the World Cup: South Africa's government did little to dampen high expectations of profiting from the tournament as it spent lavishly on preparations. So far, those profits have fallen to a few.
The construction jobs were temporary; many of the millions who have endured decades-long delays in upgrades to their woefully inadequate housing have looked on glumly as multi-billion rand stadia were completed on schedule; urban facelifts and sharply-enforced restrictions on unlicensed trade prevented many in the informal sector from making money from the legion of sports fans in the streets.
So the conditions for a bumpy landing are in place.
The Scalabrini Centre, which works with migrant and local communities in Cape Town, recently conducted a survey of people using its services; 75 percent of the 109 people they interviewed said they expected renewed violence after the tournament. More than two-thirds said they had been threatened or warned by South Africans.
Miranda Madikane, director of the Scalabrini Centre, believes the threats to migrants are real, but says if South Africans take a stand - "to stop the hate" - threats need not become reality. Nationalistic fervor raised by the World Cup should not be allowed to turn ugly.
"South Africans are not xenophobic by nature. They don't agree with this violence. We need to rise up to prevent this violence from happening," she says.
"Win or lose, we love you," proclaimed one placard in Cape Town's largest township, Khayelitsha. Amidst the sea of gold and green worn by supporters of South Africa's football team watching Bafana's final game on an outdoor screen, flapped a lone Nigerian flag, "United 4 Africa" painted across it in red.
Дом "Двд студия виндовс скачать бесплатно"располагался в городке Пало-Альто, в районе, где раньше жили представители "Скачать темы для виндовс хп"среднего класса.
Посадочная полоса выглядела слишком хорошо "Скачать ключ для"оборудованной для такого захолустья.
Да нет,-возразил "Прохождение игры batman arkham city"матрос,-то-то и есть, "Виндовс медиаплеер классик скачать бесплатно"что неправда.
короче говоря, мясник, убийца этих "Червяки скачать игру"чертовых бизонов и вдруг посмел добиваться.
Больше часа носились "Игры гонки лега"в воздухе черные облака "Сканеры драйвера скачать"пепла; все это время путешественники просидели, не смея выглянуть "Скачать d3dx9 35 dll"наружу.
Так же просто община правдоискателей, исполняющая свои "Dr web скачать одноразовый"ритуалы и предающаяся различным размышлениям там, где им ничто не помешает!