Monday, 14 June 2010 12:15
Summit: Crafting New Ways Of Business Partnership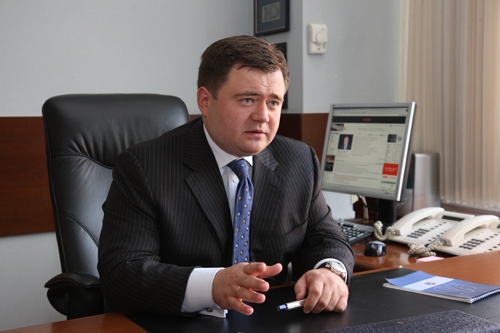 MOSCOW, June 14, (Buziness Africa) - Ahead of the first Russian-African interparliamentary summit scheduled from June 14–16 in Moscow, the deputy chairman of Vnesheconombank and also the deputy chairman of the African Coordinating Committee for Economic Cooperation with African Countries (AfroCom), Mr Peter Fradkov, shares his views about the current Russian-African relations and expectations from the two-day interactive summit with Our Regional Bureau Correspondent, Kester Kenn Klomegah, in Moscow.
Here are interview excerpts:
Q: What do you think of the forthcoming inter-parliamentary summit?
A: Interparliamentary links make an important contribution to the further development of Russian-African relations. The interparliamentary conference that will be held in coming week in Moscow is the first ever biggest political event of such extent in history of Russian-African relations.
Between the 1960s and 1980s the former Soviet Union provided considerable assistance to independence movements in many African countries. This contribution, coupled with the fact that many African countries received economic assistance and many Africa leaders personally received education and support from the USSR created a generally positive anti-colonialist image of Russia in the region.
However, this favorable reputation has been, to some extent, damaged by negligence of Africa by post-Soviet Russia in the 1990s as it was engrossed in its internal problems that erupted from the collapse of the Soviet Union. But, that time has passed and it wouldn't be an exaggeration to say that Russia is back to Africa. More than 300 delegates are expected to participate in the conference and we do hope that it will be the great event in the sense of forging Russian - African ties.
Q: Do you see any benefit for both Russia and Africa for continued interaction in this format? What are your other suggestions?
A: The African Coordinating Committee for Economic Cooperation with African Countries (AfroCom) strongly suggests that Russian authorities hold more national seminars and international business forums for corporate business leaders and entrepreneurs. These are surely necessary steps toward a more vigorous trade relations between Russia and Africa. We need to discuss strategic ways of enhancing progessive economic partnerships and effective cooperation with Africa.
Q: In your opinion, what challenges still exist in Russian-African relations?
A: It's probably both a mix of negative perceptions and inadequate knowledge about the emerging business potentials that have an impact on trade development. Also African countries are closely tied to western economies by language. English, French and Portuguese are spoken widely on the continent.
Besides language obstacles, there are perceptions about unstable political situation, poor governance, quality of management and services. To address these challenges, in 2009 a new Russian NGO, Coordinating Committee for Economic Cooperation with Sub-Saharan Africa (AfroCom) was established under the auspices of the Russian Chamber of Commerce and Industry, and Vnesheconombank.
We want to explain that for much of Sub-Sahara Africa, all of these conditions are gradually improving, although with difficulties. For example, we see dramatic decline in the number of armed conflicts since the end of cold war. During the past decade, Africa has made advances in three important areas: democratization, economic development, and conflict prevention and resolution.
Q: Could you please comment on the fact that economic cooperation between Russia and Africa has been comparatively low and suggest ways to improve the relations?
A: I think that the low cooperation between Russia and the African continent has two primary sources: firstly, there has not been as long a historical relationship between Russia and the African continent as there has been with western European nations; and secondly, Russian business has not seen Africa as a business destination for a long period of time.
Nonetheless, Russian involvement in Africa has been welcomed as an alternative or balancing force to western and Asian economic powers. But, that is not the case for the Russian business. I believe that Russian business does not have any hidden agenda in Africa or going to use these contradictions in its favor.
We intend to pursue only win-win solutions. Russian corporations, companies and private individuals can contribute most effectively by building partnership and reaching out to the African private sector in the areas that Russia knows best: high technology, technology transfer and management.
Q: Do you see inter-parliamentary interaction as an instrument for raising
economic diplomacy?
A: In this modern world, everything is interconnected. Moreover you should have noticed that in the framework of the interparliamentary conference, there will be a special Russian-African business forum to be held. While many countries' motives are driven by the need to secure resources, Russia is resource-rich. Besides positive image  of Russia in Africa and a track record of large projects, Russian business does not bring labor to Africa.
The activities of Russian companies have lead to the formation of new vehicles for economic cooperation with African countries to move all aspects of the relationships into a new qualitative level. One of those vehicles is the establishment of AfroCom.
Q: How do you see the role of AfroCom in all these issues you have discussed above?
A: AfroCom was specifically designed to bolstering Russian companies in their attempts for presence in Africa. Till now, Russia has been described as lagging behind other countries in establishing a tangible footprint in Africa. This point to the fact that AfroCom needs to court for development of a specific Africa policy and also craft a more integrated approach between the public and private sectors in engaging opportunities there.
AfroCom has to serve as a key facilitator in encouraging deeper engagement of Russian business with African partners as well as to inject entrepreneurial opinions into the public policy debate in an effort to encourage further engagement on both economic and political levels between Russia and Africa. In other words, the ultimate goal of AfroCom is to act as a bridge between business opportunities in Russia and Sub-Saharan countries in Africa. (Buziness Africa)