Tuesday, 18 May 2010 15:16
Under the impact of Chinese synthetics the situation in the rough and polished diamond complex may cardinally change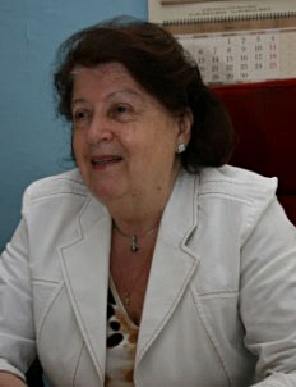 Alla Nozhkina- 17.05.2010 VNIIALMAZ is a leading scientific institute in Russia engaged in research, development, manufacturing and application of natural and synthetic diamonds and diamond-based tools.
Doctor of Engineering, Professor Alla Nozhkina, who is the Chief of Laboratory at VNIIALMAZ, answers the questions of the Rough&Polished correspondent.
Please, say a few words about the development of the Russian diamond tools industry and the role played in it by VNIIALMAZ.
In 1947, the USSR established the All-Union Bureau of Technical Assistance for Efficient Use of Diamond Tools and Introduction of Diamond Substitutes, or ORGALMAZ for short. Its primary task was to supervise over the distribution and use of diamonds and diamond tools bought abroad, as well as over the creation of diamond substitutes. By the time of discovery of the Yakut diamond fields the small team working in the bureau managed to lay the foundation for technical use of diamonds in the industry: they established scientifically grounded norms of consumption for diamond tools in operation, developed designs of first diamond tools for grinding, as well as recommendations on application of diamond tools and diamond substitutes.
After the diamond fields in Yakutia were discovered, the country obtained a reliable source of natural rough diamonds, and in 1966 the bureau was transformed in the All-Union Research, Design and Technological Institute of Natural Diamonds and Diamond Tools (VNIIALMAZ). By this time the USSR mastered diamond synthesis which was the result of busy cooperation between VNIIALMAZ and one of the leading developers of industrial techniques for making synthetic diamonds, the Institute of Superhard Materials of the Ukrainian Academy of Sciences, and then established a whole sub-industry to manufacture synthetic diamonds and diamond tools comprising 9 specialized enterprises which were turning out over 5,000 types of diamond tools. The creation of a new diamond tools industry permitted to break away from foreign technological dependence and start using cheaper but no less superior and in some ways more perfect and unique domestic tools. The most dramatic examples of replacing expensive import tools by economical domestic analogues are the re-equipment of the largest domestic automobile and machine-building plants - VAZ, KAMAZ and BURMASH.
In what way was it possible to maintain the high quality of diamond tools?
Full serial production of high-quality diamond tools would be impossible without developed specifications and technical documentation on evaluating the quality of natural diamonds for industrial purposes which secured stability of their physical and mechanical properties. Assisted by the institute, Gokhran developed the "Rough Diamonds" Standard Specifications (TU 47-2-73, 47-12-83, and others), taking into account special requirements for diamond crystals on the part of designers developing various kinds of tools, such as cutters, drawing dies, grinding, drilling, stone-working tools and other types of tackle. Technical requirements for diamond powders were set forth in GOST 9206-80, "Diamond Powders" developed by the Institute of Superhard Materials of the Ukrainian Academy of Sciences and VNIIALMAZ.
The above mentioned "Rough Diamonds" Standard Specifications (TU) were accepted as a basis for grading natural diamonds intended for manufacturing tools, as well as for further numerous TUs and GOSTs for all kinds of diamond tools. This was how the state system of supplying natural diamonds to the industry was born which allowed the country to organize industrial production of diamond tools of guaranteed quality and competitive in the internal and external markets.
Despite the outstanding success in synthesizing rough diamonds in the USSR, did the tool-making industry depend on natural diamonds?
Before the disintegration of the USSR, the country synthesized only a small quantity of high-strength and the more so heat-resistant diamond powders, while after the 'perestroika' the amount turned very limited. Therefore, natural raw materials were used in tools which required high-strength diamonds. Synthesis of large monocrystals and high-strength powders was not a pressing need since the tackle based on diamond monocrystals was made of natural diamonds whose quality was guaranteed by "Rough Diamonds" TU.

In the result of 'perestroika' in this country there emerged AK ALROSA which was assigned the function of mining and grading natural diamonds after which the company switched over to grading diamonds in accordance with the Classifier K-47-01-92 (GOST Р 51519.1-99) based on the requirements of diamond manufacturers; this was accompanied by cancelling the 80-percent discounts for industrial diamonds thus destroying the established system of supplying natural diamonds to industrial enterprises. The tool-making industry of Russia appeared unsupplied with domestic natural and synthetic diamonds of required quality, mix and price.
Today, what enterprises in Russia are manufacturing diamond tools besides VNIIALMAZ?
Of almost ten factories in the diamond sub-industry on territory of the Russian Federation there remain four enterprises making diamond tools. The largest of them in terms of output of tools based on natural diamonds is located in Kabardino-Balkaria. There are also a number of small firms making simple diamond tools – small-diameter cut-off and grinding wheels, drills, dressing diamond sticks, etc. But such firms cannot offer enough production of worthy quality, especially for mechanical engineering.
Where do diamond tool manufacturers take rough diamonds from nowadays?
The absence of necessary nomenclature of natural diamonds for making diamond tools compels the manufacturers either to buy natural diamonds abroad or replace them with new types of imported synthetic diamonds, promoting in this way the development of competitive production outside of this country as is the case, for instance, with rough diamonds for dressing combs. The impossibility of buying such rough from ALROSA led to making diamond dressing combs domestically from synthetic diamonds of CVD D grades bought from De Beers. And all this happens despite the fact that for the first time diamonds were synthesized by way of chemical vapor deposition (CVD diamonds) in this country at the Institute of Physical Chemistry of the Academy of Sciences of the USSR.
One also cannot disregard the powerful development of manufacturing synthetic diamonds in China where their output now comes close to two billions carats a year (for comparison, the Soviet Union produced about 250 million carats in a year).
What is the quality of synthetic diamond powders supplied?
Both De Beers and, which is already unsurprising, China are offering high-strength diamond powders. We know this because VNIIALMAZ regularly surveys the quality of powders made from synthetic diamonds both imported to Russia and displayed by synthetics manufacturers at various specialized exhibitions. In this way the institute develops a database for these products including analogues of our powders from synthetic and natural diamonds. The quality of domestic powders is strictly regulated by GOST 920680 and by the state standard newly established by VNIIALMAZ and ALROSA, which is GOST Р 52370-2005 "Powders from Natural Diamonds" in which quality of powders from natural diamonds is for the first time estimated by the durability indicator as it is accepted for synthetics.
I would like to stress that the results of our research prove that during the last years our market saw an inflow of imported high-strength powders from synthetic diamonds similar in their quality to our powders АС125 and АС160. But among imported powders from synthetic diamonds there occur high-strength powders which we cannot estimate by the domestic GOST 9206-80 anymore as it does not contain requirements to higher-strength diamonds. Therefore, we evaluate new imported synthetics by the Russian GOST Р 52370-2005 for natural powders which contains powder types having durability indicators of 200, 250, and 300. Today we can ascertain that De Beers and the Chinese manufacturers have synthetic diamond powders with durability indicators running at 200 and even 250.
What is the output of high-quality synthetic diamond powders and amount of their supply to Russia?
Unfortunately, no official figures for supplies are to be found anywhere. It is possible to evaluate this indirectly by one of the orders for certification of synthetic diamond powders which was fulfilled by the institute. The amount specified in the order exceeded one hundred thousand carats.
The same may be said about the output. Here again the nuance is that synthesis yields powders of different granularity and properties. They are then sorted out by the size and quality to produce powders of different types meeting the requirements of GOST. Therefore, information related to the output of high-quality diamonds is known maybe by technologists only.
What kind of techniques for diamond synthesis is used in China?
China has mastered the НРНТ technique in its different versions. They have high-pressure apparatuses (HPA), which differ in design from the HPA used in this country and abroad. With the help of these devices the Chinese manufacturers produce diamond powders which are not only high-strength, but also heat-resistant. We know it, as we check not only durability for conformity to GOST, but we also examine thermal resistance. This parameter is not regulated by GOST but it has a decisive significance when choosing powder types used for high-temperature bonds.
Right now both De Beers and the Chinese manufacturers supply high-strength and heat-resistant diamond powders to the market. These powders when heated to 900-1100ºС in an environment inert to carbon prove to be not inferior to natural diamond powders in terms of thermal resistance. However this is true only at the specified temperatures. If you heat them up to higher temperature values - as is known, during various types of processing temperatures in the area of contact between the tool and workpiece can reach the melting point of the material being processed - natural diamond powders and the more so powders made of whole monocrystals (now produced by ALROSA in accordance with GOST Р 52370-2005) have a considerable advantage in terms of thermal resistance in comparison with synthetics.
How much open are the Chinese manufacturers about their capabilities?
At the last large specialized exhibitions in Moscow China showcased most diversified samples of synthetic diamonds. And two billion carats a year is the information given by the Chinese manufacturers. When talking to the representative of one of the firms displaying high-strength diamonds I asked him "Where do you produce your diamonds and what is your output?" and he told me they ran a factory near Beijing operating one thousand compression apparatuses.
I think this information is true because China has huge stocks of tungsten and actually controls the tungsten market, while tungsten is the basic material for manufacturing hard-alloy gear without which it is impossible to reach required synthesis parameters. China has conclusive advantage in managing costs of diamond manufacturing. After all the major part of expenses in the cost of synthetic diamonds is generated by the consumption of tungsten-containing alloy of which high-pressure apparatuses are made. Therefore, the Chinese sell diamonds at lower prices than De Beers. And if earlier Chinese powders were treated forbearingly, if not worse, because of their low quality, today we have to take them very much in earnest. Technological improvement resulting in substantially higher quality of powders in China is evident.
Are the Chinese capable to synthesize gem-quality diamond crystals?
About five years ago, when we went to China, and I delivered there a report on diamond synthesis the part of the report devoted to synthesis of large monocrystals aroused no interest. And our cooperation program included only works on diamond powders and boron nitride plates. But now the Chinese manufacturers are displaying a very vivid interest to these subjects. And if they will undertake to manufacture monocrystals with the same enviable activity and energy as in diamond powders then in the near future there may be produced millions of carats. However, they will need new high-pressure apparatuses for this purpose because those working in China have small reaction volume insufficient for growing large crystals.
Do you mean by large crystals those of one carat and above?
Yes. The Chinese manufacturers are interested in producing large crystals. And judging by their interest, they will master gem-quality diamond synthesis by all means. Then there will emerge a full-scale problem of diamond identification related both to rough and especially polished diamonds. It is noteworthy that the great bulk of large synthetic diamonds consists of colored crystals, but now there is a technique permitting to produce large colorless diamonds. Just the crystal grows more slowly. But there are virtually no problems in terms of mass production of such crystals. Further development of gem-quality diamond synthesis is connected with doping colorless diamonds. Today boron is already used to dope diamonds making them remarkably blue. And under the impact of Chinese synthetics the situation in the rough and polished diamond complex may cardinally change.
There is also one more real threat for the rough and polished diamond complex and this is the CVD-technique making possible to produce large diamond monocrystals of magnificent quality not containing metal impurities and inclusions. This technology is not as metal-intensive as НРНТ and does not require high pressure. Its distribution will be difficult to control.
Has your institute developed any methods to identify synthetic diamonds?
VNIIALMAZ has a great volume of experimental data on identification of both rough natural and synthetic diamonds, as well as diamonds subjected to various kinds of treatment (НРНТ, radiation, etc.). We are working out broad-gauge diagnostic methods for polished diamonds including IR, UV and Raman spectroscopy, x-ray analysis, electron paramagnetic resonance (EPR) and photoluminescence. The Institute is working on this problem in team with the Gokhran Repository of the Russian Federation, Assay Chamber of the Russian Federation and its Certification Centre, as well as with the Smolensk Certification Centre. The first Russian GOST Р "Polished Diamonds. Classification.
Specifications." developed by VNIIALMAZ and the Smolensk Certification Centre contains our technique of diamond imitation identification.
In your opinion, what should be done to strengthen the positions of Russia in the market of industrial diamonds and diamond tools?
To solve the problem of supplying natural diamonds to domestic manufacturers of diamond tools we consider it expedient to join efforts of the Research Institute of Natural and Synthetic Diamonds and Tools, VNIIALMAZ and ALROSA. We have signed a memorandum of understanding, but there is a lot of hard work to be done. We shall need to implement a complex of actions. Firstly, it is necessary to create a normative and technical base for supplying the tool-making industry with natural diamonds of guaranteed quality, mix and price. Secondly, it is necessary to develop a system of state support for diamond tool manufacturers. Thirdly, we shall have to organize industrial grading of natural diamonds for technical purposes taking into account the requirements for rough diamonds used to produce specific diamond tools. The most important thing is to launch in Russia production of new-generation synthetic diamonds, tools and goods based on them. In the first place this refers to developing production of large diamond monocrystals and superhard materials based on diamonds and boron. It is noteworthy that the technique of cultivating large diamond monocrystals in our country was developed for the first time at the Design and Technological Institute of Monocrystals of the Siberian Branch of the Russian Academy of Sciences in the BARS type devices. The method of cultivating large diamond monocrystals in the toroid-type devices, very perspective for industrial production and initially developed by the Institute of Superhard Materials of the Ukrainian Academy of Sciences, was applied in this country and is being actively improved by the TISNUM Research Institute. The institute possesses a technique for producing diamond monocrystals up to 7 carats in size (of exquisite clarity and semi-conductor alloyed) which have no natural analogues. The new superhard materials based on diamonds and boron nitride produced by VNIIALMAZ and the Moscow Technological University MISIS are also perspective for production. Production of polycrystal and monocrystal diamonds by way of chemical vapor deposition (CVD-diamonds) busily developed and researched by the Institute of General Physics of the Russian Academy of Sciences, Institute of Electrochemistry and Physical Chemistry of the Russian Academy of Sciences and TISNUM, as well as that of nanodiamonds which were initially produced by this country should become another major path in creating a new branch of industry engaged in production of synthetic diamonds in Russia.
(Denis Frolov, Rough&Polished, Moscow, 17.05.2010)