Friday, 16 April 2010 11:12
NCCI Plans Business Mission to China
WINDHOEK, Namibia, April 16 (Namibia Economist) - In an effort to attract more foreign direct investment into the country, the Namibia Chamber of Commerce and Industry (NCCI), is organizing a business mission to China, according to statement issued by the NCCI.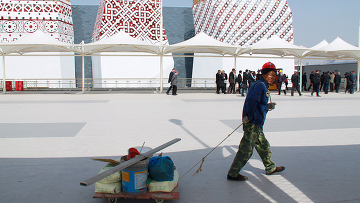 The business and trade mission which is planned to take place from 27 April to 02 May 2010, will seek to explore business opportunities for Namibian entrepreneurs, hold business seminars to discuss investment opportunities as well as investment regulations and procedures for investing in Namibia, the NNCI explained.
According to the chief executive officer of the NCCI, Tarah Shaanika, the business mission, which will take place just before the opening of the World Expo in Shanghai, is aimed at promoting Namibian products with particular emphasis on beef, game, mutton, fish, grapes and dates.
He told the Economist that a 40 member business delegation will have an opportunity to meet with their Chinese counterparts in various business fields and hopefully negotiate trade and business partnership deals.
The mission is organised by the NCCI in conjunction with the Ministry of Trade and Industry as well as the Ministry of Agriculture,Water and Forestry.
"We will have a solo exhibition of some of these products in Shanghai and will host selected Chinese business leaders for a Namibian dinner with Namibian products such as beef, fish and mutton on the menu. We are targeting large food importers to engage them and speak to them about the quality and availability of our products," Shaanika said.
He added that the NCCI would like to see more of Namibian products into the Chinese market and to see more mutually beneficial business and economic ties between Namibia and China.
Former President, Dr. Sam Nujoma, will also travel with the delegation after he was invited by the Chinese government to attend the opening of the World Expo. "We though it would be hugely beneficial to combine our mission with his visit to maximize on the presence of the Founding President," Shaanika explained.
According to the NCCI chief, the value of imported goods from China has increased from N$713.3 million in 2007 to N$2.2 billion in 2009, while exports from Namibia to China were valued at N$ 1.8 billion in 2009 down from N$ 2.0 billion in 2008.
Over 90% of Namibia's exports to China are minerals, predominantly uranium, copper, zinc, manganese and lead among others. "Namibia recorded a trade deficit with China for the first time in 2009, since the country's independence 20 years ago, mainly as a result of a decrease in prices of Namibian products on the international market due to the global economic downturn in 2008 and 2009.
"There is thus a need to increase and diversify our exports to China," Shaanika concluded.