Wednesday, 14 April 2010 10:08
Russian Billionaire Denies Mugabe Links Despite CBZ Shares
By Lance Guma
LONDON, April 13 (SW Radio Africa) - A Russian billionaire attempting to buy US basketball team, the New Jersey Nets, has denied violating US targeted sanctions that forbid American companies from doing business with some individuals and companies in Zimbabwe.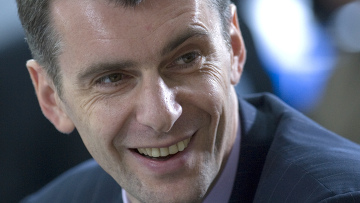 Responding to a call from New Jersey lawmaker Bill Pascrell Jr for a government investigation into his dealings, Prokhorov's company, Onexim Group, issued a statement calling the initial New York Post report Pascrell based his allegation on as 'erroneous.'
Onexim said; 'The company and all its holdings have always been in strict compliance with all United States and European rules regarding Zimbabwe and we have no dealings whatsoever with companies or individuals on the sanctions list.'
The National Basketball Association, who are still to vote on whether to agree to Prokhorov's bid to purchase the team, came out in his support saying no law had been broken to their knowledge. 'The NBA is aware of no information that Mr. Prokhorov is engaged in business dealings with any of these individuals or entities,' they said.
Investigations by Newsreel show that Prokhorov, through his Renaissance Capital investment bank, snapped up a significant shareholding in the government owned Commercial Bank of Zimbabwe Holdings in 2007. The shares were bought from South Africa's ABSA. The following year in 2008 they purchased a further 15 percent stake in CBZ, buying shares from the Libyan Arab Bank. Analysts at the time said Renaissance Capital was consolidating its shareholding in CBZ through block share purchasing.
The saving grace for Prokhorov, as exiled investment banker Gilbert Muponda explains, is that CBZ Holdings is not on the US targeted sanctions list. This is despite its key role in the sourcing of funds that sustained the oppressive Mugabe regime.
Current Reserve Bank governor Gideon Gono ran the bank as Chief Executive for several years, earning a reputation as Mugabe's personal banker. Muponda told us that CBZ was now the country's biggest bank in terms of deposits, largely owing to help and support from the central bank chief and former boss, Gono.
Kurt Helin, writing on his NBC sports blog, has questioned lawmaker Bill Pascrell's push for an investigation. 'Every move in Washington is about power. In this case, Pascrell is up for election this fall, one he will likely win, he's held this seat for 14 years already. But this futile gesture was designed to get his name in the headlines fighting for New Jersey against big, bad New York and the Russian guy taking their team away. Pascrell knew this would go nowhere.
However, all he had to do was write a letter and a press release and he gets his name in the paper, shows he cares about New Jersey. The rights of the oppressed in Zimbabwe have nothing to do with this. It's about an American election.'