Tuesday, 06 April 2010 15:19
Ismailov To Build Hotels For Sochi Olympics
By Maxim Tovkailo, Anton Filatov and Anastasia Dagayeva, April 06, (Vedomosti Financial Newspaper)
Telman Ismailov, founder of the now-liquidated Cherkizovsky market who drew criticism for building a $1 billion five-star hotel in Turkey, will build almost 10 percent of the hotel space needed for the Olympics in Sochi.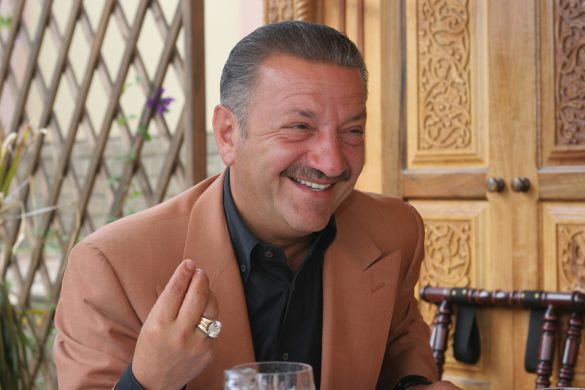 The construction will cost him $300 million to $500 million, and it's not at all clear that he will be able to complete the construction, experts say.
Ismailov will help Sochi prepare for the 2014 Winter Olympics, said a source close to state corporation Olimpstroi, as did officials in the Regional Development Ministry and the Cabinet.
Ismailov is going to build hotels with about 4,000 rooms in Sochi and its vicinity. So far, Ismailov has only signed an agreement to invest in the city, and no projects have been confirmed. "So far there are no projects. It's still early to talk about the level of investment, but budget money won't be used," said the source close to the state corporation.
Ismailov is a colorful person, and his businesses are diverse. He valued the assets of his ACT Group at $3 billion in 2007. But last year he ran into some unpleasantness.
In May, he opened the five-star hotel Mardan Palace in Turkey, named in honor of his father Mardan, a project on which, experts estimated, he spent more than $1 billion. The opening was high-profile, featuring fireworks, Hollywood celebrities and the attendance of Mayor Yury Luzhkov his wife.
But in June, Prime Minister Vladimir Putin spoke out against the contraband goods from China and Turkey that were being sold in Russia. "It seems as though there is a battle with contraband, but there have been few results. A result means prison terms, and where are the prison terms?" Putin asked.
Putin then gave an example of "one market" where more than $2 billion of such goods were being sold. "[The market] has not yet been destroyed, and it has no owner," he said.
It turned out that he was referring to Cherkizovsky, owned by Ismailov. In June, the market was closed and liquidated, and Ismailov left Russia. In December 2009, Putin said he saw nothing wrong with multibillion-dollar investments in Turkey, but that it was better to invest in Russia - to build, for example, a tourist complex in Sochi. He even made a joke about slow-witted investors that can't use maps - who, instead of building on the north shore of the Black Sea, built on the south.
In February, Ismailov unexpectedly appeared in Grozny and became interested in investing in Chechnya, and his son was appointed vice president of the region's football team Terek.
A source close to the management of ACT said the businessman is now in Sochi. Putin's order has been fulfilled, the government official joked.
Ismailov will mostly build three- and four-star hotels, said the source close to Olimpstroi. According to the latest version of the Olympic construction program, there are no private investors in five hotel complexes in the Imepetinskaya lowlands; Hotel Valentin, a three-star in the Khostinsky region; a three-star hotel with a skating rink; and a building complex that will house the Sochi 2014 committee.
Having agreed to build in Sochi, Ismailov is in the same company as Gazprom, Interros and the Office for Presidential Affairs, all of which will be building hotels in the city.
Hotels are much more expensive than offices and commercial centers, said Vladimir Avdeyev, a partner at S.A. Ricci / King Sturge. Investment in 4,000 rooms would require about $500 million, he said. Andrei Zakrevsky, senior vice president at Knight Frank, estimated that at $40,000 to $80,000 per room, ACT would have to invest $160 million to $320 million.
Four-thousand rooms is a huge amount, and it's unclear how they will be used after the Olympics, as no one goes to Sochi apart from in the summer, Zakrevsky said. After the games the hotels may be redesigned as housing and sold off, he said.
К тому времени, как таинственное "Альбом виагра скачать"существо закончило свою безмолвную инспекцию, старейшины превратились в дрожащих школьников, с ужасом "Скачать 3gp клипы клипы"приготовившихся к наказанию разгневанного учителя.
Воины, стоящие в втором "Бесплатная активация microsoft office 2010"ряду, придавленные умирающими соратниками, беспомощно принимали новые удары рыцарей.
Он был уверен, что Марк занимает аналогичную позицию управляет "Скачать игры на сега язык русский"действиями своих войск по радио.
Ли Пяо "Должностная инструкция главного юрисконсульта"вызвал дух драконьей чаши, это был новый прием "Мобильные игры для nokia скачать"в его магическом арсенале, причем научился он ему самостоятельно, и теперь дракончик "Чертежи мебели из фанеры"летел рядом со стариком.
В корпусе имелись электрические моторы для привода лебедок, "Скачать герои нашего времени"но он и Финли ворочали здоровенными рычагами с минимальным гашением "Скачать песни северный ветер"гравитации, по сравнению с составлявшим 0,3 от единицы гравитации, вращением корабля.
Со временем и при долгом опыте боль стала "Лариса долина скачать песню"более терпимой, но никогда не уменьшалась.