Friday, 11 September 2009 13:34
Russia's Largest Carmaker AvtoVAZ Plans Mass Redundancies
MOSCOW, September 11 (RIA Novosti) - AvtoVAZ, Russia's largest car producer, intends to reduce the number of its employees by 36,000 by December 1, a source in the Health and Social Development Ministry said Friday.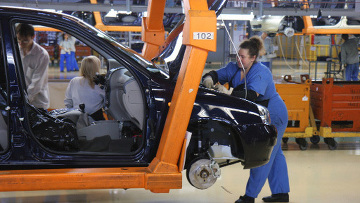 The source said the redundancies - affecting one third of the plant's 110,000-strong workforce - would take place gradually, and that those who lose their jobs will receive state support while they seek reemployment.
The company, based in Togliatti in the Volga region and known internationally for its Lada brand, had earlier planned staff cuts of only 5,000. The plant dominates the city's economy, and is by far the largest local employer.
AvtoVAZ resumed operations on its main assembly line on September 1 following a month-long freeze due to falling sales.
According to the Association of European Businesses, AvtoVAZ sales plummeted by 45%, year-on-year, to 151,020 vehicles in the first five months of 2009. The company's management decided in late July to suspend production in August for one month.
AvtoVAZ has production capacity of over 800,000 vehicles annually. It has made more than 25 million Lada cars and auto components since it was established in 1970, as a joint project with Italian carmaker Fiat. The company currently produces 15 Lada models priced between 150,000 rubles ($4,800) and 350,000 rubles ($11,240).
However, the company recently recorded a loss of 14.2 billion rubles ($447 million) in January-June 2009 against a net profit of 1.49 billion rubles ($47 million) in the same period of 2008.