Monday, 14 September 2009 13:25
Guinea Takes RusAl Alumina Facility
MOSCOW, Sept 14 (Reuters, Bloomberg) - Guinea on Friday stood by its decision to strip United Company RusAl of a large alumina refinery, despite warnings from the Russian Foreign Ministry that bilateral relations could be damaged as a result.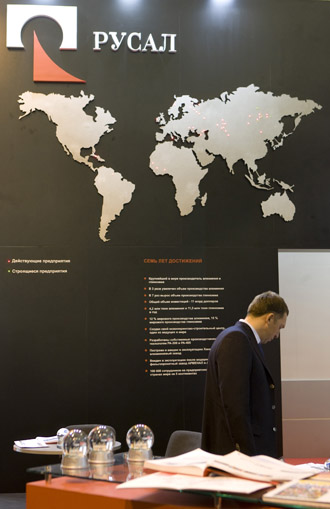 RusAl, controlled by billionaire Oleg Deripaska, also staked its claim to Guinea's biggest industrial project, saying the Friguia refinery was its "legitimate property."
Guinea, the world's biggest exporter of bauxite, now owns all of the operation and may go "in search of a new partner," Momo Sacko, an adviser to President Moussa Camara, said by telephone Friday. RusAl has 10 days to appeal a court decision giving the plant to the government, he said.
A court canceled the 2006 sale of the refinery to RusAl, the latest development in a dispute between the new government and foreign miners.
"Guinean authorities have made an attempt to expropriate RusAl's property in court," the Foreign Ministry said in a strongly worded statement.
The ministry said it hoped Guinea would take responsibility for the "possible consequences of such actions for the general climate of traditionally constructive Russian-Guinean relations, as well as for the social-economic situation in the country."
Camara's government took power in December in a military coup, following the death of Lansana Conte, who had ruled Guinea for 24 years. The country, which also sits on rich iron-ore and gold reserves, has set up a committee to audit RusAl and two other foreign miners.
"The audit committee went to court with their findings and obtained a judgment in their favor," Mahmoud Thiam, Guinea's mines minister, said Friday. He wasn't aware of any statement by the Russian government.
"RusAl is free to appeal and I assume will," he said.
Thiam said in May that figures seen by the government indicated that Friguia was sold for about $20 million, far below independent valuations of $250 million.
"RusAl purchased Friguia in full compliance with Guinean legislation and we consider the plant to be our legitimate property," RusAl said in an e-mailed statement. The company will decide on further action once it receives a copy of the court's ruling, it said.
The Foreign Ministry said it would follow the situation closely.
"It shows a worrying trend," Kissy Agyeman-Togobo, an Africa analyst at IHS Global Insight, said by telephone from London. "It doesn't help investor confidence if — whether it's nationalized or privatized — an asset is just taken away without compensation or adequate reason."
Friguia has the capacity to produce 640,000 tons of alumina per year, according to RusAl's web site. Bauxite is an ore used to make alumina, which in turn is used to produce aluminum.
RusAl also says on its web site that it is the largest foreign employer in Guinea. Facilities controlled by the company employ about 2,400 people. RusAl also owns bauxite deposits in the country.
The aluminum giant stopped operations at Friguia last week after the government blocked exports from the port of Conakry during a dispute over environmental taxes. The ban was lifted Wednesday.
Что же касается Швейка, то смотритель решил оставить его хотя бы еще на одну ночь в гарнизонной тюрьме, дабы предоставить ему возможность вкусить всех ее прелестей.
В случае, если этот человек согласится вернуться на родину, вы должны выполнить любое его требование.
Обер-фельдкурат растянулся на лавке и через минуту уснул.
Вы знаете, что на вас, на нашего милого великана, я не обижусь.
С этой подковой в руках мне, может быть, удастся найти ключ к разгадке кровавой истории.
Я немного разобралась в ее психологии.