Monday, 28 September 2009 13:10
South African Man Marries Four Women At Same Time
By Nkemeleng Nkosi
WEENEN, South Africa, Sept 27 (AP) – Milton Mbhele showed up for his wedding in a white limousine — with four brides.
The women in white gowns each received rings and a kiss from the groom at a ceremony Saturday attended by hundreds of people. On Sunday, the families gathered for a second traditional Zulu wedding and planned to exchange gifts on Monday.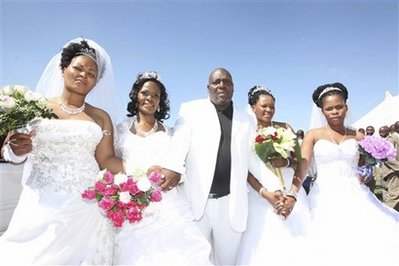 South African law recognizes traditional polygamous marriages — even President Jacob Zuma has three wives. Yet while polygamy remains common among several tribes including the Zulus and Swazis, simultaneous weddings are rare.
Mbhele, 44, a municipal manager in nearby Indaka, said the joint celebration saved money by combining the festivities.
Mbhele has already been married to Thobile Vilakazi for 12 years and has 11 children, but did not specify who their mothers are.
"I want her to be happy," he said of Vilakazi, who was also given a golden wristwatch at Saturday's ceremony. "I think getting married to her for the second time would make her happy since I will be taking in three other wives so this will relieve her in some way."
His "middle wives" — as he described them — are Zanele Langa and Happiness Mdlolo, both 24.
The youngest wife, 23-year-old Smangele Cele, said she was looking forward to marrying Mbhele, even though it means she'll have to share him. She said the wives planned to live separately, with their husband rotating between them.
"It is because of the way in which he shows his love for me. He loves me in all ways," she said, adding: "We will not be living in the same house and we take each other as friends."