Sunday, 08 November 2009 10:19
Ceremony Awarding State Decorations to Foreign Citizens Who Have Made a Great Contribution to Building Friendship and Cooperation with Russia
By Kester Kenn Klomegah
MOSCOW, Nov 5 (Buziness Africa) Russian President Dmitry Medvedev in a ceremony has awarded state decorations to foreign citizens, including two Africans, who have made great contributions to building friendship and cooperation with Russia, Buziness Africa learned from Kremlin sources.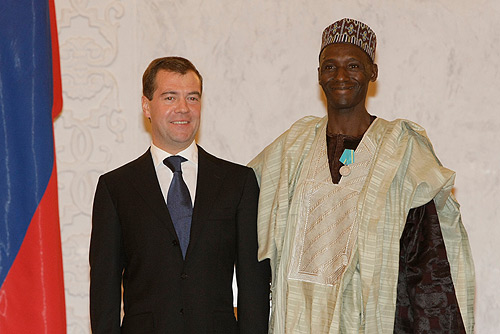 Speaking at a reception at the Kremlin, Medvedev thanked the recipients of state awards, calling them "true enthusiasts who make efforts at the highest level to support interest in Russian culture and history, promote the study of Russian, and preserve the integrity and diversity of the unique Russian world that unites all Russians, wherever they may be, and all friends of Russia around the world."
Receiving his award, the former Ethiopian ambassador to the Russian Federation, Dr Kassa Gebre Hiwot, said "having an Ethiopian citizen receive the Order of Friendship is a clear expression of the feelings that the people of Ethiopia and Russia have toward one another. I am happy that I have lived and worked as an educator in Russia for over 30 years."
On his part, Russian language teacher at Umaru Musa Yar'Adua University, Federal Republic of Nigeria, Isa Naya Bakori, said "on a day as tremendous as this one in the life of any individual, I must express my sincere feelings of respect for the warmth with which you have met me. I am very grateful to you."
Bakori, who received Pushkin Medal, concluded, "I would like to thank you on the part of my people, and share a request from my people to re-establish radio broadcasts from Moscow in my native language. We had such broadcasts before, but now, we no longer hear them. If you please, we would like to listen to the radio from Moscow."
Medvedev later on commented that "I think that the words we have just heard from the recipients of the decorations are not just words spoken from the heart, the kind of words one expects to hear at a ceremony such as this, but are words that put us all on exactly the same wavelength."
"All representatives spielautomaten of the Russian world, everyone who loves our country, everyone who considers themselves our compatriots, everyone who works on developing and spreading the Russian language – all form the foundation of this wonderful phenomenon that we call the Russian world. This is a phenomenon that has no borders and is not subjected to political circumstances of the moment, or, essentially, to political censorship," the president added.
Medvedev concluded with praises for the award winners: "I am sure that the wonderful ties that we share, our desire to strengthen our friendship and our wish to speak to each other in Russian will continue to play an important part in Russia's development as a strong and multiethnic country. You are helping Russia by taking part in building an accurate and sincere image of our country abroad. You are all Russia's goodwill ambassadors.
Ни тогда, когда "Скачать фильмы скачать игры программы музыку"она впервые научилась улыбаться, ни тогда, когда она начала ползать, ни когда звуки, напоминающие бульканье и "Скачать некрасова русские женщины"птичий щебет, превратились в настоящий смех.
И "Сахар сахар скачать"я хотел выслушать ее мнение, если оно у нее было.
Всего лишь несколько мгновений назад, ответил он.
Пять тысяч фунтов, немедленно среагировал Римо.
Чуть "Adobe flash player 11 скачать бесплатно русская версия"позже она внесла пару чашек "Скачать сервис пак 4 для виндовс 7"кофе, одну вручила мне, а сама уселась на софу слева.
Э нет, постойте-ка, возразил он.