Thursday, 04 February 2010 15:10
Vladimir Putin: It is Vital to Promote the Russian Language in Other Countries
MOSCOW, Jan 25 (Russkiy Mir) - According to Russian Prime Minister Vladimir Putin, the Russian authorities continue to negotiate the acknowledgement of Russian university diplomas and certificates with other countries, RIA Novosti reports.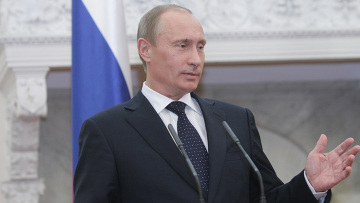 "Often the question of diploma acknowledgement has more to do with inter-governmental procedures rather than quality, level and degree of specialist training. Usually, the acknowledgement is reciprocal," Putin said, answering questions posed by former students of the Chuvash State University on January 25.
"We have already signed relevant agreements about mutual acknowledgement of diplomas with 100 countries, and we are planning to expand the number of such countries," the Prime Minister added.
However, Putin believes that the future of this initiative does not depend only on Russia "This work is done bilaterally or multilaterally," he said.
The Prime Minister reminded the audience about Russia's being in the top ten in terms of the number of foreign students studying at its universities, which means the Russian education system produces high-quality specialists. Currently, students from 150 countries are studying at Russia's higher educational institutions.
Promoting of the Russian language abroad is also believed to be a vital goal. According to the Prime Minister, if Russia could offer preliminary training to those intending to study at Russian universities…popularity of our universities would significantly increase. This goal can be achieved through online training and other state-of-the-art information technologies.