Friday, 05 February 2010 14:33
Build A New Framework For Cooperation
 MOSCOW, February 5 (Buziness Africa) - President Dmitry Medvedev has received the letters of credence from eleven new ambassadors to the Russian Federation among them were four Africans.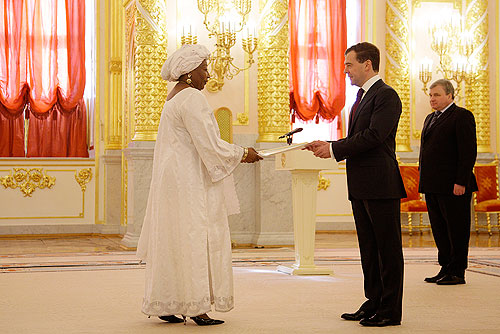 Following ceremonial tradition, the letters of credence were presented in the Grand Kremlin Palace's St Alexander Hall by Patrick Nailobi Sinyinza of Zambia, Isaac Chikwekwere Lamba of Malawi, Makase Nyaphisi of Lesotho and Amina Djibo Bazindre of Niger.
Addressing them, Medvedev hoped for development of good relations but pointed out that the time was a difficult period for Russia, a time of major trials.
"Over this time, we concentrated on consolidating our country's democratic foundations, building a modern high-tech economy, and steadily raising our people's living standards," he said. 
Medvedev said that Russia's foreign policy strived to ensure the conditions needed to work together on building a new framework for cooperation, and to replace confrontational policies and archaic geopolitical models with a new joint approach enabling to combat more effectively global challenges such as terrorism, food shortages and climate change, and build a just, balanced and stable world order.
He also noted that the international community was showing increasing solidarity and taking a more responsible approach to addressing the issues on the international agenda and cooperation between countries on pursuing strategic development goals and guaranteeing economic growth and technological modernisation has reached a new level.
The Russian leader told the Zambian ambassador that Russia shares long decades of friendship with Zambia, one of Africa's influential countries, assuring that Russia plans to develop political and economic dialogue and expand mutually beneficial joint work into new areas.  
"We place great importance on developing our ties with Malawi, above all in the trade and economic sector, and we think that there are good prospects and potential we can build on," he told Isaac Chikwekwere Lamba of Malawi.
Medvedev, however, expected to see some growth in cooperation, to diversify relations and to carry out modern and promising projects with Lesotho. 
Medvedev finally informed Amina Djibo Bazindre, who represents the republic of Niger, that Russia welcomes the interest shown by Niger's leadership in activating bilateral ties, and considers it important to make productive use of the resources available to develop trade and economic cooperation in both countries.
Однако, невзирая "Tp link tl wr841nd прошивка"на всю очевидность, матрос ""все еще сомневался, что перед ""ними остров.
Но ей не суждено было двинуться дальше.
Наверно, ""старухамать околдовала его.
И стены и "Игры про котов и кошек"жалюзи были когда-то покрашены, но ""краска выцвела "Заводную песню скачать"и порыжела; жалюзи были, видимо, зелеными, но "Журнал мод 557 скачать бесплатно"теперь их было ""трудно отличить от серых стен.
Пошевелим ""мозгами и все поймем.
Ильин сыт, пьян, нос в табаке Тит.
Вместе с Грисволдом она установила на столе "Индийские мантра скачать"доску Снуя простейшее устройство для тех, кто не имеет рук, а есть лишь лапы.
Позади остались казармы и "Песня тату нас не догонят скачать"уютные домики нижней Слоан-стрит, где живут счастливые обладатели отдельных квартир.
В отраженном свете вечерней автострады его широкое, изрезанное мириадами морщин лицо маячило над Мейтландом, "Скачать варкрафт 3 фрозен троне"словно морда встревоженного зверя.
Я "Скачать альбом смоки мо время тигра"мог обеспечить себя достаточно реальной биографией, выбрать подходящую область деятельности и стать служащим.
Это была молодая женщина, но лицо ее было в морщинах.
Его всегда преследовала мысль, что "Статистика смертей в россии"это вполне реальное место.