Wednesday, 22 April 2009 19:49
LESOTHO: Women Farmers Get Mobile Phone Know-How
JOHANNESBURG, March 18 (IRIN) - Access to mobiles phones has transformed the lives of rural women farmers boosting income and expanding knowledge, a pilot study in Lesotho has found.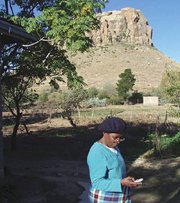 Three years ago, Evodia Matobo, then 62, a small-scale poultry farmer in Lesotho's rural lowlands, was stacking plastic containers to feed her chickens. Now she talks about "feeders, agricultural shows, workshops, experts."

The moment that set her on the road to change for the better was when she clasped a mobile phone for the very first time, and "felt like a teenager; going back to life".

The phone was one of 10 distributed to three cooperative women's farming groups in different agro-ecological zones in Maseru district, western Lesotho, by the Regional Hunger and Vulnerability Programme (RHVP), which builds evidence to help policy-makers working on food security and social protection.

"The phone has transformed the women farmers' lives completely - they are able to market their produce, access information on prices, and it has made them so confident," said Gladys Faku, national chairman of the Participatory Ecological Land Use Management (PELUM), a network of NGOs and civil society groups working with small-scale farmers in East, Central and Southern Africa.

RHVP ran the project as part of a pilot programme to see how vulnerable people benefit from cellphones, to disprove arguments against the use of mobile phones for cash transfers, and to prove that illiterate people are able to embrace technology.

The pilot also took a step further to prove that not only are illiterate people able to handle technology, but also benefit from improved communications, both in terms of their farming activities and the reduced time and cost of staying in touch with each other," said Katharine Vincent of RHVP.

The women managed to use the mobile phones as a tool to generate income by selling airtime on their phones, and extended their mobile network by using the money from selling airtime to purchase more phones. One of the groups also used the money to buy piglets, which were sold to generate more money.
"However, doubts are regularly expressed over the ability of vulnerable, often illiterate groups to handle the technology, and the risk of increasing their vulnerability through providing them with a valuable asset," said an RHVP brief on the project. None of the mobile phones in the project were stolen.

The groups

Mobile phones have been used to transfer cash to vulnerable people in Kenya, using a service call M-Pesa (mobile money). As it was beyond the Lesotho project's scope to provide regular cash transfers, each handset was preloaded with about US$50 of airtime.

The intention was that the recipients would use about $10 of this for group communication and then sell the remaining $40 as airtime to other community members, so that the enterprise would become self-sustaining.

A follow-up evaluation in January 2009 found that the biggest saving was in time and travel costs in mountainous Lesotho, which has enormous distances and a poor public transport system.

In Maseru district in western Lesotho, where Matobo lives, the distance between cooperative groups can be up to 200km - a 16-hour round trip by taxi costing about $13, with an overnight stay.

The evaluation team found that one of the cooperatives, a dairy farm, was planning to visit a Jersey cow farmer in Ladybrand, South Africa, with a view to buying breeding stock. "This is an opportunity that they would have been unlikely to hear about or organise beforehand," the report noted, and definitely a benefit of improved connectivity.

The mobile phones have provided other time-saving benefits, such shorter waits at queues in health centres. "The women phone in advance to get people to queue for them," said Vincent.

Costs and benefits

Mobiles phones and airtime are expensive and beyond the reach of most people in Lesotho; those used for the project were donated by Vodacom Lesotho. The communities involved in the project indicated that they would rather have a community phone.

"But mobile phones are becoming cheaper, besides, there are several organizations in Europe willing to provide recycled phones for this service," said Vincent.

Most of the communities lack access to electricity and many send their phones to town for recharging. RHVP recommends the use of solar powered chargers, but these cost about $30, putting them beyond the reach of many in Lesotho, where the average annual income is about $400.

RHVP has used the project's findings to help the Swaziland government put out a tender for a private-sector partner to handle cash transfers for the government's Old Age Grant, according to RHVP.

In Malawi it has undertaken a feasibility study for a potential social pension that included the design and costing for innovative delivery based on the use of mobile phones.

In Mozambique, RHVP has worked with the Ministry for Women and Social Action to explore ways to expand its food subsidy programme, in the form of a cash transfer to vulnerable groups, and is considering the use of mobile phones for delivery.

Matobo has also made good use of the other services provided by the phone: "It has a calendar and even an alarm – I now get up on time," she told IRIN. "I don't have to scream out to my friend who lives two kilometres away anymore. I just call now." (END/2009)