Thursday, 16 June 2016 12:28
Putin pledges support for Russian companies entering Guinean market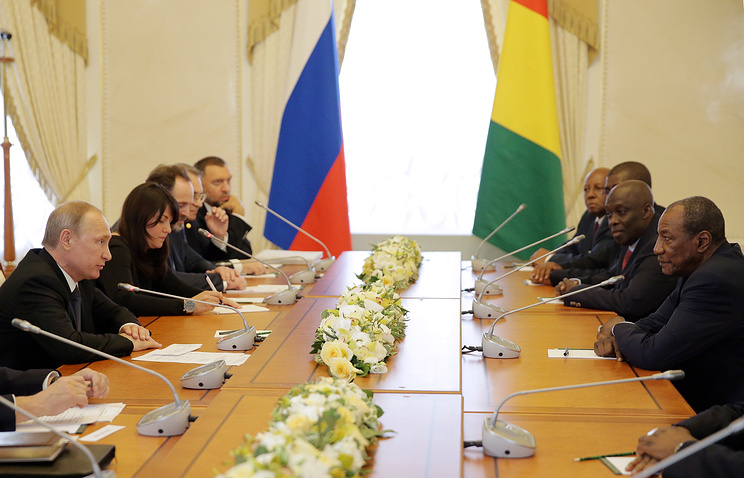 ST. PETERSBURG, June 16, 2016 (TASS) -- President of Russia Vladimir Putin pledged support on Thursday to Russian companies wishing to enter the market of Guinea and invest in its economy.
"Russian companies are already working on the market of Guinea and we know well about the interest of other Russian producers to develop the market of your country and invest in it," Putin said at a meeting with Guinean President Alpha Conde.
"We will support and assist the implementation of these plans," the head of the Russian state said.
Putin noted the generally positive nature of Russian-Guinean relations and pointed to the trend of growing bilateral ties.
According to Putin, trade between Russia and the West African country increased 120% last year.
Putin also called Guinea Russia's long-standing and reliable partner in Africa.
In turn, Conde expressed the hope for further expansion of Russian-Guinean relations, and also that Russian companies would enter the West African country's market.
"For us, this is an exclusive honor to raise relations with Russia to the level of strategic partnership," Conde said.
The Guinean president also said that Russian aluminum giant Rusal was the engine for the development of economic relations between Russia and Guinea and "I hope that Rusal as the locomotive will pull up other railway cars."
The Guinean president said that Guinea could become "the gates for Russia into the western part of Africa."
"I can assure you, Mr. President that we are ready to become an 'assault brigade,' through which you'll ensure your entry into the African continent," the Guinean president said.
The president of the West African country also proposed to Putin to discuss the idea of creating the Russia-Africa forum.
Conde told Putin that a large package of documents was currently being worked out in Russia and Guinea and "I hope that you'll take up an opportunity sometime to come to us to Guinea and sign these documents.".
(*This story was originally published by TASS News Agency)