Friday, 04 March 2016 12:16
Ghana COCOBOD Reaches Out to Russia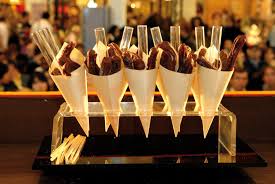 By Kester Kenn Klomegah
MOSCOW, March 04, 2016 (Buziness Africa) -- As part of broader efforts to penetrate into new international markets, a nine-member delegation headed by Dr. Stephen Kwabena Opuni, Chief Executive of the Ghana Cocoa Board, is participating for the first time in international cocoa exhibition from March 4-7 in Moscow, capital of Russia.
The delegation will also explore investment opportunities, hold discussions on developing cocoa products with potential Russian companies as well as strengthen trade relations between Ghana and Russia.
Ghana has a low trade relations with Russia. Information made available from the Russian Chamber of Commerce and Industry shows that the trade volume between the two countries in 2014 was a mere US$153 million which was on the level of 2013. In the period January-August 2015, the trade volume has increased on 37% in comparison with the same period 2014 to US$122 million.
The Ambassador Extraordinary and Plenipotentiary of the Republic of Ghana to the Russian Federation and Commonwealth of Independent States (CIS), H.E. (Dr.) Kodzo Kpoku Alabo, on Friday here dubbed the cocoa event "as a new positive development" in Ghana-Russian relations, affirming further that the economic cooperation between the two countries is "set to grow stronger and broader."
Ghana is one of the leading world exporters of cocoa beans, that's why Ghana is interested in attracting foreign investors, including Russians to establish processing plants, which could add value to the raw cocoa beans in Ghana before they are exported to Russia and other CIS countries to meet the high demand there for Ghana's premium cocoa, according to H.E. Ambassador Alabo.
A statement from the organisers indicates that about 20 foreign companies and chocolatiers, from countries such as France, Belgium, Armenia, United Kingdom, the United States, Canada, Columbia, Ecuador and delegations from Ghana, Cote d'Ivoire and Cameroon are taking part in the the Moscow Salon du Chocolat.
Claire Coutin, Director of the V Salon du Chocolat in Moscow said in an exclusive interview with me that "Russia is and remains one of the most promising markets for chocolate worldwide. Russians are chocolate lovers and have a very long and rich chocolate heritage. This is also the largest European market. At the same time, Russian chocolate sector is currently booming with the development of new generation of Russian chocolatiers."
Thus, the exhibition is to offer all chocolatiers and professionals interested in Russian cocoa and chocolate sector, a unique platform to communicate, establish informal commercial relations, exchange know-how and interact with consumers. As such, the key goal is to support and contribute to the development of the Russian chocolate industry
On future perspectives, Coutin added with optimism "we would like the Salon to become an annual not-to-be-missed event for all professionals, entrepreneurs and investors interested in Russian chocolate industry, and for consumers and chocolate-lovers we are expecting to become a cult spring event. We expect that in the future we will become more international and with a larger participation of cocoa-producing countries."
The Ghana Cocoa Board was established with a mission to encourage and facilitate the production, processing and marketing of premium quality cocoa, coffee and shea nut in all forms in the most efficient and cost effective manner and to promote cocoa products both in local and international markets. (END)