Thursday, 25 February 2016 08:58
Ethiopia: Exploring Untapped Investment Opportunities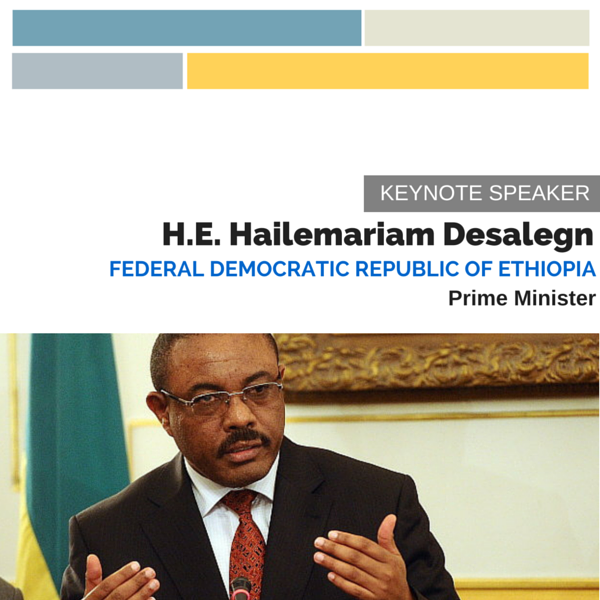 By Zelalem Girma
ADDIS ABABA, February 25, 2016 (The Ethiopian Herald) -- Recently, over 1,200 business representatives, government officials, entrepreneurs, investors, decision makers and managers from Africa, US, China and Turkey attended the U.S - Africa Business Summit here in Addis Ababa. In this summit, many leaders declared that Africa is rising, and its future is very bright.
Opening the Summit, Prime Minister Hailemariam Desalegn explained that Ethiopia's economy has been the fastest growing economies in the world for the last decade. He noted, " We are not frustrated by the head wind which has been expressed as affecting the global economy."
According to Hailemariam, the World Bank agreed that Africa could be in the bricks of economic take off as much as China and India was 30 and 20 years ago respectively. The United States has been a central and long standing partner of Africa in political, social, economic development for many years. In those years, Africa has been provided generous amount of humanitarian and development assistance from the United States.
On the other hand, he revealed that U.S private sector engagement in Africa has been rather lower. He believes that the current U.S business and investment in Africa stand for no more than small percentage of the total U.S global investment. According to him, to reach the potential expressed by the World Bank, governments need to work hard in increasing trade and investment between U.S and Africa particularly in productive sectors.
Regarding investment incentives, the Prime Minister explained that Africa has substantial and untapped potential for investment, trade and tourism. It has a wide range of still largely unexploited, or unused natural resources including diversified mineral deposits.
In this regard, he also stated that the government of Ethiopia has provided encouraging conditions designed to attract foreign business and investment for better economic development. Thus, Ethiopia has a stable economic and political environment; stability in macro economy, and a free market economy in attracting investment incentives.
Prime Minister Hailemariam affirmed that companies those need to invest in Ethiopia should focus on agribusiness, agro-processing and overall agricultural production to import capital goods duty free and entitled to tax holiday privileges.
The country has investors friendly legislation with attracting incentive packages to encourage its growth. The priority sectors that are available includes light manufacturing - textile, leather and leather products, sugar, metal, industrial engineering and pharmaceutical sectors. Oil, gas and other minerals are among the extractive sector attracting foreign investment.
Similarly, Hailemariam said that a booming construction industry, and a major range of infrastructural development sectors such as hydro power, wind and geothermal energy projects, rail and road construction are the other attractive areas where foreign investors could engage.
Of course, Ethiopia has huge natural resources, abundant, affordable and skilled labours. That is why the the government has put considerable attention for energy resources, and became intolerant to corruption unless minimal crime rate. Ethiopia needs increased investment to build its economy, lift its citizens out of poverty as well as enable the country get out of low income status.
The country has offered investment incentives to investors engaged in prioritized sectors. In addition, the government is currently expanding industrial parks with adequate infrastructure to speed up industrialization in the country.
CCA President Stephen Hayes said, "CCA is one of the very few U.S. business organizations that has an M.O.U. with the African Union and held its tenth biannual summit in Addis for three days. This relationship is important, and fruitful as the conference was planned to look at the long term issues between U.S.-Africa economic and trade.
U.S. Assistant Secretary Linda Thomas-Greenfield said that this forum follows the successful business forum, the Global Entrepreneurship Summit hosted in Kenya in July. It is true to say that business in Africa is important to America; American investors are interested in Africa, and investors across the globe are interested in Africa.
There are many opportunities, and those opportunities are being highlighted by the actions of the business community here. Linda said, "We know that business is the engine of growth, we know that business is the way to prosperity in Africa, businesses will create jobs, not governments."
Likewise, CCA Chairman Paul Hinks said that CCA is a leading US-based company promoting trade and investment on the African continent. "As doing business in Africa and elsewhere is not easy, the public and private sector should understand the circumstances of the business environment."
US Ambassador Patricia Haslach believed that the business summit was the first of its kind providing available opportunity and the privileges and discussed greater intra-African trade. According to her, U.S investors have a role in building up African economies.
African governments need the private sector entrepreneurial spirit, market survey and readiness to invest. They should have to encourage their commitment to transparency and fighting corruption.
As investing in Africa is not so easy, U.S investors should become patient and resilient to do business in Africa, then the profit will also be huge. Patricia also recommended that African governments should supply for investors the enabling environment such as stability, fair and efficient regulatory frameworks as well as attractive investment plan.
As a result, U.S and African investors has taken advantages of investment and business opportunities from the Summit held in Ethiopia. The Forum has enabled U.S and African investors explore peculiar opportunities and gain insights into Ethiopia's fast growing economy.
Companies, participated in the U.S-Africa Business Summit, were keen to get greater access, connections and insight to do business in Africa through high-level special events, business conferences and trade exhibitions. Of these, Yazmi USA was a company that came up with an uncomparable solution to address the challenge that hinders African countries from building the human infrastructure.
Yazmi Chairman and CEO Noah Samara said that his company is committed to empower Africa through creating unique education strategy that works in every schools without the need of electricity. Noah recommended that as the programme fosters the development of science, Ethiopia is cushy to accept and apply new sciences, and needs its implementation.
According to him, governments across Africa, Asia and the Middle East ought to utilize the Yazmi system to transit books, live lectures and applications to every student and teacher anywhere in their own nation. The Yazmi system can provide massive amount of educational material straightaway to every student and teacher without getting access to the Internet or electricity.
One of African Visionary, Founder and Chairman of Petrolin Group Samuel Dossou-Awaret said that the Petrolin Group needs a strong connection with people who want to promote Africa, put the infrastructure together so that others may come to assist Africa. According to him, the development of Africa needs an awareness on the part of the continent's tremendous potential.
On top of that the Ethiopian Airlines' Corporate Travel Programme was presented for exhibition in the Summit. The opportunity it provides, assist companies to save substantial and upfront percentage discounts, back-end incentives, and other soft benefits on business level.
In this regard, Manager Market Development and Global Corporate Sales Zebiba Miftah said that the Airlines create an enabling condition for any company to have broadloom connection between Africa and the rest of the world.
Besides, other African participants said that they have the opportunity to learn about investment opportunities, and business success stories from the host country. In fact, the Summit assists them to create networks with other businesses interested in their country, meet face to face with policy makers and business representatives, and build potential partnership for the future.
To sum up, American and African investors are expected to play their roles in building up African economies through strengthening their commitment to transparency and fighting corruption. They must put their eyes on unexplored opportunities to generate overall growth and global prosperity.
Keeping the promised opportunities along the African governments were perfectly compulsory to the success of this initiatory business and investment ties established within the two continents. On the other way, the U.S investors should also run, not to miss the African bus, and to be part of the African rising stars.
(This story was originally published by The Ethiopian Herald)