Wednesday, 02 September 2009 10:46
Clinton Sets New 'Tough Love' Tone On Africa
By Shaun Tandon
SAL, Cape Verde, August 14 (AFP) – Hillary Clinton has set a new tone in US relations with Africa on a whirlwind seven-nation trip, sometimes ruffling feathers with a tough love message that Africans must tackle their own problems.
On her longest trip yet as secretary of state, Clinton crisscrossed the continent for 11 days from an AIDS clinic in rural South Africa to the war zone of Democratic Republic of Congo to a roundtable with Nigerian faith leaders.
To the diverse audiences, Clinton delivered a consistent message -- the fate of Africa is up to the Africans and that the United States, while ready to work with them, has no "magic wand" to solve endemic problems.
She was taking on the road a message delivered by President Barack Obama on a visit last month in Ghana, where the first African-American US leader urged Africans to stand up and take charge of their future.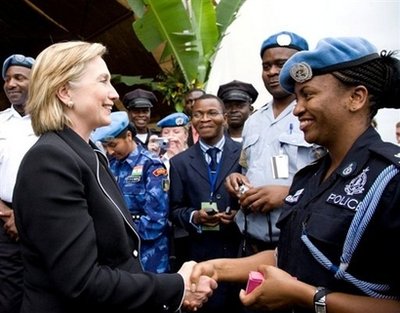 Clinton, who ended her trip Friday here in the small Atlantic archipelago of Cape Verde, tailored the theme to each country -- urging Kenya's rival leaders to reconcile and warning Nigeria that corruption was threatening the government's very legitimacy.
"The Obama administration both in the president's speech (in Ghana) and in my visit, have given a message of tough love," she said during a press conference Friday with Cape Verde's Prime Minister Jose Maria Neves.
"We are not sugarcoating the problems, we are not shying away from them, our emphasis is to help to channel the hopes and aspirations of the people of Africa, in a way that changes the direction of their countries."
While Clinton faced little outright hostility on her trip -- in Liberia, she was greeted by hundreds of cheering women calling her "our iron lady" -- she faced some tough questioning.
Kenya's Prime Minister Raila Odinga bristled at US "lecturing," although a US official dismissed his remarks as public posturing. In Nigeria, This Day newspaper quoted the ruling People's Democratic Party condemning Clinton, saying she was being misinformed by political rivals with an "axe to grind."
And in the Democratic Republic of Congo, students grilled her on past Western exploitation of Africa in a testy exchange in which Clinton made her now famous remark snapping at a student who sought her husband's views.
Tom Wheeler, research associate at the South African Institute of International Affairs, said that the new US administration has produced "a shift in style and substance" with Africa.
"Africans have always expected countries outside the continent to solve their problems, while simultaneously resenting that aid dependency," he said.
"Blaming foreign exploitation for Africa's woes is a cop-out. Africans have to accept responsibility for their own destiny and I think the Obama-Clinton messages are correct."
Clinton came armed with examples she repeated throughout the trip -- pointing to India as proof that democracy works in developing countries and hailing Botswana for ensuring its mineral wealth funds a first-class infrastructure.
Unlike many Western visitors, Clinton came with no major funding promises although she stepped up money to fight AIDS in Angola and to help stop a rape epidemic in DR Congo.
Aides said the Obama administration's signature initiative for Africa was a 20 billion-dollar plan by the Group of Eight rich nations to boost agriculture and let Africans end their own hunger problems rather than rely on aid.
Most of the money, however, is yet to be appropriated.
AIDS activists have also criticized Obama for not raising the level of funding to treat and prevent the disease. Former president George W. Bush allocated 15 billion dollars in an emergency AIDS plan that even his rivals praise as a major accomplishment.
Stephen Morrison, an Africa expert at Washington's Center for Strategic and International Studies, said that Bush had started setting the new tone on Africa but that it carried a new force coming from Obama.
He said it was now up to US officials to work with Africa on moving ahead with reforms.
"The reception in Africa will be mixed," he said, but added: "I believe the tough messages, if followed with consistent policies, will win applause in much of Africa." (END/2009)