Thursday, 11 February 2016 14:18
China launches Industrial Cooperation Fund to assist Africa's Development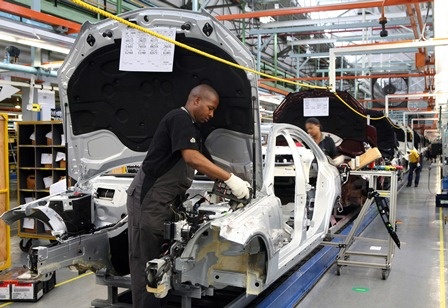 By Miroslav Atanasov
CHINA, February 11, 2016 (CCTV) -- The first week of this year saw the official launch of the China-Africa Industrial Cooperation Fund to assist Africa's development. The fund was jointly founded by the China Foreign Exchange Reserves and Export-Import Bank of China.
It will be managed by the newly-registered China-Africa Industrial Capacity Cooperation Fund Company Limited (CAICCF).

One of the major problems of the colonial age was the fact that European powers' primary objective was to pillage Africa's resources to feed their homegrown industries, while not industrializing the sub-Saharan continent. 

Consequently, African economies remained dependent on commodity exports, but fluctuating prices have caused financial instability. The lack of sufficient industrialization had sparked social problems due to high unemployment among the working-age population.  

Even though Africa has advanced economically in other fields, it has been lagging behind in industrial production output. Its total share of global manufacturing has decreased and currently stands at 4%. 

The manufacturing value of African nations GDPs (gross domestic product) fell under 11% in 2014. They are mostly excluded from global value chains and their important industrial sectors are still on the decline. 

Accordingly, Chinese assistance is timely. As production costs rise and domestic demand increases, China has identified the niche that needs to be filled. 

Economists have estimated that with the move toward capital-intensive processes, China would significantly reduce the number of its 85 million manufacturing jobs. 

This creates a golden opportunity for Africa – to capture even part of these jobs would increase employment and consumer demand. That would revitalize the industrial sector and help African economies move away from their current commodity dependencies. 

Even though challenges exist, Chinese direct investments have already arrived in Africa, which promote growth and usher in an economic transformation by creating new jobs and transferring skills on both the management and technical levels. 

Such investments increase trade opportunities and link Chinese and African businesses together. Manufacturers in Africa also purchase Chinese machinery to reduce production costs and improve global competitiveness. 

The right local policies have been set in place to make the development of value chains in Africa possible.

The set-up of the China-Africa Industrial Cooperation Fund announced by Chinese President Xi Jinping when he attended the Forum on China-Africa Cooperation (FOCAC) meeting in Johannesburg in December, 2015 will boost this process. 

The 10 billion USD fund was considered one of the important measures disclosed the summit. It is part of China's 60 billion dollar aid package to be disbursed in the next 3 years. 

The larger package also includes 5 billion US dollars of free aid and interest-free loans, 35 billion US dollars of preferential loans and favorable-terms export credit, 5 billion US dollars of additional capital for the China-Africa Development Fund, and Special Development Loan for small and medium size enterprises.

The fund would bring mid to long-term investments in sectors, such as manufacturing, agriculture, hi-tech, energy, minerals, technology, infrastructure, and finance. 

It will underwrite important projects, including the construction of a high-speed rail network and regional aviation network. The People's Bank of China has encouraged international investors to join in. 

The fund will be considerate of international regulations and follow the commercial operations mode thus contributing to mutually-beneficial results. It will apply a number of equity-based and market-oriented approaches. 

It will upgrade the current version of the China-Africa Comprehensive Cooperation and expand existing China-Africa win-win partnerships. The FOCAC Action Plan states that to achieve independent and sustainable development Africa must industrialize. 

The document (3.2.4) says: "The Chinese side is willing to give priority to Africa in industrial partnering and industrial capacity cooperation. The African side welcomes the transfer of labor-intensive competitive industrial capacities of China to Africa ... to increase employment, taxation and foreign exchange, and achieving technology transfer and common development."

This recent development marks an important step in the China-Africa partnership. Even though natural resources remain the major African export to China, like to the rest of the world, the fact they were left out of the December FOCAC discussions is worth noticing. 

China's increasing presence in other sectors shows a willingness to change the status quo. Africa should improve its laws and government coordination. 

The shift from commodity-based economies to industrialization will likely take time, but a closer partnership with Beijing is a step in the right direction.
(By Miroslav Atanasov, Ph.D. Renmin University of China)