Wednesday, 23 December 2015 12:12
South Africa positioning itself as major food exporter to Russia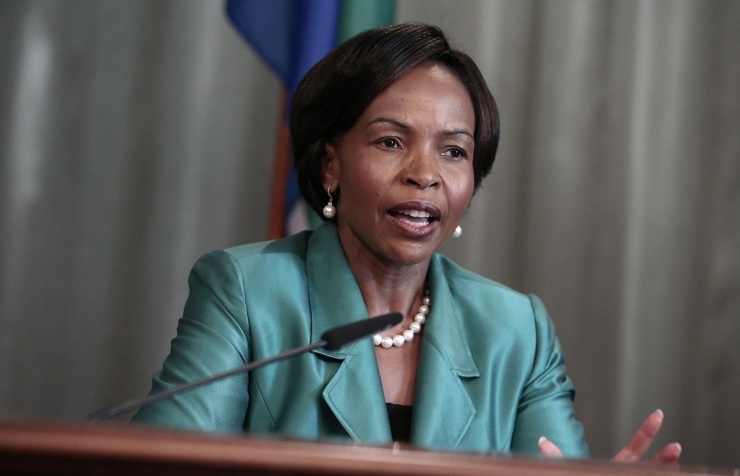 SOUTH AFRICA, December 23, 2015 (TASS) -- South African Minister of International Relations and Cooperation Maite Nkoana-Mashabane in an interview with TASS.
- The outgoing year saw two visits of South African President Jacob Zuma to Russia and also your visit for ITEC. How would you describe South Africa's relationship with Russia?
- South Africa has a strategic partnership relationship with the Russian Federation. South Africa and Russia have a structured mechanism, the Intergovernmental Committee on Trade and Economic Cooperation (ITEC), Co-Chaired by myself and Minister Sergey Donskoi from the Russian side, which provides a framework for strengthening and deepening of our relations comprehensively, including socio-political, and trade and economic activities. ITEC meets annually.
- Do the views of the countries on major world developments coincide or are they close?
- South Africa and the Russian Federation share similar views in general, depending on the specificity of the issues, on major world developments.
- Do they agree on ways to combat terrorism?
- South Africa and the Russian Federation share similar views in general on the unacceptability of terrorism and acts of terrorism. Terrorism continues to challenge the international community and no country can regard itself as immune from this threat as recent events both on our continent and further afield have shown. This challenge is especially felt in situations of instability, which have created the space for terrorist groups to thrive and operate with impunity depriving innocent civilians of security, human dignity and peace.
Terrorism in any form and from whichever quarter cannot be condoned. South Africa stands firm with the international community in condemning all acts of terrorism. South Africa has always held the view that countries cannot face this challenge alone and it is important that we pool our resources to counter this threat.
In this regard, South Africa has committed to strengthening co-operation with our BRICS partners and other nations in the fight against terrorism and we continue to support a multilateral approach, with the United Nations at its centre in coordinating global efforts to counter this scourge, within the framework of the UN Charter and in accordance with international law. In dealing with the threat of terrorism it is important to understand what drives it and to address its root causes by developing appropriate strategies to prevent it and counter its impact.
- SA-Russia trade was less than $1 billion in 2014. Due to Russian countersanctions against European food SA increased exports of fresh fruit to Russia. If the sanctions are lifted does SA intend to remain a major food exporter to Russia?
- Yes, South Africa is positioning itself as a major food exporter to the Russian Federation.
- What is your attitude to unilateral sanctions in general?
South Africa does not recognise any sanctions unilaterally imposed outside of the United Nations (UN) system.
- How can both countries increase trade turnover?
- Through effective implementation of all the Agreements and Memoranda of Understanding (MoUs) signed by these two strategic partners, as well as by intensifying and deepening the work of the South Africa-Russian Business Council operating within the framework of the SA-Russian Intergovernmental Committee on Trade and Economic Cooperation (ITEC). Conclusion of the current draft Agreements and MoUs and their implementation would further increase the trade turnover between our two countries.
- Do you have any preliminary trade figures available for 2015?
- Not yet.


- 2015 is the Year of China in SA. Do you plan to exchange Years of culture with Russia?
- This issue is still under consideration by the South African Government.
- You extended an invitation from President Zuma to President Putin to visit South Africa next year. Can you say when the visit is likely to take place and what will be the main issues on the agenda? Can nuclear energy cooperation highlight the talks?
- It is still too early to provide any official response to these questions as preparations are still at the preliminary phase.
(This interview was originally published by TASS News Agency)