Thursday, 17 December 2015 11:50
Africa: A Continent of Great Opportunities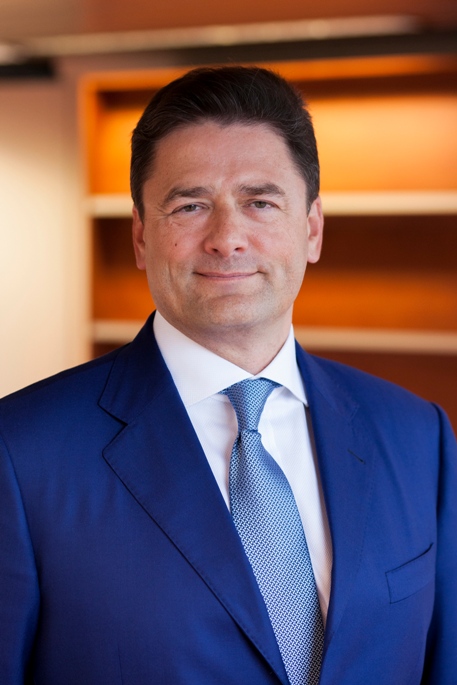 MOSCOW, December 10, 2015 (Buziness Africa) -- Many Russian companies are now returning to Africa as the continent is increasingly becoming an attractive place to do business. GPB Global Resources has been constantly present on the ground in Africa since 2007 and has been navigating for projects. It is a company registered in the Netherlands which has close to about 100 bilateral investment treaties and enjoys one of the best investor protection regimes available to business. In this interview, Boris R. Ivanov, Managing Director at the GPB Global Resources B.V., highlights some of his company's investment projects and operations as well as future plans. He spoke recently with Kester Kenn Klomegah, Regional Editor-in-Chief for Russia & Eurasia at Buziness Africa Media Group.
Read the interview excerpts:
BA:In the first place, why Africa has become important investment destination for GPB Global Resources?
Boris Ivanov: GPB Global Resources and its precursor companies were established with a specific aim of developing the natural resources business in new markets. Therefore, Africa, as a continent with many promising economies and still untapped resources, was on our radar from day one. The years that have passed since we have started our activities in 2007 have only proved that our African focus was and is the right choice as we have found many interesting projects there.
BA:Can you point out which African countries GPB Global Resources already has projects, describe briefly these projects and possibly stages of their developments?
Ivanov: Currently, GPB Global Resources has projects in Mali, Cote d'Ivoire, Niger, Chad, Ethiopia, Eritrea, Congo, Swaziland, Zambia and Mozambique. They involve all kinds of resources from oil and natural gas to uranium, and from gold to precious stones. Some of them, for example, our uranium project in Niger or our gold prospecting efforts in Chad, have gone through several seasons of exploration and our specialists are now working to confirm the discovered reserves. Others, like the recently signed Petroleum Production Sharing Agreement with Ethiopia are at their launch phase and we look forward to 3 to 5 years of work before we could make further decisions to continue our efforts or not. Still others are in negotiation phases, we are evaluating the availability of resources, partnership or the investment climate.
BA:As we can see, there are many foreign players that now face keen competition for infrastructure and investment projects. Is competition and having access to the share of resources getting harder for Russian companies such as yours?
Ivanov: Competition is a natural state of business. Russian companies historically have profound experience in infrastructure, but also, if we talk about Africa, face the reality of history, when there was a gap in the Russian engagement with African states following the collapse of the USSR. In many cases, Russians have to retrace their steps back to the continent. It is demanding work, however one could also note that it is a lot easier than being a total stranger or a newcomer with no previous history of active relations with Africa as is the case with our colleagues from some other countries. So you see, as always, Russian companies included, posses their own competitive advantages and disadvantages. Access to a share of resources in the end is defined by the level of expertise, professional execution and preparation, not by overall numbers of potential competitors. GPB Global Resources has been constantly present on the ground in Africa since 2007 and our personal engagement with the countries of the continent goes back into the late 1990's, so one can say that we are one of the pioneers of Russian business in Africa. We have since accumulated profound professional knowledge about the countries of the continent and opportunities available there.
BA:What strategies have the adopted to secure projects? Do you find some of the legal requirements complicated especially those relating to investment protection in Africa?
Ivanov: Projects are secured by doing your homework, coming to the game in time and being a leader in expertise. Speaking about legal requirements, my impression is that the greatest challenge is its diversity: Africa has 54 countries with absolutely different legal traditions and sources of law. In terms of the natural resource industry some countries, Ethiopia is one example, have frameworks drafted in accordance with the best international practices, so we saw no surprises preparing the Production Sharing Agreement. Other countries, for example Mozambique, have only recently discovered natural gas and have to draft their national legislation regulating this future industry. Still others, say South Africa or Namibia, have old and well developed mineral codes rooted in British law. In some places you come across traditional or common law requirements which nonetheless influence your activities.
As for investment protection, GPB Global Resources is a company registered in the Netherlands, which has close to a 100 bilateral investment treaties, so it enjoys one of the best investor protection regimes available to business.
BA:Do you enjoy some incentives from the African side and do you also have some support from the Russian side? In your view, what other requirements are unfavorable in investing in Africa?
Ivanov: Certainly we do. Many African states are actively attracting foreign investors or working on their national economic development plans which require international expertise. Everywhere, where GPB Global Resources went for projects, we have felt and enjoyed the welcoming attention and support of national governments, respective ministries and local authorities. We are very grateful for this support – our company believes that partnership with local business and government is one of the key elements of success. As for the Russian government, we definitely benefit from the recent efforts to "return Russia to Africa", we have been a participant in many bilateral economic cooperation efforts on the government level and contributed to the economic agenda of the Russian relations with many African countries.
As for investment requirements, as you well know, one could write a thesis on this subject. For the purposes of this interview, I could only say that Africa is very diverse and one cannot generalize. There are countries that are engaged in war or have little political stability and there are places with quite attractive investment conditions. Being well informed and able to navigate between these vastly different conditions and opportunities is one of the advantages of the GPB Global Resources experience.
BA:Can we discuss also about project financing. Some foreign players (countries) have earmarked funds for projects, for example China and Japan, mainly from their banks and other lending financial institutions. How does GPB Global Resources support its projects with money in Africa?
Ivanov: GPB Global Resources applies a multifaceted approach when it comes to financing projects in Africa. As I have mentioned before, we strongly believe in local and international partnership, so some of our projects are opportunities for local and international private investors to unite their capital with our expertise and our ability to secure specific projects. Other projects are solely financed by GPB Global Resources using internal funds or financing from foreign or Russian banks. There are also projects where local government funds or resources in kind are available in one form or the other, as these projects form important milestones in national infrastructure development plans for example. GPB Global Resources is willing to work in any of those formats and create lucrative opportunities for partners, be they government or private investors.
BA: How possible to say about the estimated total investment in Africa? Do you have some figures at hand to show the volume of project finance in Africa?
Ivanov: As for the total amount of investment into Africa, it is something we have never estimated, as it has little meaning for us. Consider the following: $15-30 million is a good budget for a mineral extraction project, for example gold production, however in oil it hardly pays for one well.
Our commitment in the oil exploration project in Ethiopia can run up to $60 million, however whether we actually invest this much or not depends on the consecutive outcomes of exploration stages - should one of them produce negative results we, obviously, shall not invest further. So, as you can see, it is a difficult task to estimate the total amount, what do we count - actual investments to date? Signed commitments to date? Do we discount the money spent on discontinued projects? In any case, all that I can say, our estimated total investment is in dozens of millions of dollars to date.
BA:What challenges still remain in doing business with Africa and what are your visions or future plans for Africa? Do you plan to expand operations into lucrative and profitable regions of Africa?
Ivanov: GPB Global Resources will stay in Africa for the foreseeable future. It is a continent of the future, where we are facing the birth of several new economies. It is also a continent of great opportunities and we continue to work with new countries there, which are not yet covered by our footprint. As Africa is gradually solving the challenges arising from the continent's colonial era as well as the conflicts, in many cases rooted in the cold war, it is consistently becoming an attractive place to do business. It is also gratifying on a human level, as you get an opportunity to contribute to the improvement of the lives of people, create infrastructure, employment, provide education opportunities or advance the availability of medical aid. Every investor knows that growth and development create opportunities, so whatever is your taste for opportunity you can find it in today's Africa and, if you need a partner – GPB Global Resources is a ready one. (Source: Buziness Africa)