Thursday, 29 October 2015 09:40
Ghana and Belarus Seek Closer Cooperation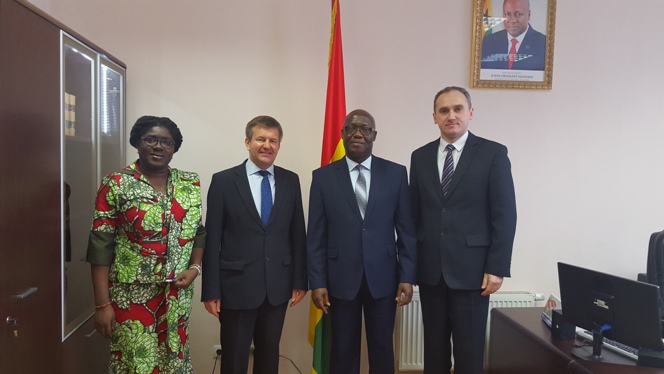 MOSCOW, October 29, 2015 (Buziness Africa) -- Ambassador Extraordinary and Plenipotentiary of the Republic of Ghana to the Russian Federation and Commonwealth of Independent States (CIS), H.E. (Dr.) Kodzo Kpoku Alabo, held a working meeting with Head of Africa and Middle East Department of the Ministry of Foreign Affairs of the Republic of Belarus, H.E. (Mr) Igor Leshchenya, in Moscow.
During the meeting, the two sides exchanged views on a wide range of significant issues, especially about ways of strengthening the existing bilateral relations between Ghana and Belarus. For instance, to boost its diplomatic presence in the region, Belarus has opened its Embassy in Federal Republic of Nigeria and has appointed an Ambassador, Mr. Vyacheslav Beskosty, who concurrently oversees Belarus interest in the Republic of Ghana.
Ambassador Leshchenya noted interest in the expanding relations between Ghana and Belarus. The sides reached an agreement to identify further key areas of mutual cooperation between the two countries and prepared a development program of bilateral interaction.
Mr. Leshchenya stated at the meeting that Belarus considered Ghana as one of the promising countries in Africa, particularly in West Africa, for economic cooperation because of its political stability and the welcoming opportunities it offered potential foreign investors.
The Belarusian diplomat expressed readiness to develop mutually beneficial cooperation with Ghana in all spheres. He underlined the necessity to establish more useful contacts between government institutions and businessmen of the two countries.
On his part, Ambassador Alabo pointed out the importance that Ghana placed on its relations with Belarus and stressed the participation of Belarusian enterprises in the economic sectors such as agriculture, transport infrastructure, energy, industry and many others in the country.
In addition, he explains that Ghana is highly considered as an investment destination and a gateway to the region by foreign investors, thus the Government of Ghana has remained fully committed to maintaining stability, creating an enabling business environment and improving investor confidence as well as business regulations in the country.
The Ambassador underlined the possibilities to intensify political dialogue, increase trade and economic cooperation with prospective partners between the two countries.
He also discussed with the Belarusian diplomat intensifying the practice of exchange of bilateral visits of high level Government officials and leaders of the business community aimed at enhancing bilateral relations, the increase in the volume of trade and the offer of scholarships for Ghanaians to study in educational institutions in Belarus. There are about 60 students in educational institutions in Belarus.
Dr. Alabo is the Ambassador Extraordinary and Plenipotentiary of Ghana to Belarus with residence in Moscow. According to official reports, Belarus and Ghana established diplomatic relations on 5 June 1992. The bilateral trade was estimated at $35.2 million in 2013. Belarus, an ex-Soviet republic, is a member of the newly created Eurasian Economic Union.
By Kester Kenn Klomegah