Wednesday, 30 September 2015 12:36
China to Cooperate With Africa On Building Infrastructure Networks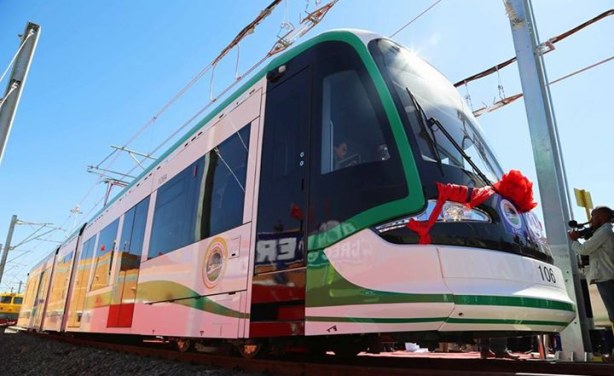 ADDIS ABABA, Ethiopia, Sept 30, 2015 (Buziness Africa) -- China said that it would work with Africa on the construction of three major infrastructure networks, namely high speed railway, aviation and road highways. Foreign Ministry spokesperson Hong Lei made the remarks when commenting on a Chinese-built rail project in Addis Ababa, Ethiopia, in September, 2015.
Ethiopia inaugurated the rail project, the Addis Ababa Light Rail Transit (AA-LRT). The $475 million project was constructed by China Railway Group (CREC). The electrified AA-LRT is the first light railway on the African continent with two lines that run a total 34 km.
The AA-LRT project will transport about 60,000 passengers a day, said Ethiopian Minister of Transport Workneh Gebeyehu. The AA-LRT project has adopted Chinese standards and technology and was built with financing support of China, said Hong, adding that it was the first urban rail transit project built and operated by Chinese companies in Africa. China is a development partner of Africa.
This is a good news for Ethiopia which has become one of the popular destination in Africa for business and leisure travelers. Ethiopia's light rail urban train will join the continent modern transportation system paving constructive influence said Estelle Verdier, Managing Director of Jovago.com in East and Southern Africa.
As Africa became the commercial hub, governments are moving quickly creating modernized transport facilities to meet the growing demand of the local and international customers. They are working towards organized regulation, licensing, inspections, monitoring, and enforcement of the sector inserting larger public buses to the system.
According to the World Bank data, by 2030 it's estimated that one in two will live in African urban cities with increasing the demand. Most of these cities are growing rapidly, and, as populations have grown, so have city boundaries which now extend into contiguous areas. Cities such as Addis Ababa, Lagos, Nairobi, Accra, Dakar and Dar Es Salaam are among the cities in which urban population is inadequately served by the transport system.
In less than half of these countries, roads are paved, reducing transportation accessibility in densely populated neighborhoods and remote areas. Paved roads make just one-third of the average of cities in the developing countries. The road network is substandard with deteriorating and poor street pavements. These conditions reduce vehicle speeds increasing traffic congestion.
Improving these realities, Addis Ababa long awaited light rail joined Morocco, Abidjan, Johannesburg, Algeria and Cairo modern urban train service. Now that states are more float towards urban rail transport; it is expected that the system will ease the transportation problem.
(Buziness Africa in Addis Ababa, Ethiopia.)