Wednesday, 08 July 2015 15:43
Mongolia Seeks to Expand Bilateral Relations with Ghana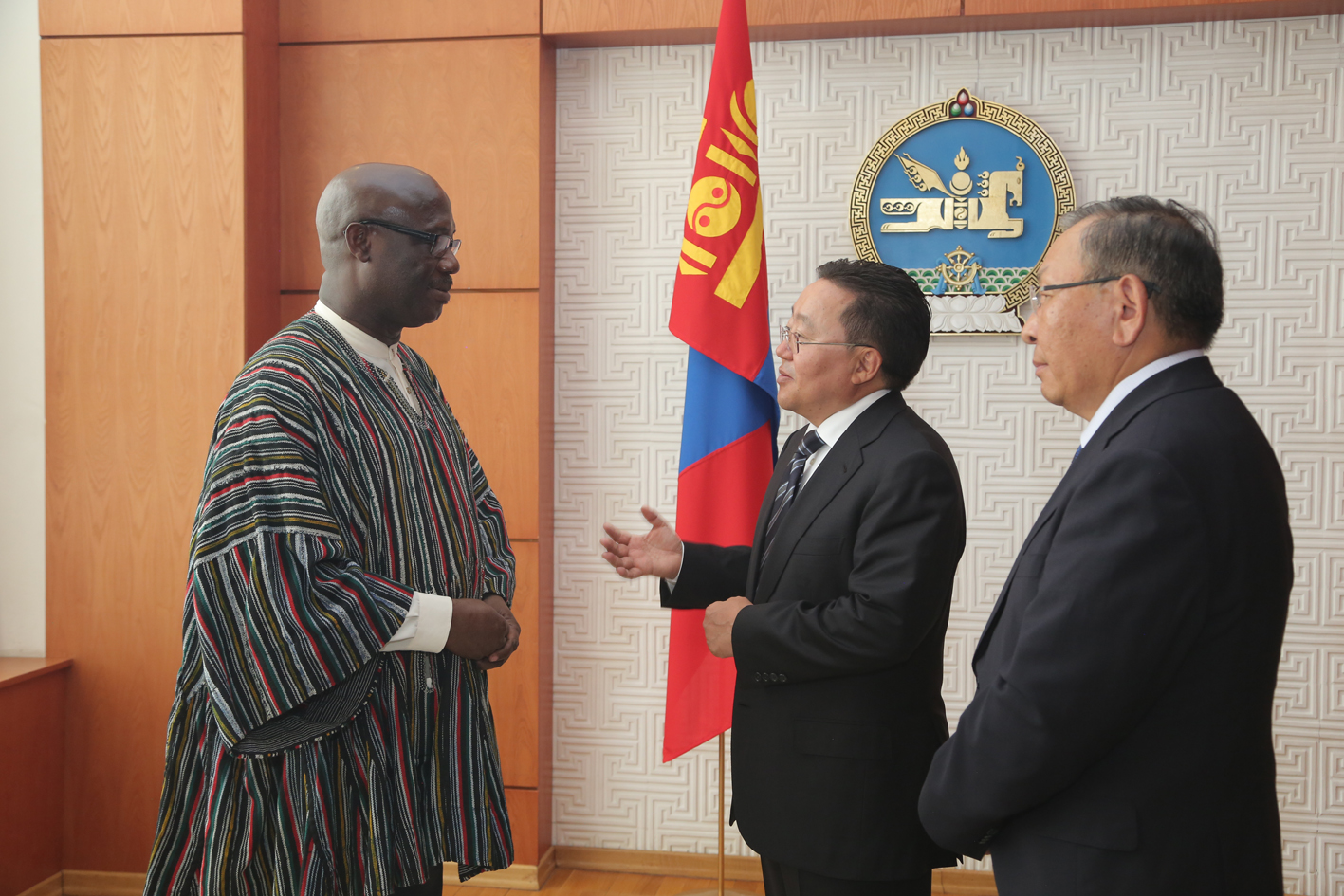 By Kester Kenn Klomegah
MOSCOW, July 08, 2015 (Buziness Africa) -- On July 7, 2015, President of Mongolia Tsakhiagiin Elbegdorj received Letter of Credence from the newly appointed Ghana's Ambassador to the Republic of Mongolia, Dr. Kodzo K. Alabo, in a grand and colourful ceremony in Ulaanbaatar, the political and administrative capital and commercial hub of the Republic of Mongolia.
President of Mongolia Tsakhiagiin Elbegdorj also received Letters of Credence from newly appointed Ambassadors of the Republic of Peru, the Kingdom of Thailand, Malaysia, the Republic of Serbia, the Republic of Ecuador, the Republic of Singapore and the Republic of Poland.
At the meeting with the Ambassador of the Republic of Ghana, Dr. Kodzo K. Alabo, President Elbegdorj highlighted huge potentials to expand bilateral relations. The official press release pointed out that both Ghana and Mongolian Governments have committed to promote and deepen close cooperation between the two countries. This year marks the 50th anniversary of establishment of diplomatic relations between Mongolia and the Republic of Ghana.
According to the historical records, Mongolia and Ghana established diplomatic relations in 1965. While Mongolia has no diplomatic representation in Ghana, Ghana's national interest is handled by the diplomatic mission from Moscow.
After the ceremony, Dr. Kodzo K. Alabo expressed deep satisfaction with the rapid developments in the country and added that "the changes in the country opens the way for strengthening mutually beneficial bilateral cooperation in the political, economic and social spheres."
Mongolia, a landlocked central Asian state, is bordered by Russia to the north and China to the south, east and west. Ulaanbaatar, the capital and largest city, is home to about 45 percent of its estimated 2.9 million people.
Mongolia is said to be the most sparsely populated country in the world. The country has very limited arable land, as much of its area is covered by steppes, with mountains to the north and west and the Gobi Desert to the south.
The most dominant economic activity in Mongolia is herding and agriculture, although development of extensive mineral deposits of copper, coal, molybdenum, tin, tungsten, and gold have boosted industrial production.
Besides mining (21.8% of GDP) and agriculture (16% of GDP), wholesale and retail trade, services such as transportation, and real estate contribute a lot to the country's income. Minerals represent more than 80 per cent of Mongolia's exports.
(Source: Buziness Africa)