Saturday, 20 June 2015 11:55
SPIEF: Foreign investors show interest in Russia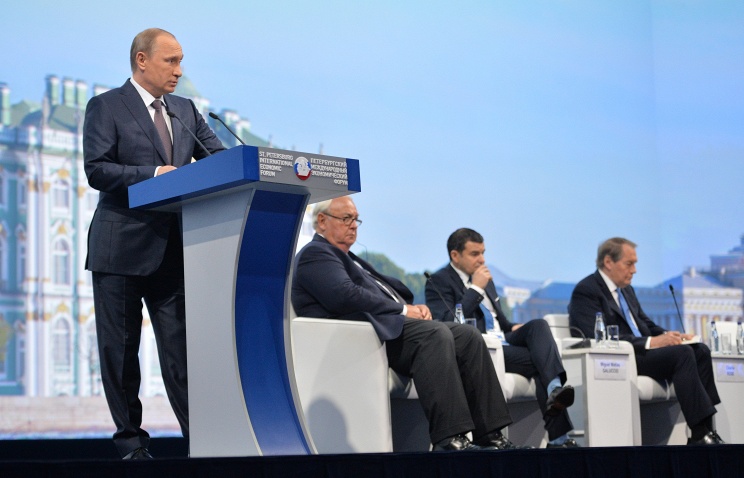 MOSCOW, June 20, 2015 (Buziness Africa) -- The St. Petersburg International Economic Forum (SPIEF), which was held for three days from 18-20 June, and with a focus on Russia's role in the world economy, Russia's investment issues and global politics, ended on Saturday.
The economic forum is an annual gathering of influential Russian and international politicians and government officials, businessmen, representatives of academic and diplomatic community. BRICS member states (Brazil, Russia, India, China and South Africa) were prominently represented.
According to media reports, this year's forum brought together representatives from 114 countries compared with 62 last year and 900 heads of companies (slightly over 600 in 2014) and a solid US representation of 12 heads of American firms.
It also attracted a number of African government delegations as well as diplomatic representatives. Among the African diplomatic representatives at the forum were H.E. (Dr.) Kodzo K. Alabo, Ghana's Ambassador Extraordinary and Plenipotentiary to the Russian Federation & Commonwealth of Independent States (CIS); H.E. (Dr.) Paul Kibiwott Kurgat, Kenyan Ambassador to the Russian Federation and H.E. Ambassador Sibanda-Thusi of the Republic of South Africa.
For African participants, the forum is very useful for networking and discussing business and strategy, and an important study platform useful for deepening knowledge about the economy and possible ways of transacting business in Russia.
Dmitry Peskov, Mr. Putin's Press Secretary, told RT (formerly Russia Today) that "business circles are interested in Russia, as evidenced by the guest list of the forum."
The forum was hosting more representatives of international businesses than last year "despite attempts by some countries to isolate Russia," Sergei E. Prikhodko, a Deputy Prime Minister, said in an opening speech.
Series of official speeches and panel discussions dominated the three-day event. There was also a special BRICS business meeting that looked at "ways to stimulate economic recovery in the BRICS countries, building and strengthening inter-regional ties, establishing a favourable business environment, harmonizing trade regulations, and removing administrative barriers and bottlenecks" according to the forum documents.
Despite all external problems, international investors have still shown a lot of interest in various projects in Russia. While meeting separately with heads of major foreign companies and business associations in a working dinner format, Vladimir Putin told them "your experience in applying modern knowledge, technologies and advanced management systems, your ability to create efficient motivated teams capable of generating ideas, make precise forecasts and work in conditions of competition are all very important for us."
He further stressed that "Russia is open to long-term, mutually beneficial partnership. We are set to broaden economic freedoms, create the most comfortable possible conditions for investing in the Russian economy – first and foremost, in infrastructure projects and high value-added manufacturing."
Putin added that Moscow would like to have equitable relations with all members of the international community - the US, the EU, the Asian countries – and would continue building relations with them on the basis of equality and mutual respect.
"Last year, the net foreign investment inflow in the Russian economy reached almost $21 billion. The capital inflow from foreign strategic investors exceeded $140 billion in the past three years," Putin said, and pointed out the significant role of the Russian Direct Investment Fund (RDIF) in drawing foreign investment in the Russian economy.
"With its partners, the Fund has already invested in the Russian economy over $400 billion rubles and has drawn over $15 billion to long-term partnership," according to President Putin.
The Russian Direct Investment Fund's work is not limited to attracting foreign capital or expertise to Russia. The Fund plays a major role in supporting domestic businesses. This mainly concerns export-oriented companies.
Reporting by Kester Kenn Klomegah, Buziness Africa