Wednesday, 11 February 2015 16:42
Russia: Racing for Business in Egypt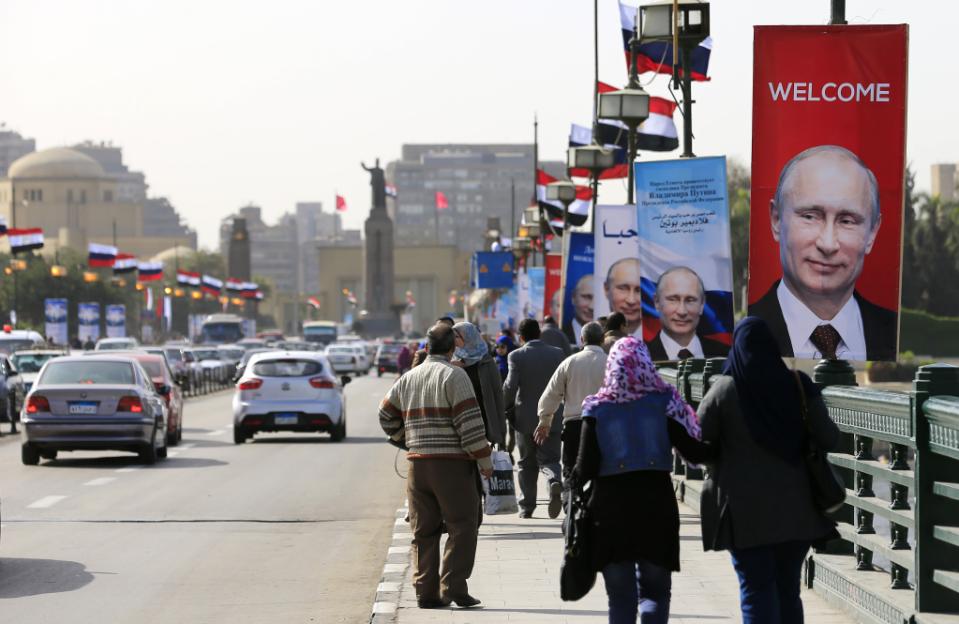 By Kester Kenn Klomegah
CAIRO, Egypt, February 11, 2015 (Buziness Africa) -- Russian President Vladimir Putin paid a two-day (February 9-10) official working visit at the invitation of President Abdel Fattah El Sisi aimed at boosting bilateral relations with strong focus on economic cooperation and business investment, and widing the range of regional and international issues of mutual interest as well as pushing forward the peace process in the Arab world.
After their meeting, Russia and Egypt signed several agreements to reinforce military and economic ties, along with a deal to help develop nuclear power capabilities. Both sides agreed to intensify cooperation in various areas, including Russian investments in Egypt, tourism, and cooperation in the battle against terrorism among others. The agreements capped the two-day visit by Russian President Vladimir Putin.
During the visit, the Russian leader was accompanied by several ministers -- Foreign Minister Sergey Lavrov, Agriculture Minister Nikolay Fedorov, Economic Development Minister Alexey Ulyukayev and Energy Minister Alexander Novak. The head of Russia's state nuclear power corporation Rosatom, Sergey Kiriyenko, and Kirill Dmitriev, the director general of the state-owned Russian Direct Investment Fund (RDIF), which was set up in 2011, were part of the delegation to Cairo.
According to media reports, Russian flags and posters of Putin's face popped up across the capital, welcoming Putin and his entourage to Egypt. The state-run Al Ahram daily newspaper ran a weekend profile of him, complete with photos showing Putin shirtless and holding various weapons, headlined "A hero of our times." Putin last visited Egypt in 2005, when Hosni Mubarak was still in power. Later, Mubarak was toppled in the country's 2011 revolt.
In the run-up to his visit to the Arab Republic of Egypt, Vladimir Putin gave an exclusive interview to the Al-Ahram daily newspaper, noting strongly that "Egypt is a long-time and trusted partner of Russia" and welcome the efforts of the Egyptian government and people aimed at strengthening the country's internal stability, improving its political system and modernizing economy.
He pointed out that both countries have established mutually beneficial and effective cooperation in the field of agriculture. Egypt is the major buyer of Russian wheat, Russia provides about 40 percent of grain consumed in the country, will continue importing fruits and vegetables.
"Many Russian companies, including those of the fuel and energy sector, chemical or automotive industry, show interest in the Egyptian market. We see promising prospects in the field of high technology, particularly in the areas of nuclear energy, outer space use and sharing of the Russian GLONASS satellite navigation system," according to Putin.
Egypt, country located in the northeastern corner of Africa. Egypt's heartland, the Nile River valley and delta, home of ancient culture and civilization. As it's popularly known, Egypt is a country teeming with various landmarks and historical sites. The country's key destinations for most Russian tourists include Sharm El-Sheikh and Hurghada as well as the capital Cairo. Tourism is one of the most important sectors in Egypt's economy. More about 14.7 million tourists visited Egypt in 2014, providing revenue of nearly $12.5 billion.
Egypt is one of the popular vacation destinations for Russian citizens. By the end of 2014, it has reached a record number of more than 3 million Russian tourists visiting Egyptian resorts, which is almost 50 per cent more than in 2013. Russia highly appreciates Egyptian hospitality and those measures which are taken to ensure the safety of our tourists in the resorts of the Red Sea.
Putin suggested in his interview that " settlement of accounts in national currencies will contribute to creating more favorable conditions for millions of Russian citizens who annually spend their holidays in your country. Besides, this measure will open up new prospects for trade and investment cooperation between our countries, reduce its dependence on the current trends in the world markets."
Taking into account Egypt's geographical location and labour resources, Egyptian President Abdel Fattah el-Sisi said in an exclusive interview with TASS deputy director General Mikhail Gusman ahead of Putin's visit to Egypt, that his country may be a stepping stone for an economic revival and mutual trade not only with countries of Africa and the Gulf but with European countries as well-developed countries have enormous possibilities for successful launch of free industrial zones in Egypt, which will help them gain a foothold on an enormous market.
Egyptians appreciate Russia's support to Egypt, especially during the Soviet era when projects were undertaken such as the Aswan Dam, textile factories, metallurgical works, and Soviet military assistance. Russia, according to the Egyptian president, once helped Egypt and further cooperation between the two countries is to be built on the basis of the experience the two countries already have over the years.
"Stability has always been a distinctive feature of the Egyptian-Russian relations. And at this stage, we would like to give them a fresh impetus to promote closer cooperation between Egypt and Russia. President Putin's visit confirms these aspirations of both Cairo and Moscow," the Egyptian leader said.
The Egyptian president said he considered his Russian counterpart an "outstanding person." "Putin has done much for Russia in the 15 years of his being at the top state positions. He has to confront many challenges, but he is a strong man and produces a strong impression," el-Sisi said. "Russia has done much for Egypt. We believe in it and want your country to live in prosperity and security."
(The interview was aired by the Russia-24 television channel. The full text was also published in the Rossiiskaya Gazeta daily and on TASS website.)
As Russia continues seeking a strategic return to Africa, the visit is therefore largely symbolic and important, academics say. "The trip is significant in the context of both bilateral Russia-Egyptian relations and the current situation in the world in general. The two leaders feel closer to each other. In this situation, the investment projects can be speeded up, though an important problem here is the economic and financial crisis in Russia," Professor Dmitri Bondarenko, deputy director at the Institute for African Studies under the Russian Academy of Sciences, told Buziness Africa media.
Russian presidential aide Yuri Ushakov said Putin and Egyptian President Abdel Fattah el-Sisi held a tete-a-tete meeting on the prospective areas of cooperation between the two countries are energy, including nuclear power, machinery manufacturing and space spheres. After signing the agreement on nuclear plant construction, Moscow and Cairo may take three (3) months to draft the deal on NPP in Egypt.
In a historic move, Putin offered Egypt Russia's full-scale assistance in building the country's first nuclear energy facility. "If the final agreements are reached, we will not only help building a nuclear power plant but will be able to assist (Egypt) in creating an entire nuclear power industry…including through training of personnel and help with scientific research," Putin said. Egypt intends to build the Dabaa Nuclear Power Plant in the country's north. The power plant is expected to have a capacity between 1,000 and 1,200 megawatts.
Russia and Egypt signed memorandum on cooperation in the sphere of attracting investment and the participation of Russian companies in constructing facilities in Egypt, and also an agreement between the Russian Direct Investment Fund (RDIF) and Egypt's investment ministry.
According to the agreement, RDIF's investment team will provide comprehensive advice to the Egyptian Ministry of Investment. This will involve exchanging expertise in fund establishment, the co-investment model, its management structure, and the investment strategy. RDIF will also provide support in attracting other international investors to the fund by implementing its own experience in establishing partnerships with the world's leading sovereign funds.
According to the company media release, Kirill Dmitriev, CEO of the Russian Direct Investment Fund (RDIF), noted: "We are pleased that several countries have already demonstrated their intention to launch investment funds building on our experience and employ the co-investment model that RDIF operates under, and we are ready to offer them our full support. Egypt is a country with major investment potential in a number of sectors and is one of Russia's key economic partners in the Middle East. I am confident that this new structure will become an invaluable tool to attract foreign investment in the country and it will facilitate greater investment cooperation between Egypt and Russia."
Further to the negotiation, a decision has been made to create a research group, which will study the Egypt-EEU free-trade zone, and its first meeting is planned for March-April this year in Cairo, according to Ushakov.
Egyptian Ambassador to Russia Mohammed Badri also confirmed the plan for free-trade zone. "Egypt would like to join the negotiations on the establishment of a free trade zone between Egypt and the Eurasian Economic Union. Preliminary consultations are underway," he told a press conference at news agency Rossiya Segodnya's press center in Moscow.
Both sides have mentioned strengthening military cooperation. Russia is the world's second-largest arms exporter, is also seeking to boost military ties with Egypt. Contract potential of Russian weapons supplies to Egypt totals over $2 billion, experts say. "Nowadays, any country that is willing to pursue an independent foreign policy clearly defines for itself that its air space needs protection," Igor Korotchenko, head of a Russian think tank in charge of analyzing the world arms trade, told a news conference.
Egypt is "interested in creating a reliable system of air defense as precision weapons, cruise missiles and strike aviation are chiefly used in modern wars," he said.
"Egyptian military top brass have made a number of purchases and consider a possibility to buy modern Russian air defense systems and surface-to-air missile systems," Korotchenko said. "Our state-of-the-art air defense systems surpass considerably the US analogues. That's why Egypt conducts strategic investment in its security for the coming 30 to 40 years."
The leaders paid special attention to boosting bilateral economic ties. In January-November 2014, the Russian-Egyptian trade reached $4.6 billion, a 80% increase compared with the same period of 2013.
President Abdel Fattah El-Sisi, who took office last May, visited Russia in August 2014. Putin's previous visit to Egypt took place in April 2005. Dmitry Medvedev, who was the Russian president from 2008-2012, visited the country in June 2009.
(Source: Buziness Africa)