Friday, 10 April 2015 22:29
Ex-Soviet Moldova feels squeeze from Russian fruit embargo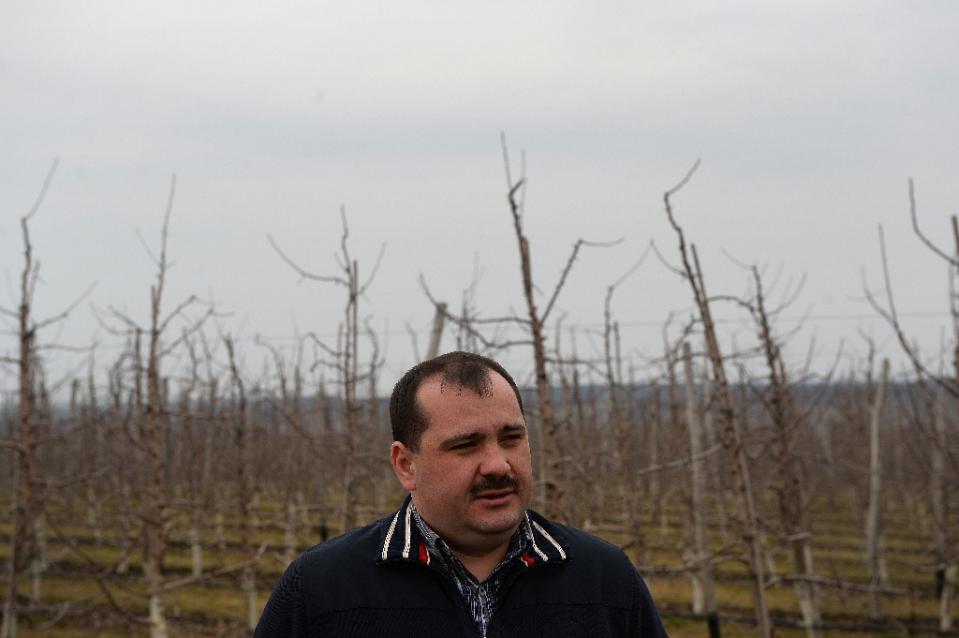 By Mihaela Rodina
RACOVAT, Moldova, April 10, 2015 (AFP) - Moldovan apple grower Constantin Furculita was dreaming of juicier profits when he pumped some $2 million into his 42-hectare orchard.
But his hopes of a windfall turned sour last summer when Russia unexpectedly slapped an embargo on fruit exports from the ex-Soviet nation in apparent retaliation for its historic shift towards the Europe Union.
"From one day to the next, we found ourselves hit by an embargo and with the harvest in the fields," Furculita told AFP.
"Up to 2014, 99 percent of my production was heading to the Russian market," said the 35-year-old farmer in the northern town of Racovat.
When Moscow imposed the ban in the wake of Chisinau's signing of an association agreement for closer ties with the European Union in June, Furculita saw a huge chunk taken out of his returns.
"My income barely covers my expenses, while farming didn't bring in big money anyway," he said.
Overall, Russia's move has caused an estimated $145 million of losses for Moldova, the poorest country in Europe which still relies largely on agriculture, with the apple industry facing the most bruising time.
Moscow -- which also slapped bans on a wide range of Western products last year in retaliation for sanctions over Ukraine -- has typically used import bans to flex its muscles in disputes with its neighbours.
After the introduction of the embargo on Moldovan fruit, tens of thousands of tonnes of apples rotted in the fields as small farmers had nowhere to store them.
The local currency, the Moldovan leu, has lost around 30 percent of its value since November, making it more expensive for farmers to repay bank loans, and to buy imported treatments for crop diseases.
Moldova has a fair-trade agreement with the EU that entered into force in September, in theory opening the door to a new market.
But "entering the European market is difficult and slow to do," said the president of local farmers' association, UniAgroProtect, Alexandru Slusari.
Out of its annual production of 400,000 tonnes of apples, Moldova has "barely exported 4,000 to the EU, or more precisely to Romania. That's a miniscule amount," Slusari told AFP.
In an unexpected concession, Moscow in February lifted the embargo on an "experimental basis" for 10 Moldovan fruit exporters.
Moldova's deputy agriculture minister Vlad Loghin said a dozen giant trucks carrying around 200 tonnes of apples headed to Russia.
Before the embargo, up to 200,000 tonnes of Moldovan apples went to Russia per year, with the rest sold on the local market, including to local canning factories, and to CIS countries including Kazakhstan.
- Crunch times, core issues -
In fact, Russian consumers are not entirely deprived of Moldovan fruit.
"We know perfectly well that most of what we send to Belarus and Kazakhstan in fact ends up in Russia," said Slusari, referring to ex-Soviet countries in an economic union with Russia.
But this involves greater transport costs, while prices are down 30 percent compared with before, when Moldova sent fruit to Moscow directly, without middlemen.
"Without state support, most of the orchards will die," warned Slusari.
In late March, thousands of farmers rallied across Moldova, asking state funding to the sector to double in 2015 to 60 million euros.
Furculita also feels that the state should do more for agriculture, "the only branch of the economy that could generate profits."
But the disastrous effects of the Russian embargo have shown the dire need for Moldova to diversify its markets away from Russia, and awareness of this is growing, he said.
"The Russian market is unstable, you can't count on it. Sure, in the EU, the competition is very great. But that forces you to be more professional, more competitive. This is the place to be."
In Bucovat, around 30 kilometres from the capital Chisinau, Ion Chilianu has established a farm with packaging facilities and the latest refrigerating systems.
Sorted by colour and diameter, his apples are exported to Libya, Egypt and Kazakhstan.
Chilianu said he had also looked for opportunities in EU countries, but the "European bureaucracy blocked" these initiatives.
"We, the Moldovans, have always been at a junction between different interests and have always suffered from this. It's our fate," he said with a resigned air.