Friday, 14 November 2014 13:32
NABA: A Bridge between Norwegian and African Business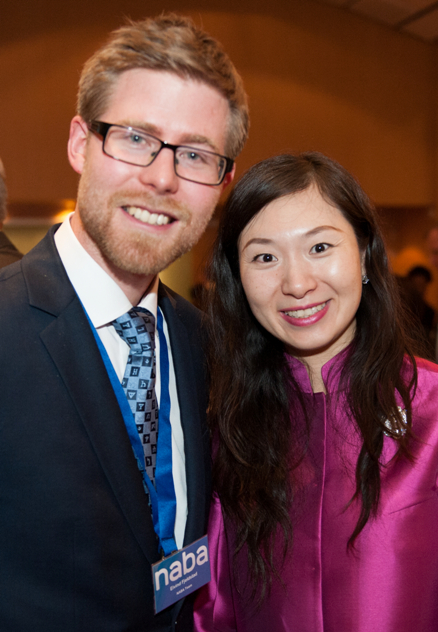 OSLO, Norway, November 14, 2014 (Buziness Africa) -- The Norwegian-African Business Association (NABA) is one of the Norwegian-African platforms that seeks to promote business opportunities on the African continent and serves as a bridge between Norwegian and African business communities. NABA analyzes the current landscape, advocates for more, better and safer business collaboration between Norwegian and African business communities and hosts events for its more than 80 member companies.
The Norwegian-African Business Summit held in October 2014 was the fourth of its kind. It was the largest Nordic business conference on Africa. About 35 speakers and more than 400 African and Norwegian leaders, including 30 Ambassadors from Norway and Africa, attended this summit themed "Mapping the African Infrastructure Landscape." The parallel sessions focused on case studies within chosen sectors: impact investment, renewable energy, agribusiness and aquaculture, oil and gas.
"When people meet, knowledge is shared and opportunities appear. The conversations at the Norwegian-African Business Summit increase understanding of the African continent, and accelerate investments, partnerships, and growth in infrastructure in Africa. Infrastructure is what economies need to flourish," says Eivind Fjeldstad, Managing Director of NABA.
In this interview conducted by Kester Kenn Klomegah, Regional Editor-in-Chief for Russia and Eurasia at Buziness Africa Media Group, Eivind Fjeldstad discusses the key reasons for the creation of NABA, its activities, some achievements as well as the future of Norwegian business and investment in Africa.
Interview excerpts:
Buziness Africa:For private Norwegian businessmen and investors, how do they look at Africa? And how is Norwegian government policy approach to Africa?
Fjeldstad: We have a few companies and investors who have been working in African countries for many years. Their success stories are convincing more companies to follow. According to one of our business schools, there was an increase from 81 companies in 2001 to more than 400 in 2012. There is still a job to do to educate the Norwegian business community about the opportunities in African markets.
Unfortunately, there are also still too many who think about wars and famines when talking about African countries, or they think of it as one country, not 54 different countries: here we also need to change the unbalanced media image of African countries. The Norwegian government has a very proactive and positive approach these days. Our Ambassadors on the African continent are now promoting economic diplomacy and this has also been a very clear message from our new Foreign Minister Mr. Børge Brende. Trade statistics are positive: import in 2013 was 13,2 billion NOK, increasing with 4,5 billion NOK from 2012. Export was 10,2 billion NOK, and increased with 1,7 billion NOK from 2012. Although this is still small numbers compared to other regions, the trend is positive.
BA:What are the key achievements since the establishment of the Norwegian-African Business Association (NABA)? How do you finance your activities of the association?
Fjeldstad: The key achievements have been our success in promoting the great investment opportunities in African countries in Norway: already more than 1500 business people have attended our various events and annual Summits. We have made positive impact with our advocacy work, linked many Norwegian companies to great African partners, brought African business to Norway and vice versa. Since our establishment in September 2012, we now have 85 member companies and the interest is growing. The association is financed by the annual membership contribution, income generated from our events and business missions as well as some advisory work. 
BA:In your opinion, what would you say are the economic footprints and/or presence in Africa? Do you also see some challenges and risks there?
Fjeldstad: For Norwegian companies the main footprint so far can be seen in the energy sector, mainly oil and gas, but more and more within renewable energy. For example, one of our renewable energy members, Scatec Solar ASA, have built Southern Africa's largest solar energy park in Kalkbult, South Africa. This produces 75 MW and it took the company only nine months to build it. Then, we have the maritime sector and agribusiness.
I think we will see more Norwegian investment companies in the coming years, spearheaded by the great work of Norfund, and also the Norwegian Sovereign Wealth Fund which have already done considerable investments on the stock exchange in several countries. For example, they have invested more than 500 billion on the Nairobi stock exchange. There are always challenges and risks when investing abroad, in African countries, as well as in Asian region - but that is why the NABA network has been created; to help newcomers to navigate new waters and landscapes. 
BA:What are some of the concrete results from the Norwegian-African Business Summit in 2014? How would you compare that to the previous ones?
Fjeldstad: Several new links have been made, and we have had great feedback from both our Norwegian and African delegates. This year we had a record turnout and we had to reject quite a few people the day before who wanted to join us - the conference hotel was actually full. I think this tells a lot of story itself about the positive interest. Now there are a lot of follow-up work to do, to make sure that good investments and new partnerships follow. 
BA:How important are development of infrastructure and power projects for members of your association and for the Norwegian government? What is the level of their involvement in these projects?
Fjeldstad: Infrastructure is very important, and the energy sector is the most important Norwegian sector present in African countries. The great thing about investing in the power sector is that it will enable more business - it certainly creates a more conducive business environment. Energy is one of the main challenges for local and foreign investors and Norwegian energy companies can be part of the solution. Energy is a cornerstone of Norwegian foreign policy, underlined by our Foreign Minister's announcement at the Summit where he promised 300 million NOK to a green power Africa infrastructure fund. 
BA:Do you see any competition among foreign players on the continent? It seems that China has had great success in supporting (interest-free loans) wide specter of infrastructure projects in Africa. Will Norway follow similar model of financing projects as China has done?
Fjeldstad: There is great competition for sure. I think Norwegian companies advantage is the high quality of our products and innovative technical solutions. The best health, environment and security standards are also part of the Norwegian business DNA - and we don't leave this at the airport when establishing business abroad. 
There is currently a White Paper on Norwegian policy on private sector's role in African countries in the works: we expect that this will include several concrete proposals which will make Norwegian companies more competitive when launched in the spring next year. You don't have to travel longer than to Denmark to find better government policies and incentives, but we believe the Norwegian government will follow suit with this above-mentioned White Paper. 
BA:Are tourism, educational and cultural exchanges your priorities? What has been done in these spheres so far and what plans are there for strengthening partnership in these sectors between Africa and Norway?
Fjeldstad: There are an increasing number of Norwegian tourists going to African countries, and we have several tour companies as members. We have also institutions that have been focusing on vocational training, especially in the oil and gas sector. There have always been many cultural exchanges between Norwegian and African countries - the Norwegian government has done a great job in that regard, also Norwegian universities and various cultural institutions. I am sure these links will be further strengthened as we go forward. There are already many strong links between Norway and several African countries and we hope to contribute by bringing more private sector collaboration. And hopefully and with time, our economic footprints will be comparatively stronger on the continent. (Source: Buziness Africa)