Thursday, 13 November 2014 13:29
EU: Boosting Business in Ethiopia and East Africa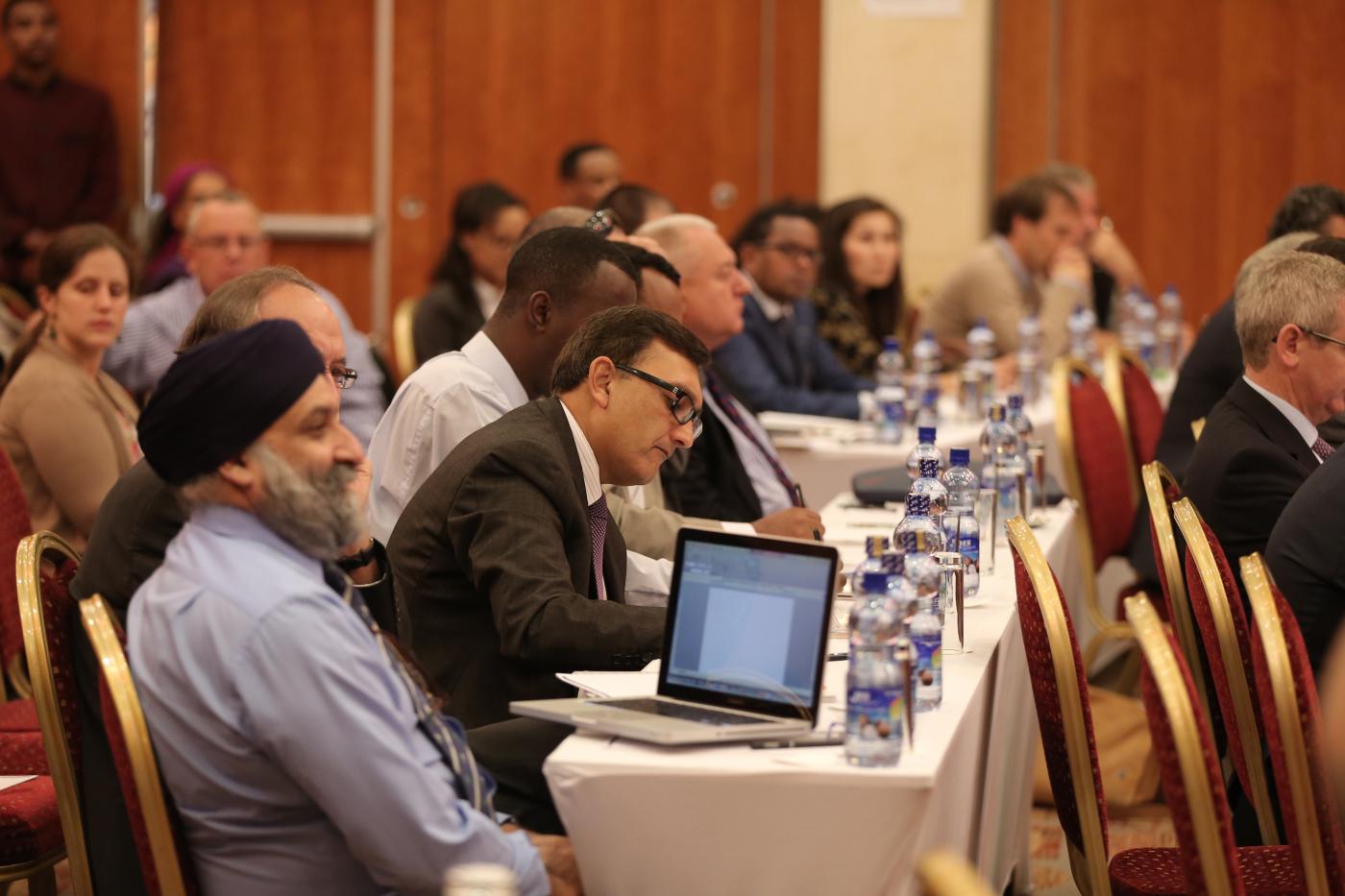 ADDIS ABABA, Ethiopia, November 13, 2014 (Buziness Africa) -- A large conference and business exhibition on "Enhancing the Investment and Business climate in Ethiopia" brought together Ethiopian Government representatives, European Union Delegation and Member States officials as well as members of the business community in Ethiopia on 2nd October, 2014. Organised by the EU Business Forum-Ethiopia in cooperation with the EU Delegation to Ethiopia and the ACP Business Climate Facility (BizClim), the conference explored solutions to improve the business climate in Ethiopia.
The EU being Ethiopia's main trading partner, there are currently around 300 European companies active in Ethiopia, making it a key investor for this fast-growing African economy. A range of European companies investing and operating in Ethiopia participated in the exhibition at the conference that seeks to inform participants and showcase the benefits of investing in East Africa.
In this interview, Carl Daspect at the European Union Delegation to Ethiopia talks briefly to Kester Kenn Klomegah, Regional Editor-in-Chief for Africa, Russia and Eurasia at the Buziness Africa Media Group about investing in Ethiopia and East Africa.
BuzinessAfrica: How do you estimate EU investment in Ethiopia currently?
Daspect: "Over the past decade, robust diversified and inclusive economic growth has been impressive in Ethiopia. In the last 30 years life expectancy here has increased by 50% while poverty rates have been slashed between 2005 when over 60% of the population lived below the poverty line, to less than 30% now. Ethiopia is on track to meet most of the Millennium Development Goals and the government is investing heavily in key infrastructure (roads, electricity, telecommunications, and railways) that should impact positively on its competitiveness in the medium term.
As a matter of fact, the UNCTAD World Investment Report 2014 indicates that for 2013, in East Africa, FDI increased by 15 per cent to $6.2 billion as a result of rising flows to Ethiopia and Kenya. Undeniably, the private sector has contributed to these achievements, but much of the achievements remain public sector led and there is still ample room for the private sector to further contribute in Ethiopia, if it is given the chance to do so. To allow the private sector to fully deploy its potential, there is a need to improve the general business environment and work on improving Ethiopia's overall competitiveness.
From an economic and trade point of view, the EU remains the first export market for Ethiopia and the second import market, making it the first trading partner of Ethiopia as well as an important investor in Ethiopia as was illustrated this year with the organization in March 2014 of the first EU Joint Investment Mission with more than 40 companies in a wide range of sectors.
With over 2.5 billion EURO of capital investment over the past 20 years, the investments of the 299 EU companies present and operating in Ethiopia generate the highest permanent jobs ratio in the key GTP sectors of manufacturing and agriculture (over 200.000 generated so far), they also work more substantially with joint ventures and they are renowned for the quality of their production as well as for the technology and know-how transfer they inject in the Ethiopian economy. I believe that they are the best ambassadors to attract potential investors and they are in a position to influence the decision to invest of the increasingly frequent trade and investment missions coming from Europe."
BA:What sectors of the economy are particularly attractive to potential investors?
Daspect: "Mining, coal, oil and natural gas, which were previously key sectors attracting FDI flows into Africa, have become less prominent in recent years as service and consumer related industries have increased in importance. Ethiopia understood this reality and has tried to integrate it into its 5 years GTP as well as within its investment promotion strategy. Progress remain to be made of course but the current incentive scheme set up by the government of Ethiopia is offering major investment opportunities in key sectors such as agriculture, manufacturing, construction and increasingly tourism.
The means offered include (i) government support to priority areas with export incentives, customs duty exemption, loss carry forward or income tax holiday, as well as (ii) investment guarantees and protections with possibility for remittances out of Ethiopia in convertible foreign currency. Finally, the Ethiopian Investment Commission has recently put in place a one-stop-shop regime and revamped its website to make it more attractive (http://ethioinvest.net/)"
BA:Do they face competition from other foreign players?
Daspect: "Other growing African economies, such as Kenya, Botswana and South Africa, as well as north African economies such as Egypt are other options for potential investors. But we think Ethiopia is a particularly interesting economy because it is a country of opportunity with one of the highest growth rates in Africa, a large potential market, cheap labour force, abundant resources, as well as strong government investment in economic and social infrastructure.
The European Union stands as a partner of Ethiopia and supports the efforts of the government towards a stronger private sector, enhanced competitiveness and a better business environment with notably 2 initiatives:
1/ a 35 Million Euro 'Transformation Triggering Facility' which is an innovative project that aims to accelerate and support Ethiopia's economic transformation and sustained growth by targeted interventions in 4 key sectors: leather, textile, agri-processing and pharmaceuticals; and
2/ a 10 Million Euro Trade Facilitation Project which aims at supporting Ethiopia in its efforts to become WTO member and get thus connected and integrated into the multilateral trade system and speeding up the time it takes to import and export by improving the country's customs management system.
To further promote EU investment and business in Ethiopia, 2 years ago, the EU supported the setting up of an EU Business Forum in Ethiopia under the patronage of the EU Delegation to Ethiopia. The EU Business Forum has since become a respected unified platform of EU investors in Ethiopia, an excellent source of information for existing and potential EU investors, and has become increasingly engaged in an open and constructive dialogue with the Ethiopian government on systemic issues affecting the business climate in the country."
Notes for Readers: The EUBFE was set-up in response to the need for both a platform for networking and information exchange between EU businesses and a systematic dialogue with the Ethiopian authorities. The EUBFE operated under the umbrella of the EU Delegation to Ethiopia. It is managed by a Steering Committee of 10 to 12 members representing the EU business community in Ethiopia and is headed by a Bureau made of a Chairman, a Treasurer and a Secretary. The EU Business Forum in Ethiopia aims to make it easier for existing EU companies to do business in Ethiopia.
Bizclim: The ACP Business Climate Facility (BizClim) is a program of the ACP Secretariat financed by the European Union under the 10th European Development Fund (EDF). It aims at fostering a business enabling environment in ACP countries and regions by improving legislation, institutional frameworks and financial measures relating to the enabling environment of the private sector.
Links:
The EUBFE Conference: http://www.eubfe-conference.eu/
The EU Business Forum in Ethiopia: http://www.eubfe.eu/
The Delegation of the EU to Ethiopia: http://www.eeas.europa.eu/delegations/ethiopia/index_en.htm
(Source: Buziness Africa)