Thursday, 30 October 2014 13:26
Ebola: Taking Risk or Taking Responsibility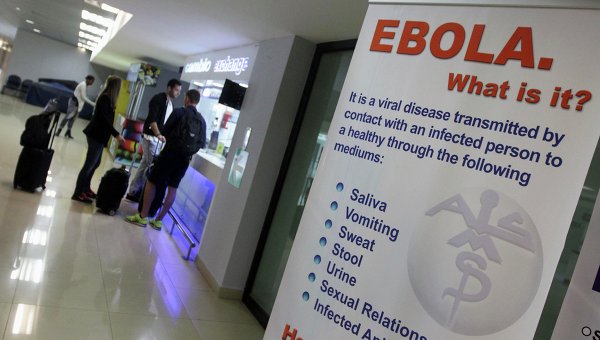 By Kester Kenn Klomegah
MOSCOW, October 30, 2014, (Buziness Africa) -- Several months have passed since the outbreak of the Ebola virus in West African region putting the world population in deep fear and panic, and the situation has attracted many media reports. The worst Ebola outbreak in history began in southern Guinea in February and has since then spread to Liberia, Sierra Leone, Nigeria and Senegal.
According to the World Health Organization (WHO), more than 5,000 people have died from the virus in the current outbreak and an estimated 15,000 are believed to have been affected with the virus. The virus has further been identified in the United States, Spain, Britain, Germany and a few other foreign countries.
Recent reports released by United Nations and World Health Organization on Ebola infectious disease in West Africa noted the serious impact on the economies and investment and lost of labour force in these affected countries for the years ahead.
UN Assistant Secretary General for Political Affairs Taye-Brook Zerihoun told the UN Security Council: "As the outbreak of the Ebola virus disease enters its 42nd week, it has hampered efforts of regional groupings in implementing cross-border security strategies and in taking steps to strengthen regional economic and monetary integration."
In Liberia, "the constitutional review process was temporarily suspended due to the ongoing state of emergency, and senatorial elections scheduled for October may be postponed," Zerihoun said.
In Sierra Leone, "lack of information about the medical facts of the disease has fueled resentment, leading to low-level public disturbances, attacks on the police and attempts to vandalize treatment centers in Freetown."
Turning to Guinea, Zerihoun stated that "the security situation remains tense in the regional capital of Nzerekore, following last month's murder of a team of Guinean health and government officials who had been distributing information on the outbreak in the nearby town of Womey."
President Vladimir Putin said Russia would continue helping the international community to fight the deadly Ebola outbreak and would make every efforts to protect its nationals from the virus.
"We should be acting very carefully to protect our people from this infection," Putin said at a meeting with World Health Organization Director-General Margaret Chan. Putin also said Russia and European countries might use special aviation to fight Ebola, adding that experts are studying the possibility of working together.
WHO describes Ebola virus disease (formerly known as Ebola haemorrhagic fever) as a severe, often fatal illness, with a case fatality rate of up to 90%. Symptoms include sudden onset of fever, intense weakness, muscle pain, headache and sore throat. This is followed by vomiting, diarrhoea, rash, impaired kidney and liver function, and in some cases, both internal and external bleeding.
The infection is transmitted by direct contact with the blood, body fluids and tissues of infected animals or people. People are infectious as long as their blood and secretions contain the virus. The incubation period is 2 to 21 days. There is no known cure or vaccine for the disease. The only treatment offered is "supportive intensive care."
During an outbreak, those at higher risk of infection are health workers, family members and others in close contact with sick people and deceased patients. It appears that such a crisis is alarmingly looming and increasingly poses danger for the world population.
Early August, Russian health and government officials followed the global calls to describe the disease as "epidemic" after more cases were recorded.
Anna Popova, chief of the health and consumer rights watchdog Rospotrebnadzor, has already offered an assurance that Russia has taken exhaustive measures to prevent the arrival of the deadly Ebola virus from Western Africa.
According to Russian health officials, Russia is currently testing its anti-Ebola vaccine and has begun working on a new drug to treat and prevent Ebola.
Russia expects to produce three Ebola vaccines within the next six months, Health Minister Veronika Skvortsova said. "We have created three vaccines... and we think they will be ready in the next six months," the minister said on Rossiya 1 television. "One of them is already ready for a clinical trial," she said.
According to her explanation, one of the vaccines was developed from an inactive strain of the virus. There is no licensed treatment for the highly contagious disease, but several countries are trying to develop an effective vaccine. Russia, which has not had any cases of Ebola, sent a team of scientists and a mobile laboratory to help fight the disease in Guinea at the end of August. Russia has also implemented a protection plan against the virus, which it stepped up in July, according to the minister.
Forecasts suggest the peak of incidence of Ebola virus disease (EVD) in West Africa will likely fall on December, Dr. Viktor Maleyev, a deputy director of Russia's Central Research Institute of Epidemiology told TASS, a Russian News Agency.
Dr. Maleyev and a group of his staff-members have worked in Guinea under the auspices of the WHO in the framework of Russia's assistance to West-African countries.
"It's now rolling towards the peak, which I think will come about in December but we don't know when the peak period might end," he said. "The epidemic is spreading at fast enough as more than 200 people contact the disease daily.
Dr. Maleyev said along with it that assessments of statistical data are highly problematic in the current situation. "For instance, children younger than 5 years old are not officially registered in Guinea and that's why a child of this kind will not be reflected in statistics in any way if he falls ill," he said.
One of the explanations for this extremely sharp surge of the disease has occurred is that the felling of forests and replacement them with fruit trees has pushed up the populations of bats that feed on fruit and the bats are one of the main carriers of the virus. The first case of Ebola that triggered the current epidemic occurred in December 2013. "A month passed before the Ebola virus was diagnosed," Dr. Maleyev said.
Mass cases of contacting the disease were first reported in March. The number of Ebola cases is doubling every four weeks which could mean some 5,000 to 10,000 cases of the deadly virus per week, World Health Organization (WHO) spokesman Eric Porterfield told RIA Novosti.
"Our data shows that the number of cases is doubling every 4 weeks, so it is possible that we might see figures as high as 5,000 to 10,000 per week," the WHO spokesman said in an interview with RIA Novosti.
"With each new person infected by the virus, it has the potential to infect his or her family and neighbors. This is why we need to identify the cases and isolate them as quickly as possible," Porterfield added.
WHO warned that there could be some 10,000 new cases of Ebola per week in accordance to data connected to the current trends of the outbreak. Should the epidemic continue to spread at its current rate, and efforts to fight the disease are not boosted, the threat of Ebola may become greater to those living outside of West African countries directly exposed to the disease.
UN Secretay General Ban Ki-moon said that the current Ebola epidemic in West Africa "is a huge and urgent global problem that demands a huge and urgent global response". The Secretary General called on the international community to "turn pledges into action" in order to meet the target of reducing the rate of Ebola transmission by December 1.
Many countries have given money towards the disease control, prevention and cure. But the solution to the Ebola crisis involves more than just money, although the amount of resources devoted to meeting this challenge is ludicrously inadequate. Just as important as money allocated is the way it is spent. The solution to the crisis lies in public education and to create an awareness about ways of the disease spread. The public should take extra precautions.
But doing so will require, most of all, the active leadership of the authorities at all levels. The epidemic must be treated as a national security crisis of the highest order by global leaders. The international community must continue to provide support to the sub-region and affected countries in their efforts to effectively stop, treat and prevent a looming pandemic, to ensure that the hard won peace and security gains made in the sub-region are protected and preserved as pointed out by the United Nations. (Source: Buziness Africa)