Tuesday, 21 October 2014 09:46
Vnesheconombank and SA MBA Graduates Share Experiences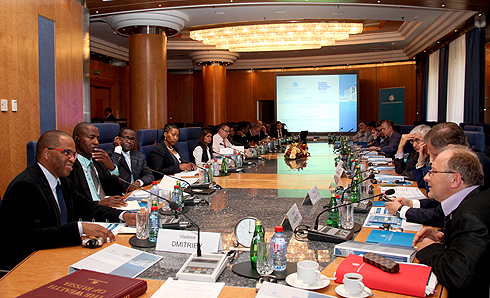 MOSCOW, October 21, 2014 (Buziness Africa) -- On September 5, Moscow hosted a meeting between Vladimir Dmitriev, Chairman of Vnesheconombank, and MBA programme graduates from the Gordon Institute of Business Science, University of Pretoria, Republic of South Africa. The delegation from Republic of South Africa visited Russia with a view to drawing on the experience of major Russian companies and higher education establishments, as well as establishing mutually beneficial partnership.
The meeting was held in pursuance of the Multilateral Memorandum on Cooperation in Personal Training and Experience Sharing between BRICS Development Institutions. On June 17, 2011, Bank for Development and Foreign Economic Affairs (Vnesheconombank), Banco Nacional de Desenvolvimento Economico et Social (BNDES), China Development Bank (CDB), Eximbank of India, and Development Bank of Southern Africa (DBSA) signed the Multilateral Memorandum on Cooperation in Personal Training and Experience Sharing between BRICS Development Institutions.
Seeking to implement the Memorandum, VEB already held joint seminars on sharing experience of SME support with DBSA and South African development institutions. The seminars took place in Moscow in February and April 2014. Studying best practices of major foreign partners, and experience exchange between subject matter experts help upgrade in-house processes and procedures, introduce state-of-the-art technologies, build up necessary contacts, bring the partners closer together, promote cooperation and interaction, and facilitate the search for and delivery of new joint projects.
In this interview, Ginny Robertson, Associate Director for Executive Education Open Programmes, Gordon Institute of Business Science (GIBS), speaks to Kester Kenn Klomegah, Regional Editor-in-Chief for Russia and Eurasia at the Buziness Africa Group about the group's impressions, results and importance of the educational programme with institutions and companies in Moscow.
Below are interview excerpts:
BA:What was the key purpose of the trip to Moscow?
Robertson: The trip to Russia ( Moscow and St. Petersburg) was part of the second module of the University of Pretoria's Gordon Institute of Business Science (GIBS) Global Executive Development Programme (GEDP). The GEDP is a high-level leadership and general management programme targeted to senior executives with 5 – 10 years of management experience, these were not MBA students. The destinations selected for this programme usually involve two countries, one, a BRICS economy and another a more developed economy; in our instance it was Russia and Germany. The aim of the programme is to broaden global awareness and gain a better understanding of the context within which organisations in the two countries operate while making further comparisons and contrasts between those economies with South Africa.
BA:How many people in the group and was the selection based on merit?
Robertson: There were 62 programme participants. People apply for the programme and are accepted based on several factors including their management knowledge, leadership experience, current responsibilities, prior learning amongst other things.
BA:Concretely, what did the group learn after interacting with Russian officials?
Robertson: Companies are informed prior to our imminent arrival and given a clear brief of our intentions and exactly who we were. Upon arrival however we were still surprised at the open exchange of information that was shared, the hospitality and the excellent execution of the visits by the hosting organisations. Their approach to their local market and their understanding of the need for synergy between business and government was impressive. In addition several businesses shared their global experiences and highlighted universal challenges they faced in the current economic climate.
BA:Before the trip, what was the group's impressions about and expectations from Russia?
Robertson: Russia was unfamiliar to most delegates and no more than a handful had ever travelled to this destination. There were mixed views from the delegates on what to expect but on arrival were awed by the richness and cultural diversity of the country. It gave us a new picture, Russia is indeed not an extension of Europe, we were especially impressed by how the country has managed to preserve and protect this unique culture and heritage.
BA:What were the main results or how would you assess the programme?
Robertson: The visit was an eye-opener to many delegates, there were key take-outs from the interaction with the hosting companies who were quite forthcoming with information and gave the delegates a new appreciation for way business is done in other emerging economies. The relationship between the Russian government and the private sector gave new insight to delegates most of whom work within the private sector. For their assessments, the delegates were required to complete a work based project which involves solving a current problem or dilemma and is proposed and approved by the individual and their sponsoring company in the hosting country.
BA:Can this educational exchange help promote cooperation between Russia and South Africa within the BRICS?
Robertson: I believe the exchange helps to broaden understanding between Russia and South Africa and could definitely promote further cooperation between the two countries. Russia has had a long lasting political relationship with South Africa, economic collaboration is picking up slowly; this interaction/exchange could open new opportunities. As stated, the delegates on the programme are key decision makers within their organisation and this interaction may have paved a way for further cooperation between the two countries in the near future. Although we were only able to see a very small part of Russia and had brief interactions with locals, we were impressed with what we saw. (Source: Buziness Africa)