Saturday, 25 July 2009 14:58
People Do Good Deeds As Mandela Birthday Gift
By Michelle Theriault, Associated Press Write
JOHANNESBURG, South Africa, July 18 (AP) – Nelson Mandela's fans celebrated the anti-apartheid icon's 91st birthday Saturday by emulating him with good deeds, reading to the blind, distributing blankets to the homeless or refurbishing homes for AIDS orphans.
Mandela had called on people to spend time doing good Saturday, the first Mandela Day, which his charity foundations hope will be an annual event.
South Africans collected clothing for poor children, painted schools, planted trees near Mandela's boyhood home in eastern South Africa, and renovated a building in downtown Johannesburg for people left homeless by a fire.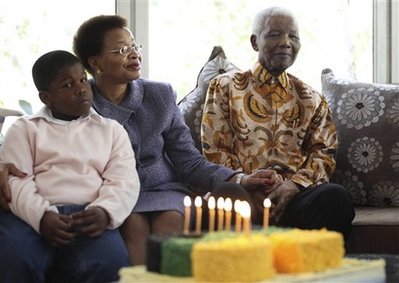 Mandela stepped down after serving one term as president — the first black South African to hold the post. Since 1999, he has devoted himself to such causes as fighting AIDS and poverty and championing the rights of children.
At a Mandela Day concert in New York on Saturday, Stevie Wonder, Alicia Keys, Aretha Franklin and others are to perform for the benefit of Mandela's AIDS foundation.
Mandela Day organizers encouraged people around the world to devote at least a minute for each of the 67 years Mandela campaigned against apartheid to community service.
In Soweto, Thembekile "Prisca" Tshabalala invited community members to play with disabled children at her year-old Nkanyezi Stimulation park, a cheery playground with seesaws and swings designed to accommodate children in wheelchairs.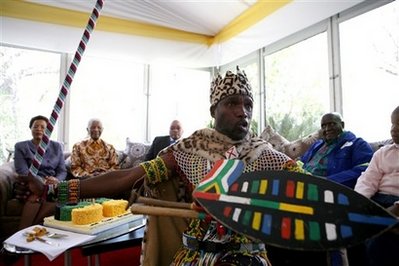 More than 50 parents, volunteers and children were there, among them Khumo Bojanyane, who owns a construction company.
"We were motivated by the man himself," said Bojanyane. "We're so encouraged by his life, by his selflessness and sacrifices."
A group of American tourists visiting a nearby museum in a home where Mandela once lived was moved to make a $300 donation to the Nkanyezi park.
"This is a very inspiring and moving, and happy birthday to Nelson Mandela," said one of the group, Mark Rosenberg of New York.
The center is named after Tshabalala's son Nkanyezi, who was born with cerebral palsy and died at the age of 11.
"I think my son would be very proud to see all the people here today," she said.
The regular volunteers at a Johannesburg animal shelter called CLAW sang "Happy Birthday" for Mandela before getting to work Saturday. Children from poor communities volunteer to care for and walk the dogs at CLAW's shelter, and adults donate time to help the children with their school work.
"I think volunteering 67 minutes should be a start, but it should really be more of a way of life," said Cora Bailey, who runs CLAW. "That's the only way we are going to go forward."
Many of the projects celebrating Mandela Day in South Africa underlined how much work remains to be done in a country proud of ending apartheid peacefully, but plagued by poverty, stubborn inequalities, and AIDS — some 5.2 million South Africans were living with HIV last year — more than in any other country in the world.
President Jacob Zuma, the current leader of Mandela's African National Congress party, paid a birthday visit to Mandela at his home in Johannesburg.
Zuma was joined by party leaders and Mandela's family, including wife Graca Machel and former wife Winnie Madikizela-Mandela, as well as former Zambian President Kenneth Kaunda and former Tanzanian President Hassan Mwinyi, according to a statement from the ANC.
Mandela blew out the candles on his cake, which was decorated in the black, green and gold colors of the ANC.
Zuma then went to a poor neighborhood in the city to visit with elderly South Africans at a lunch organized for Mandela Day. In a speech televised live on national television from the lunch, Zuma lauded elderly citizens caring for grandchildren orphaned by AIDS and the charity groups that help them and other vulnerable South Africans.
Zuma said Mandela taught the nation "reconciliation and forgiveness and we learned from him that you achieve personal freedom and inner peace if you release hatred and bitterness from your heart."
Helen Zille, leader of the ANC's main opponent, the Democratic Alliance, served at a soup kitchen in Cape Town.
"Former President Mandela dedicated his life to bettering the lives of all South Africans reflecting true leadership," Zille's party said in a statement. "We will honor him by continuously striving to do the same."
In recent years, an increasingly frail Mandela has largely retired from public life and stressed that if his legacy is to live, others must take up his causes. His Mandela Foundation, which houses some of his archives and supports community building projects, has switched from a logo featuring his face to one featuring his hands, reflecting his desire to shift the focus from himself to the work ahead.
"It is in your hands to create a better world for all who live in it," Mandela said in a message endorsing Mandela Day. "Our struggle for freedom and justice was a collective effort. Mandela Day is no different." (END/2009)