Thursday, 18 September 2014 12:48
Russia Pledges Support for Peaceful Africa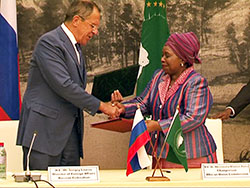 LAGOS, Nigeria, Sept 18, 2014 (The Independent) -- The Russian Federation has pledged to support Africa in strengthening peace and security, settlement of regional conflicts, and resolution of economic and humanitarian challenges.
The Russian Federation had also pledged to support the continent through the African Union Commission (AUC) in technology transfer and education development for faster growth.
The Russian Federation Foreign Minister, Mr Sergey Lavrov, signed a Memorandum of Understanding (MoU) with the Commission of the African Union (AU) in Addis Ababa, Ethiopia, on Wednesday.
Lavrov told a joint press conference shortly after he signed the MoU Wednesday night that the Russian Federation would assist Africa in technical education, science and technology for the continent's faster growth in the coming years.
Lavrov had signed the MoU establishing a framework for political consultations to allow the AU and the Russian Federation coordinate joint efforts on "strengthening world peace and security, settlement of regional conflicts, and resolution of urgent economic and humanitarian problems".
The Russian official also pledged partnerships between his country's businesses and African countries.
"We agree with the African friends that what is needed now is to provide assistance in strengthening economies," he said.
He pledged Russia's support of African positions in the international arena, given the relationship based on friendship and mutual solidarity.
The AUC Chairperson, Dr Dlamini Zuma, expressed the commission's delight for the support from the Russian Federation.
Zuma said Africa would strengthen further cooperation with Russia in a number of areas, including education and skills development, science and technology, agriculture as well as modernising the continent's economic infrastructure.
The Russian Government had decorated the AU Commissioner for Peace and Security, Ismail Chergui, with a medal of Russian Order of Friendship.
Chergui formerly served as Algeria's Ambassador to Moscow was hailed for his role in strengthening the relationship between Russia and Africa, as well as Russia and Algeria during his tenure.