Wednesday, 17 September 2014 08:35
Russia Outlines Plans for Zimbabwe's Projects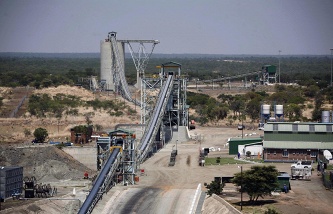 By Kester Kenn Klomegah
HARARE, Zimbabwe, Sept 17, 2014 (Buziness Africa) -- "Russia would always be with Africa. Zimbabwe and Africa would always be with Russia," are the concluding remarks by Foreign Affairs Minister Sergey Lavrov at the historic launch of Darwendale Project in Harare, Zimbabwe. After a series of negotiations that took several months, Russia and Zimbabwe have outlined plans for the development of the biggest platinum mine, a mega project that would transform the economy, create thousands of jobs and reduce poverty.
The Russian Foreign Ministry said in an official report posted at the website that "the development of the platinum deposit is a priority project and will be the driving force behind all bilateral trade, economic and investment relations. The Russian side in this project is represented by the state-run company Rostec (Russian Technology), Vnesheconombank and the investment and industrial group Vi Holding."
The agreement to develop the Darwendale deposit, the world's second largest platinum mine, was signed by Russia's Industry and Trade Minister Denis Manturov and Zimbabwean Foreign Minister Simbarashe Mumbengegwi. The signing ceremony took place at the platinum deposit located several dozen kilometers north of Zimbabwe's capital Harare.
Darwendale is the world's second largest platinum deposit. The deposit located in the Darwendale valley has proven reserves of 19 tons of platinum and 755 tons of platinum group metals, including other precious and semi-precious metals.
The deal on the purchase of a 50% stake in Zimbabwean Ruschrome Mining, which owns the licenses for development of the second largest platinum ore field (the other 50% is owned by a local company which represents the interests of the state), was concluded in May 2013. In April 2014, Rostec, state lender Vnesheconombank (VEB) and Vi Holding created a consortium to develop the deposits in which VEB is the organizer of financing for the project.
Foreign Affairs Minister Simbarashe Mumbengegwi said the joint commission was looking at broadening the framework for cooperation to cover other sectors other than mining. Russia has in recent years increased its mining interests in Zimbabwe where it is already exploiting gold and diamonds.
The Russian delegation has interests in several sectors of the economy, among them mining, energy, agriculture and infrastructure development. The visit coincided with the first session of the Zimbabwe-Russia Joint Permanent Commission on Economic, Technical and Trade Co-operation.
The visit comes hard on the heels of President Mugabe's successful trip to China last month where he clinched mega deals, with Beijing pledging to support Zimbabwe's key economic areas that include agriculture, energy, tourism and railways. These economic enablers such as the rehabilitation and construction of new infrastructure in the energy sector, railway and roads among others that are key to the successful implementation of Zim Asset, a Government economic blueprint.
Zimbabwe and Russia have opened an historic chapter in their long history of political cooperation after agreeing to extend their ties to every sphere of economic interest.
Russian Minister of Industry and Trade Dennis Manturov said the two countries had successfully held the first session of the two countries' joint permanent commission.
During the meeting, they agreed to explore opportunities in all sectors of economic influence for mutual benefit. Manturov was speaking at a business dinner organised by The Herald Business and Bankers Association of Zimbabwe, overwhelmingly attended by cabinet ministers and a wide spectrum of high-profile executives from the Zimbabwe business community.
Manturov said the initial session of the inter-governmental co-operation between the two countries laid a firm foundation for developing economic co-operation in the spheres of industry and infrastructure development among others and channel for more Russian investment in Zimbabwe.
He said the two countries will today commissions the Darwendale platinum project and that he was "proud that Russia had been granted unique opportunity to develop this project."
Manturov said that Zimbabwe offered unique opportunities for economic cooperation between the two countries to break into other markets of countries around Zimbabwe.
"We believe that together with other colleagues from other ministries and representatives of the business circles we will be able to move our two economies further and we will be able to ensure their stable growth," Manturov said.
He said Russia had reached quite high levels of hi-tech, particularly in the areas of aviation and certain advanced technologies and urged Zimbabwean businesses to take advantage of the cooperation to further develop in these areas.
Industry and Commerce Minister Mike Bimha, said they had a meeting of the minds in agreeing to give Russia freedom to choose opportunities from an array of Zimbabwe's industry funding needs; areas they wanted to assist in among those that have catalytic effect on others, create jobs and generate exports.
"I think much of my comment will be more of what we discussed prior to the dinner. I think it is of more their readiness to assist in a variety of areas. I think from what we discussed they are very keen to look at the issue of lines of credit.
"They are quite keen to look at the issue of joint ventures and partnerships, particularly on the manufacturing side. I think what we have agreed on is to give an array of our needs. There are industries that require retooling, there industries that require, probably new technologies," he said.
Speaking at the same occasion, Confederation of Zimbabwe Industries President, Charles Msipa, said Zimbabwe had one of the most diversified manufacturing industries in Southern Africa that was, however, afflicted by serious bottlenecks of old infrastructure and access to affordable funding.
He said Zimbabwe was strategically located in the hub of the Southern African region with countries that have significantly higher levels of gross domestic product, and so was the most ideal location for all forms of industrial investment.
"So there are significant opportunities in our manufacturing industry for joint ventures and partnerships. This is very exciting work of the Zimbabwe and Russia joint commission... We have had significant investment in the mining sector in the past eight or nine years; we have had precious little FDI in the manufacturing sector," said Msipa.
Foreign Affairs Minister Simbarashe Mumbengegwi, said the two countries had opened new frontiers of economic cooperation by opening up what traditionally were inter-government engagements held behind closed doors, but which were largely meant to create opportunities for business people, to interaction between government ministers and business.
"We have had so many joint commissions and none of you have heard of this and yet we have held them to create opportunities for you. So, I would like to thank honourable minister (of finance) for agreeing to share with all of us (details of discussions in the joint commission," Minister Mumbengegwi said. (Source: Buziness Africa with additional reports from news agencies and The Herald Business)