Saturday, 25 July 2009 01:14
Street Names And Babies' Names To Remember Michael Jackson
By Kester Kenn Klomegah, Staff Writer
MOSCOW, Russia, July 7 (Buziness Africa) – In Ukraine, an ex-former Soviet republic, Michael Jackson, the late king of popstar, is deeply loved in loved and admired not only by the youth but also the country's parliamentarians that they have started considering passing a bill to rename one of the popular streets after him, APA learns from local Ukrainian media on Sunday from Moscow.
According to the news reports, Jackson's scheduled plan to perform in Ukrainian city of Kiev was disapproved by the officialdom, but had two historical and massively patronized concerts in Moscow, in 1993 and in 1996.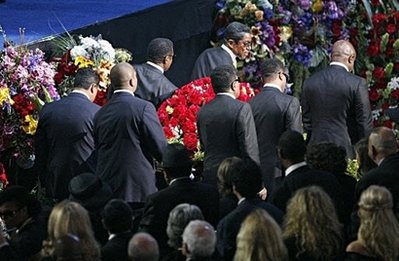 Jackson's death quickly became the most discussed item on Russian and Ukrainian's most popular web portals, and throughout the Soviet region. It has been reported that even though Russian President Dmitry Medvedev favorite rock act is Deep Purple, he's had a weak spot for Michael Jackson ever since his early student years.
Also among many Russian leaders, the Chechnya President, Ramzan Kadyrov said "I deeply grieve with the musician's relatives, friends, and fans because of the untimely passing of the outstanding man, unmatchable singer Michael Jackson, whose death ends the entire epoch of the world music culture."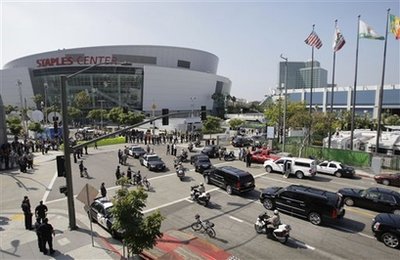 Radio Free Europe wrote that "his live concert in Moscow in 1993 sparked near-hysteria among scores of Russians hungry for a taste of western culture" and what further became one of my brightest personal memories from the 1990s was attending Jackson's History Tour concert at the Dynamo stadium in Moscow in 1996.
Today, hundreds of fans laid flowers and toys near the American embassy in Moscow and in downtown Saint Petersburg to honor the idol, deeply grieving the untimely passing of the world's pop-musician who has influenced lives and cultures of the youth.
Now after the death of the popstar, lawmakers in eastern Ukraine has put forward a proposal to rename a village after Michael Jackson in honour of the world reknown musician, the local media reported.
According to the Zaporozhye region's The Reporter newspaper, one of the factions in the legislature has already discussed the proposal, and it could be put to a vote soon.
The lawmakers have proposed renaming the Oktyabrskoye village, the paper said.
Oleg Kislitsyn, a deputy in the regional parliament, said villagers in Oktyabrskoye, located in the Zaporizhia region in the country's southeast, had approached him with a proposal to rename the village "Michael Jackson".
"There are many fans of Michael Jackson there. They want to immortalize him," said Kislitsyn, adding that he and some of his colleagues were in favour of the proposal.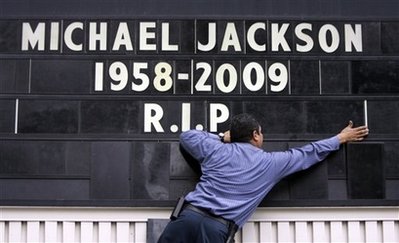 "They want to create a house-museum and collect his records there. This is a depressed region, all the factories are closed. They hope this will attract tourists," he added.
Kislitsyn's advisers went to meet with villagers on Wednesday to discuss the proposal. The village's municipal council is to consider the plan in August.
When asked what links existed between Oktyabrskoye and Jackson - whose death in Los Angeles prompted a worldwide outpouring of grief - Kislitsyn said the world was in the process of "globalization."
Oktyabrskoye is currently named after the October Revolution of 1917 which swept the communists to power in Russia. The name dates back to the Soviet era when Ukraine was under Moscow's control.
Similar, a sympathic Novosibirsk mother has decided to name her newly born son Micahel Jackson in memory of the pop-star, according LifeDotRu, a lifestyle internet news media. Yevgenia Shalenko, 29, gave birth to Michael Shalenko-Jackson on Thursday, the day after Jackson's death was announced.
"My son's birthday is both the happiest and saddest day of my life, because the first thing I learned after recoverin from labour was that Jackson had died," australian pokies games online Shalenko told LifeDotRu in an interview.
Jackson, who spent more than four decades in the public spotlight, died at the age of 50 on June 26 of a heart attack just weeks before he was to launch a series of comeback concerts in London and will be buried on July 7, 2009. (END/2009)
Flowers And Candle-lights For The World's Popstar
APA-Moscow (Russia) – Michael Jackson's tremendous and shock-striken fans poured over the weekend on the United States embassy outside compound with bouquets of flowers to remember the legend pop star who died in Los Angeles on Thursday of a heart attack, APA learns here on Sunday.
Soonafter the news about his death was announced last week, a steady stream of Russian fans has been visiting the U.S. embassy with flowers and leaving messages, among the many messages placed among the flowers and candles is one in coloured chalk that reads: "Michael Jackson, we will love you forever! Rest in peace, King."
Jackson's death of a heart attack at the age of 50 has dominated the global media over the past three days, and social networking and video sites have been flooded with tributes. While grieving fans have been celebrating Jackson's musical legacy, several questions have arisen over the circumstances of his death.
One of the Jackson's fans in Moscow, Shaaban Nzori said "Michael was a legend in music and pop art. I consider him one of the most outstanding performers history has known," and that he brought a lot of new dimensions in music, in dancing, in choreography, and lifted pop art to a level transcending generations as he was liked and revered by many people of different age groups.
Shaabani said "Michael Jackson also brought modern techniques and technology in the field of music and hip-hop. I believe he will be missed by many as such a phenomenon like him appears once in a century or so."
Dr Bashir Obasekola, chairman of Nigerians In Diaspora-Russia, a social organization that unites Nigerian intellectuals, also expressed deep sorrow for the untimely departure of this musical legend.
"Just like many legends, he lived a world of controversies and misunderstandings. But, nevertheless, there is no doubt that he was a genius, star and the king of pop," he said.
According to Dr Obasekola, Jackson's songs were energizing and lyrical. "Even if you are a shy person or do not know how to dance well, MJ's music will draw you to the dancing floor, and no wonder that's why both blacks and whites, Asians and Hispanics, Arabs and Europeans admire his music," Dr Obasekola said.
He finally added that "With his music, he tried to promote tolerance, equality, peace and harmony amongst people and nations. At this moment, my thoughts and prayers are with his families and relations."
After the news about the legend's death broke out, Andrei Zolotov, Jr. is chief editor of Russia Profile and deputy director of Ria Novosti foreign service, made a Google searches in various languages except Russian and Yandex searches in Russian (Yandex is Russian-speaking world's most-used search engine) for a set of popular singers who came to mind: Americans Ella Fitzerald, Frank Sinatra and Aretha Franklin; France's Edith Piaf, Russian pop diva Alla Pugacheva and great mid-20th century folk singer Lidia Ruslanova, and, for comparison, Cape Verdian performer Cesaria Evora, who captured the world stage far beyond the Portuguese-speaking community.
Towering over Zolotov's sample group was Michael Jackson with the late-January figure of 37,900,000 Google pages in English (today it has grown to 56,100,000) and, for comparison, 3,000,000 Yandex pages in Russian (today – 5,000,000). Pugacheva, on the other hand, had only 101,000 Google pages in English and staggering 4,000,000 Yandex pages in Russian.
Using this unscientific but still telling method, Zolotov concluded that Pugacheva is more popular in the Russian speaking world than Michael Jackson is and virtually unknown in the French- or Portuguese-speaking worlds, where each had only about 3000 Internet pages on her.
Despite that, Jackson could easily be taken for a reference, he concluded with his research for the popularity in Russia.
"And that was the case in each of the language groups I sampled. If you take the number of pages in one language group - say French pages mentioning Piaf, divide it by the number of French pages mentioning Michael Jackson and multiply by 100 to avoid too many decimals, you'd come up with 5.7 Jackson rating in French," Zolotov said, and added that "In Russian, Piaf's Jackson rating is 12.1, which could mean that Piaf's penetration of Russian popularity is greater in her native France itself."
Most likely, Zolotov's table makes no sense whatsoever - perhaps a real scientist would come up with a better way to measure popularity in Jacksons.
"But it did serve as a reminder of Michael Jackson's tremendous ability to command the world stage, and to penetrate the hearts and minds of audiences around the world. But Jackson was an exception.," Zolotov concluded. KKK/…/APA