Tuesday, 12 August 2014 17:08
Russia and Egypt: A Review of Economic Cooperation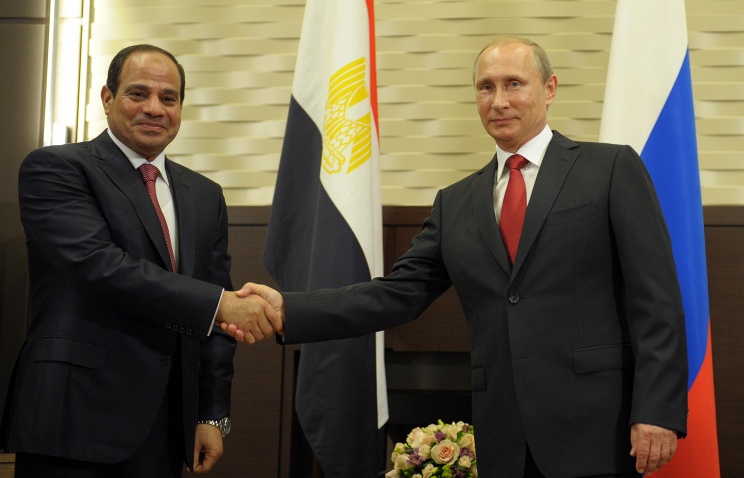 By Kester Kenn Klomegah
MOSCOW, August 12, 2014 (Buziness Africa) – Russia and Egypt have come a long way to establish long term, viable and diversified businesses and hope to expand economic cooperation. Undoubtedly in both Russia and Egypt, there is a highly growing need to deepen cooperation in different spheres as indicated by the visiting Egyptian leader, Abdel Fatah al-Sisi, who was invited by Russian President Vladimir Putin to Sochi, Russia's southern city.
Putin and al-Sisi discussed by phone key issues on the bilateral agenda ahead of the Egyptian president's official visit to Moscow. "The two leaders reaffirmed their commitment to further development of multifaceted mutually advantageous cooperation," the presidential press service said.
"The heads of state are expected to pay a great deal of attention to the development of trade and economic ties between the two countries," it said, and added that Putin and al-Sisi are also committed to strengthening of humanitarian ties, specifically cooperation in the field of culture, education and science, as well as tourism.
Economic cooperation
At the meeting, Putin stressed the need for Russia and Egypt to work together and deepen economic partnership. The Russian president said Moscow would welcome more imports of Egyptian oranges, potatoes and other agricultural products, while Russia plans to sharply expand grain exports to Egypt this year. Putin said following the meeting that Egypt would soon be ready to increase its supply of agricultural products to Russia by 30 percent to compensate for the ban on Western food products.
Egypt pledges to increase agricultural produce exports to Russia by another 30% and it is expected to double agricultural exports to Russia in 2015 vs 2013. The parties have agreed to ease Egyptian food exports' access to the Russian market and Russian representatives from the Veterinary and Phytosanitary Oversight Service popularly known as Rosselkhoznadzor and from other agencies will travel to Egypt shortly and visit potential agricultural products suppliers. Further, a plan is being made to set up a logistics center on the Black Sea coast to handle Egyptian food imports.
"As many as 90% of our imports from Egypt are farming products too - oranges, potato, onion, garlic," Putin said. "Egypt has already boosted exports of farming products to Russia by 30% and is ready to further increase them by another 30% in the nearest future."
According to the tapescript posted at the official Kremlin website, Russia and Egypt are also major players on the gas market. There are serious opportunities for enhancing our energy cooperation in various directions. Some Russian companies, such as LUKOIL, are already operating on the Egyptian market. Other companies are also interested in cooperation. The same is true of hydropower and cooperation in the peaceful use of nuclear energy.
Russia and Egypt are looking at creating a free trade zone. An agreement had been reached to establish cooperation between Egypt and the Customs Union (Russia, Belarus and Kazakhstan). The creation of Russia's industrial zone in Egypt will be a key part of a new Suez Canal project. "Our talks have opened big prospects in this area. I hope that the creation of the Russian industrial zone in Egypt will become a component that will supplement the new Suez Canal project," the Egyptian President said.
Egypt buys 25-30% of Russia's wheat intended for export. Russian wheat accounts for about 40% of grain consumed by Egypt. Other promising areas of cooperation are energy, car-making and transport. Russia and Egypt have the inter-governmental commission on trade, economic, scientific and technical cooperation. The two countries have also agreed to resume consultations on a free trade area agreement between Egypt and the Customs Union created by Belarus, Kazakhstan and Russia.
Military cooperation
Russia and Egypt have agreed to expand military cooperation. "We actively develop our military cooperation. We signed a protocol on the issue in March. We sell our weaponry to Egypt. We agreed to expand this cooperation," the Russian leader said.
Moscow and Cairo discussed the deliveries of high-tech Russian military products, including 24 Mikoyan MiG-29 fighter jets, as well as its Kornet anti-tank missile systems, and Kamov Ka-25, Mil Mi-28 and Mi-25 attack helicopters.
Egypt has reached an initial agreement on how to implement a new Russian arms delivery deal worth over $3 billion, Vedomosti financial newspaper reported. Vedomosti cited Russian defense sources that the sides initialed or signed contracts for the delivery of MiG-29M/M2 Fulcrum fighter jets, air defense missile complexes, Mi-35 helicopters, coastal anti-ship complexes, light weapons and ammunition.
The arms deal was originally proposed during a November 2013 visit by Russian Foreign Minister Sergei Lavrov and Defense Minister Sergei Shoigu to Cairo. Media reports have indicated the value of the deal could be several billion dollars. The deal is reportedly to be funded mainly by Saudi Arabia and the United Arab Emirates.
Russian tourism to Egypt
Egypt is located in northern Africa, bordering the Mediterranean sea, between Libya and the Gaza strip, and the Red sea north of Sudan, and includes the Asian sinai peninsula. It is a land bustling with life, sound, visual beauty and excitement. The government has struggled to ready the economy for the new millennium through economic reform and massive investment in communications and physical infrastructure.
Thousands of Russian tourists have been flying to the most popular destinations of Sharm-el-Sheik and Hurghanda and to the ancient pyramids in Giza and enjoy cruises along the river Nile. Russia hopes its tourist flow to Egypt in 2014 will be bigger than in 2013. Tourism is a major area of cooperation between the two countries.
In 2013, about two million Russians visited Egypt despite temporary restrictions on trips to that country. After these restrictions were lifted in the first quarter of 2014, the tourist flow from Russian reached 542,000 (575,000 in the same period last year). For Russian tourists, Hurgada and Sharm el-Sheikh, are the most popular destinations. Over 10% of Egypt's labor force is employed in the tourism industry. About 14 million people visit Egypt annually from all parts of the world.
Trade statistics
The Russian Foreign Ministry said that a series of meeting of a bilateral trade commission would be held to discuss the revitalization of commerce between the two countries. Putin expressed optimism at the potential to reverse a recent dip in trade and tourism. "I am confident that we can not only overcome this decline, but also reach new heights, at least $5 billion in trade. We fluctuate somewhere around $3 billion today, but we can definitely reach $5 billion in the near future," Putin said.
Buziness Africa's research confirms that trade turnover between Russia and Egypt last year amounted to $3 billion and more than doubled in the first half of this year to $2.5 billion from $1.2 billion in the same period in 2013.
Russian and African experts told Buziness Africa in interview comments that the visit and discussion illustrate explicitly the momentum the bilateral relations have gained between the two countries, but to make this partnership even more mutually substantial and sustainble, Russian and Egyptian authorities have to continue consolidating their common interest at the state level and further to encourage private public partnerships as well in all the economic sectors in both countries.
The traditional friendship between the two countries dates back to the World War II. In the 50s and 60s, thousands of Soviet experts helped Egypt to build plants and factories, to build the Aswan Dam and to create an entire range of other facilities and even a whole branch of industry, such as metallurgy. Many of those who now form the political, academic and cultural elite of Egypt studied at Soviet and now Russian universities. This is a good foundation for the development of comprehensive ties at the current stage for Russia and Egypt. (Source: Buziness Africa)