Vendredi, 24 Juillet 2009 23:58
There are no translations available.
Medvedev Leads Scramble For Africa
By Ed Bentley, Staff Writer
MOSCOW, June 26 (The Moscow News) - The race for Africa's resources heated up as President Dmitry Medvedev went on a four-day trip this week to key countries aimed at reestablishing Russia's influence on the continent.
After signing a strategic cooperation pact with Egypt, Dmitry Medvedev travelled to Namibia, before penning nuclear and gas deals with energy-rich Nigeria on Wednesday.
Although exact details were not released, Gazprom was reportedly interested in signing a $2.5 billion deal to create a joint oil and gas exploration venture with the Nigerian National Petroleum Corp, signaling its intent to strengthen its grip on Europe's energy supply.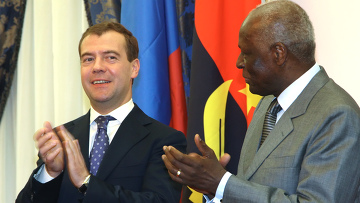 "I think Gazprom still wants to buy all gas produced around Europe and resell it on its own terms," said Mikhail Korchemkin, head of the East European Gas Analysis, a US-based consultancy.
Russian firms are lagging behind their international competitors in the battle for Africa's energy resources, particularly companies such as Royal Dutch/Shell and ExxonMobil.
To start competing Gazprom wants to gain involvement in the Trans-Saharan pipeline, which would transport Nigerian gas to Europe, though some have seen geo-political motivations in this move as re-exporting gas eats into the monopolist's profit.
"As a business model, it [re-exporting African gas] does not make sense," said Korchemkin.
Although Russia is not dependent on Sub-Saharan raw materials, there are substantial gains to be made as their extensive resources remain undeveloped.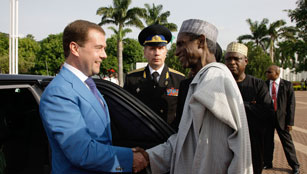 "The sizeable infrastructural gap in Nigeria and Angola could also create substantial attractive opportunities for Russian companies in the power, energy and construction sectors," Renaissance Capital wrote in a note.
It is speculated that LUKoil is looking to increase its presence in West Africa, as it has investments in Ghana and Cote D'Ivoire, while RusAl already holds a majority stake in Nigerian aluminium smelter Alscon.
Medvedev was scheduled to meet with Angola's president, Jose Eduardo dos Santos, who studied in the Soviet Union and was married to a Russian.
Angola is a major oil producer and currently holds the OPEC presidency.
"While the trip to Angola might be driven by the desire to secure contracts in the oil industry, one should not discount the 'political relation' aspect of this visit," Renaissance Capital said in a note.
Despite not having the economic clout of Nigeria and Angola, Africa's second- and third-largest economies, respectively, Namibia was on Medvedev's agenda as a major producer of uranium oxide and has extensive undeveloped natural resources, including diamonds, in which Russia's Alrosa has investments.
Nuclear power was on the agenda in Egypt, which is building its first nuclear plant in 20 years and Rosatom is hoping the presidential visit will boost their claim for the $1.8 billion tender.
Since the fall of the Soviet Union, Russia's influence on the continent has diminished considerably and bilateral trade remains weak. Nigeria is Russia's second-largest trading partner in Africa, but that trade only reached $300 million last year.
In contrast, China has stepped up its investments in Africa in recent years, becoming an increasingly important player in the region. Its bilateral trade with Nigeria dwarfs Russia's, standing at $11 billion in 2008.
"The level of competition has increased noticeably over the past years, especially as China's influence has expanded across the region (but not in Nigeria, Egypt or Namibia)," Renaissance Capital wrote in its report.
Meanwhile, the visit also appears to be part of Russia's broader goal to reassert its global influence.
Medvedev and Egyptian President Hosni Mubarak "spent quite some time" discussing conflicts in the Middle East, in particular continuing the Russian push for a peace conference to be held in Moscow.
"In the last year Moscow has made a lot of effort to increase its influence in the Middle East [peace] process," said Leonid Sukiyanen, a professor in the history of Islamic law and state at the Higher School of Economics.
Rekindling Soviet-era Links
Egypt
Medvedev signed a 10-year agreement with his Egyptian counterpart Hosni Mubarak. In a joint declaration, they said they intend to coordinate "foreign policy positions and steps" and aim for "a fair peace" in the Middle East, AFP reported.
The two have strong economic ties, with trade turnover exceeding $ 4 billion last year and Russian tourists contribute to the flourishing tourism industry, with almost 2 million going on vacation to Egypt last year.
Angola
Relations between Angola and Russia date back to the Soviet times, when the country was once a Cold War battlefield. The USSR and Cuba backed the ruling party, while the US and apartheid South Africa supported UNITA rebels. Even now, there is a Lenin Avenue and a theatre named after Karl Marx, evidence of the country's Communist influences. Many of today's ruling elite studied in the USSR in their youth, and the Angolan regime got military training and arms from the USSR to fight the rebels.
Since the USSR's demise, these strong ties have faded somewhat. However, Russia is still interested in maintaining a foothold in this country, and in 2006, presidents of both countries exchanged visits, signing 10 agreements, relating to energy resources, diamond mining and legal cooperation. More agreements are expected to be signed this time during Medvedev's visit, in the fields of education, health, commercial investments, science and economical cooperation, amongst others.
Namibia
During the Cold War, the Soviet Union supported leftist liberation movements in Namibia, a uranium-rich country, but since then has lost much of its clout to resource-hungry China.
SWA Uranium Mines, a majority Russian-owned company, currently has licenses to dig for uranium.
A couple of years ago, Rosatom floated an idea for building a floating nuclear station off Namibia, but nothing has come of the idea yet.
One of the biggest deals expected to be signed this time is a cooperation deal between national oil company Namcor and Gazprombank. The details of the deal will not be announced until it is signed. (END/2009)