Sunday, 25 May 2014 09:58
Russia and Africa Must Tighten Business Ties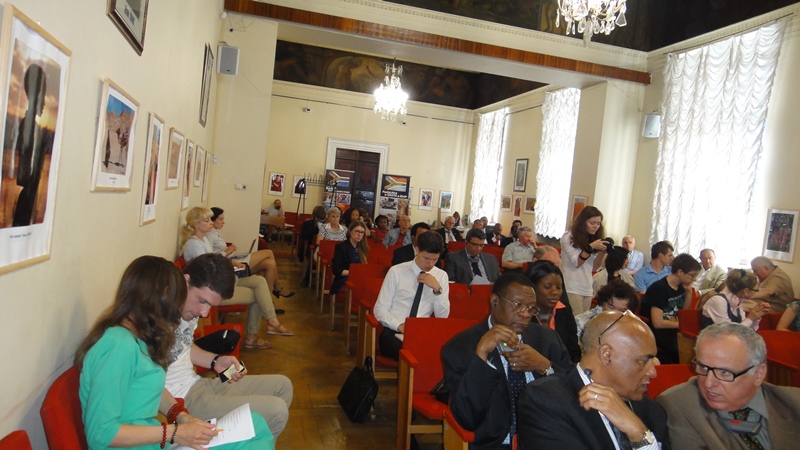 By Tai Adelaja
MOSCOW, May 25, 2014 (Buziness Africa) -- Leading Russian Africanists have called for robust government policies and active cooperation among businessmen to deepen bilateral and economic relations with Africa, stressing that failure to realize full economic potentials in the past has continued to dampen bilateral trade prospects.
The experts were speaking at a roundtable in Moscow organized by Russia's Institute for African Studies (IAS) to mark South Africa's 20 Years of Freedom and take stock of business and investment activities in the two countries in the two decades since independence.
The speakers and participants at the roundtable, who were largely drawn from the diplomatic, research, academia and business, discussed the history of relations with Africa in Soviet times as compared to the situation today.
Many speakers expressed disappointment that Russia's interests in Africa appeared to have waned, especially after the collapse of the USSR in 1991. Yet, after visits to Africa by Presidents Vladimir Putin and Dmitry Medvedev in 2006 and 2008 respectively, and a second visit by Putin to attend attended BRICS Summit in Durban in March, 2013, bilateral relations have improved.
But trade links between Africa and Russia remain stubbornly below their potential, constrained by "insufficient knowledge of Russian and African partners of their mutual capabilities and needs," said the experts.
One reason for the low-level economic activity between Russia and the continent is lack of direct economic ties between representatives of small and medium-sized businesses (SMEs), especially at inter-governmental and even regional levels.
"Africa is fast becoming the world's powerhouse in agriculture and mining and there is immense scope for Russian businesses in areas as diverse as agricultural products and machinery, mining, auto components, chemicals, IT and IT-enabled services," said Dr. Alexandra Arkhangelskaya, a lead researcher at the Centre for Southern African Studies at Institute for African Studies (IAS).
It was "imperative," she said, to gear bilateral trade policies towards encouraging active participation of SMEs sector as an effective way to boost economic engagement, "which has remained more anemic than it could be."
South Africa is one of Russia's largest trade partners in Africa and both are members of BRICS (Brazil, Russia, India, China and South Africa), a group of nations with strong economic and political clout.
While bilateral trade amounted to a mere $138.1 million in 2002, it spiraled up to almost $1 billion in 2012, with the trade balance tilting heavily in South Africa's favour. But Russian exports to Africa over the past decade "remain very modest," reflecting the low involvement of SMEs in trade relations, Dr. Arkhangelskaya said.
In 2012, for instance, Russia's exports to South Africa constituted a mere $278.7 million, the bulk of which are oil products, production of chemical industries, equipment, transport, machinery, food and agricultural products, and wood. Russian imports in the same year peaked at $685.6 million, comprising of metals, aluminum, wood, and fertilizers. Imports from South Africa consist of foods, in the form of fruits and vegetables, raw materials, metals, and alcoholic and non-alcoholic beverages.
On the upside, big Russian companies such as the Renova Group (exploration and production of manganese ore), Norilsk Nickel (production and mining of nickel), and Evraz Group (production of vanadium and steel) continue to operate in South Africa while South African companies like SABMiller (beer production), Naspers (information technologies), and Mondi (pulp) have big footprints in the Russian market.
In 2012, Renova Group invested $350 million in the development and modernization of a manganese mine for the joint United Manganese Kalahari project. The company is reportedly preparing a large-scale project to renovate a ferrous metals factory (estimated at $250 million) and is also participating in the development of a solar energy park in South Africa.
A considerable number of agreements have also been signed regulating various aspects of trade and development issues, including on the promotion and reciprocal protection of investment, avoidance of double taxation and co-operation in the peaceful uses of atomic energy
Bilateral co-operation is also gaining momentum in the banking and financial sector. Several agreements have been signed on co-operation between the leading banks in both countries, including the Bank of Russia and The Reserve Bank of South Africa. Both Russia's Vnesheconombank and Gazprombank have offices in Johannesburg.
Despite such success stories, maintaining forward momentum in Russia-South African economic relations, including in bilateral investment and balance of trade, remains a challenge.
"If you consider the huge potential for economic relations, the implementation of these agreements alone falls short of what is needed," said Professor Vladimir Shubin, the principal research fellow of the Institute for African Studies (IAS). "The development of mineral resources – particularly diamonds, gold, manganese, platinum group metals, and rare earth elements – is one of the most promising areas of bilateral co-operation that requires further development." The two countries should grasp new opportunities emerging from their long-term ties and inject new momentum into traditional trade cooperation," Professor Shubin added.
However, for most of the forum's participants, the recent re-election of President Jacob G. Zuma and his ANC government appears to provide a much-needed sense of hope for strengthening the cordial and mutually-beneficial relations between Russia and South Africa, especially in the area of bilateral trade and investments.
"Twenty years of freedom give us an opportunity to take stock, reflect and look ahead to the next decades, by way of exploring new avenues for bilateral relations between Russia and South Africa," Mr Mandisi Mpahlwa, the South African Ambassador to Russia, told participants of the roundtable. "With the elections behind us, both Russia and South Africa can continue to focus on similar concerns in Africa including, peace and security, promoting economic development, democracy and good governance."
(Source: Buziness Africa)