Sunday, 20 April 2014 12:45
Ghana's Oil Exploration Quagmire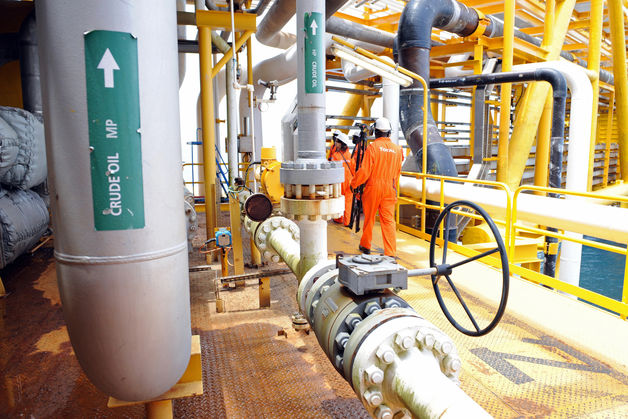 By Hakeem Adamu Tahiru
ACCRA, Ghana, April 20, 2014 (The Chronicle) -- As Ghana strives harder to escape the quagmire of oil curse which is the vile menace of oil and gas producing countries in third world countries across the globe, there are already looming signals that Ghana is virtually losing its gravity and battles to the foreign partners in her oil and gas industry.
This is resulting due to the suicidal and legal goof the country made from the start when oil and gas production licenses were issued to International Oil Companies (IOCs) at the time most of necessary regulatory authorities, legal frameworks and policies that would hold them account were absent.
The regulatory authorities such as Petroleum Commission, and Ghana Gas Company and regulatory frameworks such as the Petroleum Revenue Management Bill, Petroleum Commission Act, and the very belated Local Content Policy, among others, were put in place, a year or more, after commercial production of oil and gas resources commenced in the year 2010.
The first and most crucial battle was lost when Ghana hastily awarded a counterproductive production license under overly generous investment and tax regimes which offer IOCs a good bonanza but offer the country a detrimental value of a peanut -- only 13% royalty -- for her enormous discoverable oil and gas resources.
Besides, the essence of the active participation by Ghana National Petroleum Corporation (GNPC) in the Joint Operation Agreement with the IOCs is to, among other things, ensure the State exercises effective sovereign control over her oil and gas resources, ensure employment opportunities are created for Ghanaians, and technology transfers is facilitated.
However, current indicators are not showing prospects that GNPC's 15% participation would yield these outcomes as expected in the long run.
The second battle which is ensuring transparency, accountability and prudent management of oil revenue, transactions and prudent application of proceeds is showing modest and uninspiring outlooks.
The GNPC has been too slow in accounting or informing the Ghanaian publics on the number of barrels of oil produced per day and number of exploration and production licenses issued to IOCs so far.
Besides, since 2010, about 5years down the oil production timeline, it is not clear how much oil revenue has impacted on Ghana's economy as external borrowings have not minimized and the economic conundrums have not undergone significant economic and structural transformation and human development.
The third issue which is very lamentable is the nonchalant and lackadaisical approach by which the Ministry of Energy and Petroleum, the Ghana Petroleum Commission and other mandated authorities for policy formulation, regulatory development and law enforcement have adopted to ensure strict compliance with the local content obligation by IOCs.
The local content act which mandates IOCs to give preferential treatment to local business and human resources to ensure active participation and maximization of benefit from our oil and gas resources is being enforced at snail-pace. A lot of young Ghanaian professionals in the industry who have returned from further studies abroad since 2010 up-to-date, with qualifications in oil and gas management, engineering and law, are languishing in undue pain of joblessness. Ghana's local content policy is one of the best in Africa but the commitment so far to ensure its enforcement going forward, is appalling.
Moreover, when it comes to compliance with local content policies especially in developing as Ghana, IOCs are normally unenthusiastic unless the national petroleum regulatory company adopts nonnegotiable, uncompromising, effective and strategic approach to ensuring strict compliance.
They often use their rich technical and professional experience to give excuses to confine the payroll so as to reduce production cost in order to increase their financial prospects for recouping their capital investments within few years after the start of commercial production.
The National Local Content committee of the Petroleum Commission must therefore step up the pursuit of Ghana's local content policy vision of achieving 90% local businesses and human resources participation by 2020.
It is lamentable that local content obligations are not yet being pursued vigorously about 5years into commercial production of oil and gas resources in the country.
The ongoing plan by Petroleum Commission to institutionalize internship opportunities in oil and gas companies in the country is apt but overdue. The commission should therefore step-up its efforts in designing a comprehensive and sustainable internship scheme for Ghanaian students and graduates as that would serve as a very strategic move towards realizing the local content goals and mandate.
The last battle that Ghana must strive to accomplish is ensuring that IOCs adhere to their corporate social responsibility (CSR) obligations to local communities whose social and economic progress could be encumbered by the activities of IOCs. The Ghana's mining industry offers useful lessons for the oil and gas industry.
The displace of communities in mining communities, destruction of farm lands, vegetation, and ecosystems as well as the pollution of water bodies and waterways with mercury through unregulated mining activities and externalities without payment of due compensation to affected communities, are some bitter lessons that the oil and gas industry must eschew.
Environmental regulatory enforcement must be tight and IOCs ought to fulfill their CSR obligations to local communities in the petroleum sector to prevent the recurrence of the calamitous experience of the mining industry in the oil and gas industry.
Conclusively, oil and gas resources are a blessing to our economy and this blessing could lead to national prosperity only through active local community, private sector and civil society participation, prudent application of oil revenue, adoption of concrete risks management strategies, increased accountability and transparency, increased research and human capacity building, emulation of international best practices and more importantly, strict enforcement of exploration and production regulatory regimes and policies.
The writer is an Unemployed Petroleum Law and Policy Expert.