Monday, 24 March 2014 20:10
South Africa: Mining Opportunities Exist for Russian Investors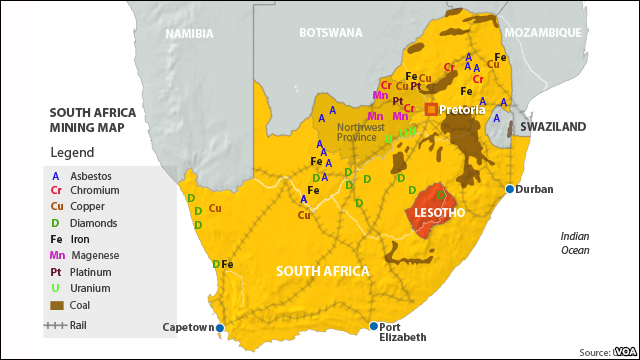 By Kester Kenn Klomegah
MOSCOW, March 25, 2014 (Buziness Africa) -- While Russian authorities have shown strong interest in broadening participation in the huge and untapped mining potentials and still crafting strategic ways to get involve in the natural resources exploration in South Africa, leading policy experts said that the Russian industry leaders would face keen competition and uphill struggle for a win-win against other foreign players.
Dr Antipas T. S. Massawe, a mining engineer based in Tanzania, thinks that
Russians are not winning many of the mining contracts put up for bidding compared to Western miners simply because South Africans are already very used to the way the Westerners' business styles and approach. "It is too risk to pick a newcomer who speaks different business language and without any record of African practice which is as competitive as the Western companies have demonstrated," he told Buziness Africa in an email interview from Arusha.
Furthermore, Massawe thinks there are many of Russian companies which are inexperienced with Western market operating standards in the industry, and to overcome these lapses and obstacles Russians could approach South Africa through joint ventures with the Westerners and concentrate on Greenfield exploration in which they could sail through successfully.
Large scale Western mining companies from countries such as Canada, UK, and Australia dominate the discovery of new mines on the South Africa. Russian mining companies could also secure a deserved share of African mining industries if they would mainly focus on Greenfield exploration and collaborate with the BRIC countries and foreign players on the African continent, he suggested.
But, for Irina Filatova, a professor emeritus from the University of KwaZulu-Natal in South Africa and also a professor at the National Research University, Higher School of Economics in Moscow and author of the book "The Hidden Thread: Russia and South Africa in the Soviet Era" has offered this comment: "Russia is increasing its investments in mining in Africa, today over 30 major Russian companies participate in the development or harmonisation of African natural resources development projects."
The main charecteristics of Russian mining companies operating on the continent and in South Africa in particular can be described as big corporations that are seeking to expand their interests abroad, many of them have state support.
She pointed out, however, that Russia is keen in developing collab­oration with Africa in the sphere of natural resources, but it is important to understand that, mining of African minerals and oil extraction is a matter of expediency for Russia and not a "matter of life or death" like it is for the rapidly growing economies of China and India.
The major challenges associated with Russian mining investment into Africa remain political, economic and regulatory uncertainty. In addition, the regulations and aggressive unionisation in South Africa make impediments for investing into SA mining sector. Some other obstacles include the differences in operational management, lack of interest and vital information, or a negative information about the investment and operational climate in South Africa, according to Filatova.
The Fraser Institute's Annual Survey of Mining Companies focus on exploration, development and other mining-related companies around the world. In a recent survey by the Canadian-based research organisation the Fraser Institute, for instance, Namibia has been ranked the second most favourable investment destination for mining and exploration activities on the African continent. This ranking places Namibia second in Africa after Botswana, which ranked 25th in 2013. Further, Zambia was ranked even above South Africa, Russia and China.
As far back in September 2006, Vladimir Putin signed a bilateral treaty that allows for cooperation in assessing natural resources by Russian companies but little has been achieved due to multiple reasons faced by Russian companies in the industry.
The Russian leader, who was then on his first sub-Saharan visit as head of state, emphasised the need to maximize bilateral trade and investment possibilities and assured that one Russian company intended to invest more than $1 billion in South Africa's economy. "One of our companies is planning to invest more than $1 billion in South Africa's economy, [namely] in manganese ores, and another company was ready to help South Africa develop electricity and build an aluminum plant."
Russia and South Africa further agreed to develop cooperation in the energy and transportation sectors, the defense and aerospace industry. The Russian group of businessmen who accompanied Putin included Viktor Vekselberg, the head of the Renova Group and one of Russia's richest men, Alexander Nichiporuk, the president of diamond giant Alrosa, as well as Igor Makarov, the head of the Russia's largest independent natural gas producer, Novatek.
Renova, a leading Russian asset management company, said in 2007 that it intended to invest $1 billion in a manganese deposit in South Africa. Renova, a stakeholder and strategic investor of leading Russian companies in the metals, oil, engineering, mining and other sectors, had completed a feasibility study for the deposit's construction, Renova head Viktor Vekselberg said but declined to name the manganese field.
When contacted, Russian companies including Renova, Norilsk Nickel, Evraz Group and Severstal (that have started operations in natural resources-related business after Putin's official visit) have declined to give Buziness Africa media some detailed information about their operations in South Africa.
Eight years have, indeed, elapsed after the signing of agreements. Against the background of little results that have trickled in, however in March, the South African embassy led by Ambassador Mandisi Mpahlwa, Brand South Africa and PBN public relations group jointly organised a special business roundtable discussion to brain storm for ways on how to get Russian companies to significantly invest and participate more actively in the mining industry in South Africa.
Vladimir Kremer, chairman of the Russia-South African Business Council and managing director from Russia's Renova Group acknowledged starkly that "for decades, the extractive sector has been the bedrock of economic activity and industrialisation in much of Africa, and especially in South Africa. However, the progress of mining has seldom translated into the equitable and sustainable upliftment of communities affected by mining operations."
Speaking on the topic "Natural Resources Extraction in Africa - Challenges and Opportunities", Nikolai Zelenski, chief executive officer, Nord Gold N.V. informed the gathering that "Africa is home to 40% of the world's natural resources and just 15% of the world's population. At the recently-concluded African Mining Indaba, the World Bank announced that it wants to launch a $1 billion fund in July to map the mineral resources of Africa, using satellites and airborne surveys to fill geological gaps across the continent where a lack of adequate data hampers mining investments."
Simon Schaefer from the South African based Frontier Advisory told Buziness Africa in an email comment that the South African mining sector has been attractive to many foreign players, but frequent labour unrest and industrial action combined with strict – sometimes too strict - labour regulations as well as unclear and at times contradicting messages from the government on nationalisation undermine the attractiveness of the local mining sector.
"As a result of this, foreign mining investors are increasingly shifting their focus to countries which used have rather risky or less attractive operating environments. Countries such as Sierra Leone, Liberia, Burkina Faso and Tanzania have attracted a lot of attention from the international mining community in recent years," Schaefer explained.
He added, however, that given the structures in the mining sector and the sector traditionally being a key provider of employment, companies that seek to introduce technologies (and by doing so reduce labour-intensity) may face strong opposition from unions.
Compared to a number of emerging mining hotspots, Schaefer pointed out that South Africa has a rather mature sector and hence a company from Russia would be faced with challenges that any company has been trying to penetrate a mature market. "Given the current uncertainties in South Africa's mining sector, I would advise companies that want to enter the local market to focus on servicing the mining sector and supplying inputs instead of investing directly into any assets," Schaefer suggested.
In his State of the Nation address, President Jacob Zuma highlighted his administration's successes but also called on business and labour to work together to stabilise industrial relations in the country. South Africa has the largest and most valuable proven mineral reserves of $2.5-trillion according to a 2011 Citi Bank survey. That is $1-trillion more than that of its nearest competitor Russia.
One has to ask: How can mining companies optimize of state support and attract investment to the extraction industry? What role can mining industry stakeholders play in stabilising industrial relations in this sector of the economy? What are the main roadblocks to inducing investment in the African mining industry especially for Russian companies? What should be the major consideration for Russian companies willing to invest in mining on the continent?
Experts, academics and industrialists say, whereas Russian companies are highly interested in the development of natural resources deposits in South Africa in particular and in southern African region in general, there are still more critical questions than answers. (Buziness Africa)