Monday, 20 July 2009 15:08
In Mother Russia, She's 1st Lady of Gardening
By Gavin Givhan

 

MOSCOW, July 6 (Washington Post) -- First lady Michelle Obama arrived here Monday afternoon to an audience more intrigued by and enamored of her gardening skills than of anything else on her résumé. If she effected any kind of charm offensive leading up to this official visit -- at least one with a message that seems to have resonated down to the streets of this city filled with grand czarist architecture

-- it has been one based on lettuce and compost.

 

On her second international trip as first lady, the welcoming cover stories and street chatter here have focused on her White House kitchen garden rather than her clothes, her Ivy League pedigree or her interest in promoting public service.

The current cover of Ogonyok, for example, a weekly magazine focusing on politics and culture, carries a candid photograph of the first lady dressed in a burgundy windbreaker with her hair pulled back, working in the garden with students from Bancroft Elementary School in the District.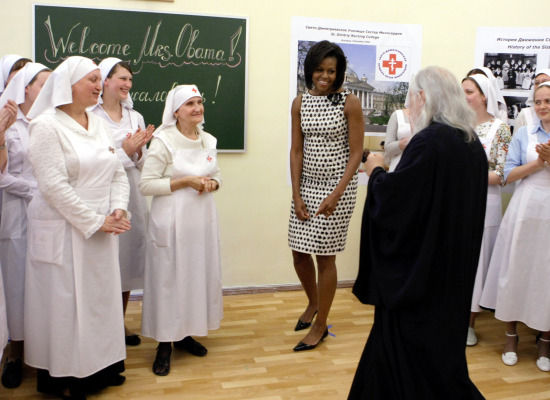 The cover line reads: "The Queen of the Fields: Michelle Obama and her husband can overturn our understanding of America." It's accompanied by an extensive story about gardening culture in the United States. Tomatoes, apparently, now serve as tools for diplomacy.
Gardening has special significance here. During the Soviet era, in particular, people were enthusiastic gardeners, raising vegetables for their family for the winter on small patches of land in the country. So many people here still have dachas and spend part of their time at those country homes raising vegetables as well as flowers. But it's not merely that the White House has a garden, it's that the first lady herself tends it -- at least occasionally.
Women here have long stood equal to men on a variety of fronts -- one of the lasting aspects of the Soviet era -- but they are also expected to tend the hearth, raise the children and maintain the family. Obama, a lawyer and former hospital executive, has described her White House role as mom in chief. That title, as well as her very public sowing and planting, speaks volumes in a culture where men and women relate in very traditional ways and women struggle to balance independence with homemaking.
"The dacha is something important in our life and something present in our life all the time," says Alla Lapidus, 52, a teacher at a music school. Obama is appealing not only because she has a career but also because "she can work with her hands," Lapidus says.
Gardening skills notwithstanding, Obama's early casino reception here has been tepid when compared with the hoopla she generated in London and France. On that trip, her first time overseas as first lady, she was hailed for her sense of style and her ability to stand designer-clad shoulder to shoulder with France's first lady and former supermodel Carla Bruni Sarkozy.
Obama caused a minor international kerfuffle when she put her arm around the waist of Queen Elizabeth II, went rogue and hugged the royal torso. And she made a memorable visit to a girls' school in London, where she gave the students an emotional pep talk about self-esteem and personal achievement. The conversation in Western Europe was all about soft-focus glamour and spunky independence. Here, it is precisely the opposite.
There is little breathless anticipation about Obama's visit. "Is she coming?" asked Elena Ignatieva, a 24-year-old secretary puffing on a cigarette in central Moscow, less than a mile from where presidential motorcade had just caused this city's already snarled traffic to grind to a halt. Where curiosity exists, it's focused on how Obama runs her home. "I'd like to know how she raises her children," said Alyona Memkova, 26, who was belted into a bright green trench coat -- another secretary on a cigarette break.
The shoulder-shrugging reception speaks, in part, to this country's ambivalence about a first lady stepping too far into the spotlight and deflecting it from her husband. (The president, most definitely, is not the-man-who-accompanied-Michelle-Obama-to-Moscow.)
There also is little patience here for a first lady as fashion plate. (Raisa Gorbachev did not endear herself to constituents with her designer wardrobe and plentiful furs.) There was virtually no interest here -- in Russian headlines or interviews since the first lady's arrival -- in the coral-hued coat and Narciso Rodriguez dress that Obama had on as she stepped off Air Force One into an unseasonably cold July afternoon, and which she later wore, with flats, to the Kremlin, where her husband laid a wreath at the Tomb of the Unknown Soldier.
Afterward, she and daughters Malia and Sasha toured the historic site, which sits alongside Red Square and St. Basil's Cathedral. There were curious onlookers as the family's motorcade snaked through the streets, but no cheering or waving throngs.
Obama will spend her time here underscoring her appreciation for the arts and her interest in public health issues. She has no planned public addresses. But in a city where folks seem more inclined to judge the first lady on her mothering skills -- and the state-fair splendor of her peppers -- oratory might be superfluous. (END/2009)