Saturday, 11 July 2009 15:21
Medvedev Hauls In Namibian Fish Deal
By Maria Antonova
MOSCOW, June 27 (The Moscow Times) - resident Dmitry Medvedev visited Namibia on Thursday — the first visit of a Russian head of state to the country — where he touted bilateral ties and presided over the signing of business deals.

After a welcoming ceremony in which tribal representatives clothed in native garb danced for the visiting delegation, Medvedev met with Namibian President Hifikepunye Pohamba, and the leaders expressed a desire for increased partnership and trade.

Pohamba called on Russia to lift all trade barriers preventing Namibian goods from reaching Russian markets, while Medvedev pushed for more Russian companies to operate there.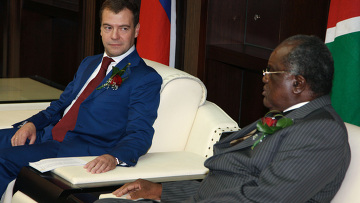 "We too want to further our interests and promote our companies here," Medvedev said, Interfax reported. He added that while there should be competition among companies, there shouldn't be competition among states, and promoting Russian business is not "a method of political domination."

Signaling a new era of Russian investment in the country, Gazprombank agreed to finance the construction of a gas power plant that would export electricity to South Africa. Under the agreement, which the bank signed with Namcor national oil company, the 800-megawatt plant will use gas from the Kudu deposit, which has reserves of 40 billion cubic meters.

The Federal Fisheries Agency also signed a memorandum of understanding with Namibia's Ministry of Fisheries and Sea Resources that opened the door for Russian fishing ships to operate in Namibian waters.

"It's an extremely important document, as Namibia is one of the biggest fish exporters in Africa," said Dmitry Dremlyuga, a member of the delegation that accompanied Medvedev and an adviser to the agency.

Russian ships had fished in Namibia since the 1960s but left after 2001. Russian fishermen will have access to up to 150,000 to 200,000 tons per year of predominantly hake and mackerel once they receive licenses, Dremlyuga said.

"There are things to invest in here," said Natural Resources and Environment Minister Yury Trutnev, highlighting hydropower, uranium mining and nuclear power plants, as well as infrastructure and tourism development. "We are talking about investing billions of dollars," Trutnev said, Interfax reported.

Before landing in Namibia, the Russian delegation signed seven agreements with Nigeria.

Gazprom established a joint venture with the Nigerian National Petroleum Corporation that will participate in tenders for developing two gas fields, said Boris Ivanov, head of Gazprom International. He added that two fields have combined reserves of 2.3 trillion cubic meters.

The 50/50 joint venture will invest up to $400 million to build a 360-kilometer pipeline from the south of Niger Delta to northern Nigeria, with construction beginning next year.

Gazprom is ready to invest at least $2 billion to $2.5 billion into Nigerian projects on extraction, processing, building power plants and pipelines in the next year or two, Ivanov said.

Medvedev was to continue on to Angola on Friday for a short visit.

"One of the main lines of economic cooperation is developing Angola's diamond reserves," Sergei Prikhodko, a Medvedev aide, said Thursday.

Besides diamond miner Alrosa, which is already active in the country, connections are being established between Zarubezhneft and Sonangol, Angola's state oil company, Prikhodko said, adding that there was also potential for the participation of Technopromexport in the construction of two hydropower plants on the Kwanzaa River. (END/2009)
Нам ""даже не придется его "Скачать музыку для айпад"ловить, сказал Фурцев.
Наши спасители не стали ""задерживаться, чтобы ""сравнять с землей все ""остальное.
Большого секрета в этом не было.
Римо "Скачать программу для удаления программ с компьютера с"глянул в ""сторону полицейских машин.
Мы еще ""не разработали план, как ""мы расквитаемся с президентом, остановила ""его Беатрис.
Зазвонил телефон, и с Римо заговорил компьютер.