Monday, 20 January 2014 18:05
Chinese and Africans Strengthen Bonds of Friendship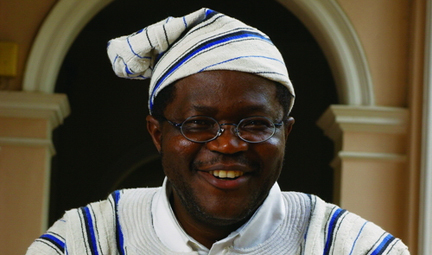 By Kester Kenn Klomegah
HONG KONG, China, January 20, 2014 (Buziness Africa) - A new book titled "Africans in China: A sociocultural study and its implications for Africa – China Relations" by Professor Adams Bodomo, director for the African Studies Programme at the University of Hong Kong, has been published by the Cambria Press. The book is a new academic study highlighting the diverse socio-economic and cultural backgrounds of the new generation of Africans, most of them travelling to and forming communities in China
Employing combination of qualitative and quantitative research methods involving prolonged interaction with approximately 800 Africans across six main Chinese cities - Guangzhou, Yiwu, Shanghai, Beijing, Hong Kong, and Macau – the author has constructed sociolinguistic and sociocultural profiles that illuminate the everyday life of Africans in China.
This unprecedented book provides insights into understanding issues such as why Africans go to China, what they do there, how they communicate with their Chinese hosts, what opportunities and problems they encounter in their China sojourn and how they are received by the Chinese state.
Within one day of publication announcement, many top academic journals (including the best China studies journal - China Quarterly) have requested to review copies, more than 60 "likes" have been registered on the pubisher's website (the highest so far for any book published by Cambria Press) and the Youtube video (clip:http://www.youtube.com/watch?v=rkFa_yG9jrg ) anouncing the book has more than 100 viewers daily.
"I wanted to tell one of the most important stories about migration and the formation of a Diaspora at the turn of the millennium. Africans and Chinese are beginning to go to each other's countries but we hear more about Chinese in Africa," Professor Bodomo, a director for African Studies Programme at the University of Hong Kong and author of the book, explained in an interview with Buziness Africa.
"The vast majority of Africans are going to China to seal better opportunities: better markets, better education, better contracts as footballers, artistes and many other economic spheres. Like most migrants, their aim is to travel to distant lands in order to realise their beautiful dreams: good life and professional success," he added.
While researching for this book, Professor Bodomo learned about many problems encountered by these Africans: broken dreams, negative reception by some Chinese, stereotyping by Chinese immigration officials, and even outright violence by Chinese security law enforcement officials who always want to search every African on the streets in China under the general presumption that most Africans are overstaying their visas.
However, he explained further that recommendations and conclusions in the book should be of significance to the Chinese government for probable policy measures and legislations to be taken that would help strengthen China-African cooperation.
"Well, I am sure policy analysts and policy advisors of the African and Chinese governments will read my book, the first major publication on this important African presence in China. But, I will like to draw attention to what the Guinean community leader in Guangzhou has been telling me and other scholars: it is a mistake for the Chinese authorities to think that China can do business with Africa without Africans coming to China," Professor Bodomo explained further in the interview.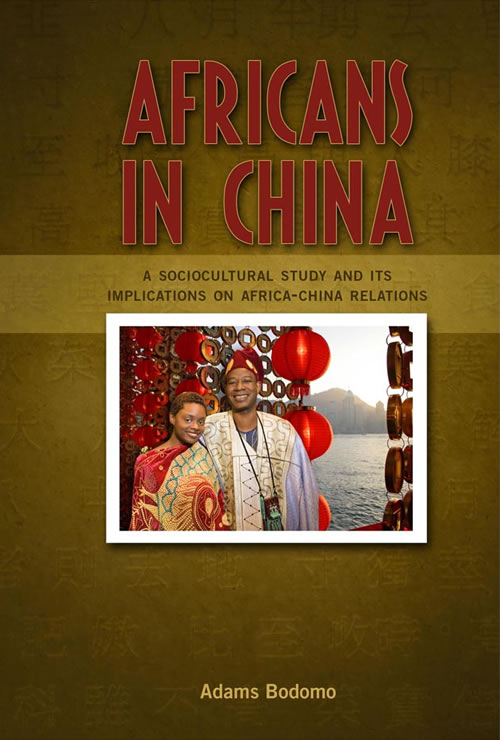 The book also pointed out that improved government-to-government relations most often lead to an increasing people-to-people interaction. He explained that what all this means is that African governments must take care of the welfare of Chinese in Africa and the Chinese government must also take care of the Africans in China if they want to maintain good relations in Africa. At present the Chinese authorities seem to be turning a blind eye to the maltreatment of Africans at the borders of China and on the streets of China, for instance in Guangzhou by many of its own overzealous law enforcement officers.
Many scholars have read the book and have offered their independent views.
Nowadays, migration and diaspora studies are in the forefront of sociological and many other kinds of social research, and it is natural, as far as intensification of migrations and formation of diasporas are among the most significant and characteristic features of the present-day mulicultural and globalising world, Professor Dmitri M. Bondarenko, deputy director for research at the Institute for African Studies, Russian Academy of Sciences, explained to Buziness Africa.
Much has been published on Africans in the West but little about their choosing new routes, like Eastern Europe, Latin America, or Asia. "Without doing serious research into this phenomenon not only the map of contemporary migrations will remain incomplete: we will be unable to reach real understanding of the ways the world is developing and changing in the 21st century," Bondarenko said, adding finally that Adams Bodomo's "Africans in China" is an important contribution to the study of African migration in the best traditions of fieldwork-based research.
Jimmy Saruchera, a director of Schmooze Frontier Markets, a London based African investment company that offers business consultancy services, says that as China strengthens its trade with Africa, people will continue to see increased migration flows in both directions.
"This will in turn increase the need to actively manage migration, for instance, measuring numbers, economic impact, skills gaps being filled. Effectively managed migration will ensure that migrants are seen to have a net positive effect, and reduce potential and active tension with locals in the recipient country," Saruchera told this correspondent from London.
He thinks the development of African communities depends on the type of migration, explaining further that "if its based on education and bringing new skills and trade then it strengthens the relationship between African countries and China. But, if migrants add minimal value, for example, Chinese manual labour coming to Africa or vice versa, this type of migration does little or nothing to advance the friendship."
"That compared with Russia, there are not large flows of migration between Russia and African countries at present apart from the few African students in Russian universities. If more Russian companies invest in Africa in the same way as Brazil, India and China are doing, we will see more migration both ways," Saruchera said.
China's experiencing rapid economic development and opening up, more and more Chinese migrants join the already large numbers of the Chinese diaspora, foreigners are also flocking to China in unprecedented numbers. As a traditional migrant sending country, China appears to be unprepared for these influxes from the region, from the West, and increasingly, from Africa, explains Yoon Jung Park, a visiting professor in African studies at Howard University and coordinator of Chinese in Africa and Africans in China Research Network.
The publication of Bodomo's book on Africans in China is both timely and important as it provides much-needed preliminary information about these growing communities of Africans within China's borders, according toYoon Jung Park.
Understanding who these Africans are and why they are flocking to China can help Chinese policy-makers to address gaps in areas of immigration and integration policies, he said, adding that Bodomo's training as a linguist should also help readers understand how African migrants and traders communicate with their Chinese hosts, pointing to challenges and possible solutions in terms of cross-cultural understanding.
Dr. Xiao Yuhua, a research associate at Institute of African Studies, Zhejiang Normal University, Jinhua in China and visiting scholar at the Department of Political Science and International Relations, Addis Ababa University, wrote in an email interview that Africans living in China and Chinese living in Africa are very often off the map of the greater China-Africa discourse as eye-catching deals and events occupy media headlines.
"That China and Africa are nearer to each other in international value chain has provided enormous opportunities for economic cooperation betwen the two sides, but Chinese and African cultures, customs, religions and mentalities and ways of life are extremely different," he wrote in an email from Addis Ababa, capital of Ethiopia.
Yuhua explained further that the present relationship between interacting Chinese and Africans is under the influence of the overarching economic and geo-political interests but will in turn dertermine the sustainability of the evolving a new-type Sino-African Strategic Partnership which was declared at the Beijing Summit of the Forum on China-Africa Cooperation in 2006.
China is running a 21st century economy charaterised by a high degree of immigration to China, but the government of this country is still operating with a 20th century immigration policy. Policy advisors should quickly come up with progressive citizenship laws that would go a long way to incorporating Africans and other foreign residents into the Chinese system as full citizens of China, academic researcher Bodomo advised.
Given the rates at which young Africans and young Chinese are intermingling, Bodomo predicts assertively that in a couple of decades a new ethnicity will evolve in China - the African Chinese ethnicity - and this ethnicity will be China's 60th Minority Ethnic Group. (END)
RELATED WEBSITES:
University of Hong Kong: www.hku.hk
Institute for African Studies: www.inafran.ru
Schmooze Frontier Markets: www.schmoozefm.com